Be more accessible to people seeking your services.
More than 100 billion searches are made on Google each month, and up to 97% of people search for local services and businesses online.
Can someone looking for a therapist online easily find your practice? Listing your therapy practice in a reputable online business directory makes information about you and your practice more accessible to a larger audience.
Share a complete story of your practice.
Most online directories allow members to create robust profiles that feature the best parts of their business story. If you're looking for a marketing tool that shows potential clients what you do and why you're passionate about it, a directory is one great place to get your practice details in front of searchers and highlight what makes you unique among your competitors.
Get SEO value.
Search engines are constantly gathering information about websites and businesses to understand where they belong in a list of search results. Search engine optimization, or SEO, helps search engines find and categorize your information. Listing details about your practice in a prominent directory makes it easier for search engines to find your website.
GoodTherapy gives you the option to link your website on your profile. Including this link can give your site an additional boost in search engine ranking. Appear at the top of online search results. Online directories invest significant resources into ranking highly in search engine results for words and phrases people most often use to find your services. Business owners don't always have extensive SEO experience and large marketing budgets, but they can take advantage of business directories with SEO experts who work hard to get to the top of the search results.
A smart marketing investment.
When it comes to spending marketing dollars, smart business owners are all about return on investment. Listing your practice in an online directory can produce great ROI. The average revenue you might expect to make from one new client often covers about a year of membership fees in the most visible therapist directories. Take your online presence to the next level.
Online marketing increases your web presence so it's easier for search engines to find information about you and for people seeking your services to find help. At a relatively low cost in dollars and time, you can create a profile that ranks highly in search engine results. Utilizing a successful directory is a great way to generate new leads for your practice.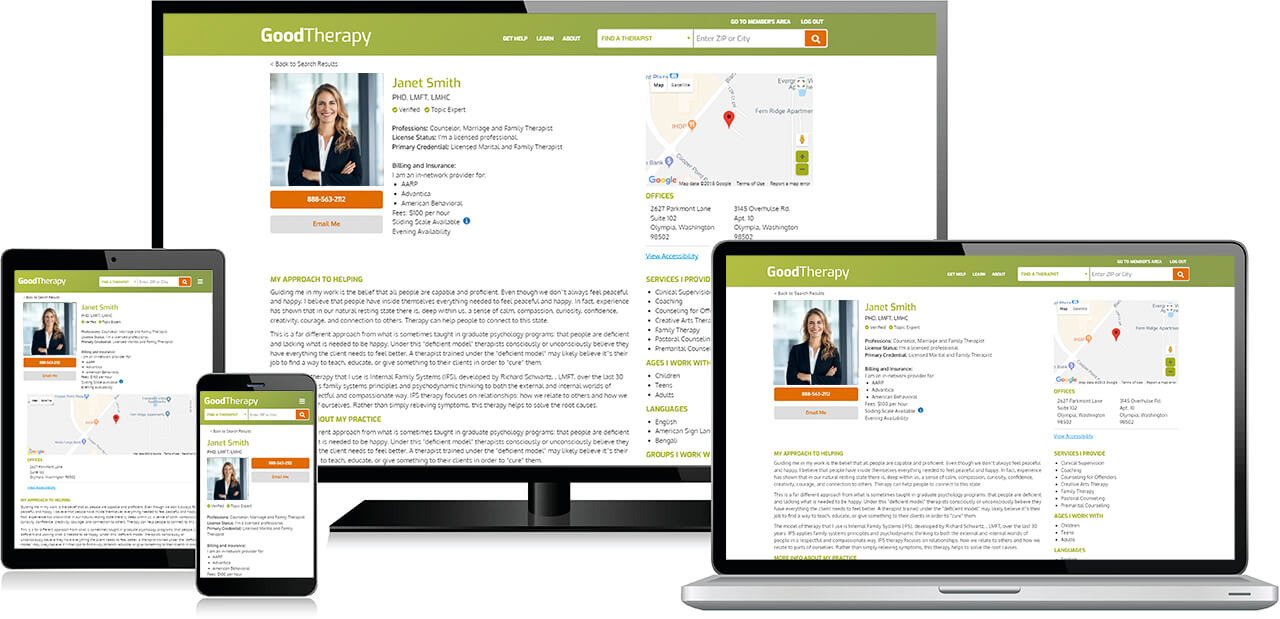 Boost targeted traffic to your website.
Your website might get thousands of visits per month, but those visits may not hold the same value if your visitors aren't seeking your services. Even a beautiful or well-designed website does not guarantee a high rank in search results among competition. Listing your practice in a high-ranking directory can steer targeted, and ultimately more valuable, traffic to your website.
A directory listing can be a cost-effective website alternative.
Websites can be costly even when they produce effective results. Building, marketing, and continually updating a website to keep up with digital trends takes time and expertise. When investing thousands of dollars into a website doesn't make good business sense, maintaining a profile in a directory may be all you need to keep finding new clients.
Build brand trust.
Brand trust can make or break a decision when someone is sitting on the fence. The few seconds you have someone's attention online often determine whether someone remains a visitor or becomes a referral. Listing your therapy practice in a reputable online directory can boost trust in your brand while increasing its exposure by leveraging the directory's traffic.
Utilize additional directory resources.
Many online directories offer more than just the tools you need to create a profile listing. Some provide publication opportunities, additional advertising channels, continuing education events for professionals, and other resources. When deciding which directory to list your practice in, research the additional opportunities each directory offers to select ones that align with your practice goals.
GoodTherapy Offers Specialized Services to Help Therapists Get Noticed Online
Having a steady referral base from the web can fuel a thriving practice and allow you to connect with others searching for your services. Whether you are new to the world of online marketing or looking to expand your existing efforts, GoodTherapy can help.
People trust GoodTherapy because of our dedication to ethical therapy, strict membership requirements, and commitment to our mission and vision. Every day, we send thousands of emails, calls, and clicks from potential clients to therapists listed in our directory, which ranks as a top search result for therapy-related keywords and location-based searches. Tailored marketing resources, media and publication opportunities, and exposure through our social media platforms are just a few ways therapists benefit from GoodTherapy membership.
References:
Google inside search (n.d.). Crawling and indexing. Retrieved from https://www.google.com/insidesearch/howsearchworks/crawling-indexing.html
Johnston, L. (2012, March 23). How many Libraries of Congress does it take? Retrieved from http://blogs.loc.gov/digitalpreservation/2012/03/how-many-libraries-of-congress-does-it-take
Local consumer review survey. (2017). BrightLocal. Retrieved from https://www.brightlocal.com/learn/local-consumer-review-survey
Sullivan, D. (2015, January 16). Google still doing at least 1 trillion searches per year. Retrieved from http://searchengineland.com/google-1-trillion-searches-per-year-212940