Susie Q's Kids, Inc.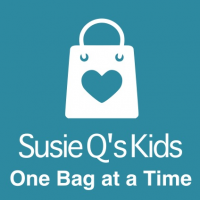 Susie Q's Kids, Inc. was founded to remember Susan McBride-Welsh, a young woman whose passion led her to positively impact the lives of many children and young adults. The organization strives to make a positive difference by supporting children and young adults who may be struggling emotionally, physically, or mentally. By distributing comfort bags to children in a variety of situations, Susie Q's Kids seeks to improve and brighten their lives and help them find strength in the face of the challenges they may be dealing with.
Susie Q's Kids has three primary goals. The first is to create an opportunity for businesses to engage their employees in creating comfort bags for kids and young adults by reducing the human resources involvement, bringing all the materials to the workplace. They also seek to support and raise awareness for nonprofits in the community selected by the businesses. The bags are tailored to meet the needs of the children they support. Finally, they seek to inspire children and young adults through the comfort bags, letting them know others care and want them to succeed.
Susie Q's Kids supports foster services, hospitals, women's shelters, grief counseling, and prevention and support for survivors of suicide, bullying, and human trafficking. The bags help children who are placed in foster care, hospitalized due to a medical condition, victims of domestic violence, experiencing grief and/or loss, and those who may be suicidal, experiencing bullying, or have been exploited.
There are many ways to get involved with this cause. Individuals can sponsor a hospital bag, which will provide a hospitalized child with a gift to cheer them up, give them hope, and remind them that others care. Susie Q's Kids also gives people the option to sponsor a featured comfort bag, with a different bag being featured each month. Others may choose to schedule a bag stuffing event with Susie Q's Kids, a great option for organizations and companies that would like to take some time to give back to their community while engaging in a team-building activity.
Comfort bags are custom-tailored for non-profits and may include personal hygiene products, blankets and stuffed animals, arts and crafts supplied, toys, books and writing supplies, and inspirational and educational items.
To donate to Susie Q's Kids, click here.