Enchanted Makeovers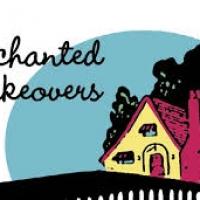 Enchanted Makeovers is a Michigan-based national nonprofit organization that was established in 2007 by interior decorator Terry Grahl. Grahl was inspired to start Enchanted Makeovers after being asked to volunteer her decorating services at a local women's homeless shelter and being profoundly impacted by the conditions she saw the women and children living in. She felt that the women and children who entered these shelters with no other options might feel further discouraged by the plain and sometimes worn surroundings, metal bunk beds repurposed from prisons, unfinished walls, and so on. A year after her first complete shelter renovation and makeover, Grahl closed her decorating business and dedicated her time fully to Enchanted Makeovers with a goal of transforming homeless shelters from a place where people could simply survive to a place where they could thrive.
Thirty-four percent of the homeless population consists of families with children. Many of these are single-parent families, who are particularly threatened by homelessness. More than 92% of mothers who are homeless have experienced physical and sexual abuse, and more than 63% of these women report that it was an intimate partner who abused them. Many women and families in these shelters experience sadness, fear, hopelessness, or blame themselves for their circumstances. They may experience significant stress, depression, and anxiety. Children in homeless shelters are often similarly affected. Homeless shelters may be helpful at providing a safe place for women and children to recuperate and/or find refuge from domestic violence, but according to various testimonials on the Enchanted Makeovers web page, the women and children who use a shelter improved by Grahl's program find these shelters to be more welcoming and inspiring.
Today, Enchanted Makeovers continues to work to renovate and improve homeless shelters for women and children so that they can become spaces to foster and encourage positive psychological and behavioral change. Mentoring programs that teach trade skills as well as life/coping skills, makeovers, and other various projects have also been implemented by Enchanted Makeovers and serve as a "beacon of hope" for homeless women and children working to rebuild their lives. Enchanted Makeovers decorates shelters with handmade, repurposed, or vintage toys and items to provide the women and children using the shelters with a bright and positive environment. Shelter directors have seen an increase in women checking themselves into shelters that have been transformed by Enchanted Makeovers.
Many women and children living in shelters are survivors of abuse, addiction, and other psychologically challenging situations. Enchanted Makeovers not only brightens their living space, but also brings together entire communities to support shelter residents. Other programs and projects of Enchanted Makeovers include the Sacred Sewing Room, Stepping Into the Dream, Capes for Kids, and From One Hand to Another. For more information on the work of Enchanted Makeovers or to donate, visit enchantedmakeovers.org.
References:
Family Homelessness Facts. (n.d.). Retrieved from http://www.greendoors.org/facts/family-homelessness.php.