Peer Pressure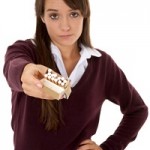 Peer pressure occurs when a peer group exerts direct or indirect pressure to conform. Peer pressure can bring about changes in behavior, thoughts, opinions, and feelings. While peer pressure is most frequently used to describe the influence of friends on children and teenagers, all people can be subject to peer pressure.
Peer Groups and Conformity
Peer groups should be broadly defined when understanding peer pressure. For example, peer pressure can be exerted by television that conveys to a person the acceptable way to behave, by political figures who appeal to nationalism or ideology, by families that appeal to family loyalty or traditions, and by any other group with which a person identifies. There is a strong human motivation to be a member of a group, and group membership typically requires some degree of conformity. Not all conformity is damaging. For example, a peer group that exerts pressure on a member to care for a sick parent is exerting positive peer pressure. However, peer pressure is most commonly associated with negative influences such as the pressure to use drugs, smoke, defy authority, and engage in promiscuous sex.
Examples of Peer Pressure
Peer pressure can happen in many different social groups and settings. Here are some examples of potentially harmful peer pressure:
A teenager pressuring their friend publicly at a party to try alcoholic drinks
A person teasing their coworker about the clothes they wear in an effort to get them to dress differently at work
A child at school only picking kids who give them snacks to play on their sports team at recess
Peer Pressure Experiments
The susceptibility of even highly intelligent people to pressure to conform has been documented in numerous experiments. Some of the more well-known experiments include:
The Asch Conformity Experiments, for example, demonstrated that a test subject would give incorrect answers to a vision test if pressured to do so by peers' incorrect answers. The test revealed that one peer exerts minimum pressure and that pressure is maximized with four peers. More than four peers exerted the same effect as four peers.
The Third Wave Experiment was an experiment by a history teacher designed to teach students about the appeal of fascism. The teacher progressively implemented more totalitarian, disciplinary, and strength-oriented measures in the classroom. By the fourth day of the experiment, the students were ready to join a nationwide totalitarian movement and showed incredible loyalty to the fake regime created by the teacher.
The Milgram Experiment, perhaps the best-known experiment in group behavior, occurred when researchers asked study subjects to administer an electric shock to a person in another room when they answered a question wrong. Subjects administered increasingly severe shocks, including shocks marked as severe enough to kill, with moderate pressure from the experimenters. This experiment may demonstrate both the effects of peer pressure and the pressure exerted by people viewed to be in positions of authority.
References:
American Psychological Association. APA concise dictionary of psychology. Washington, DC: American Psychological Association, 2009. Print.
Asch Experiment. (n.d.). Steps of the Scientific Method, Research and Experiments. Retrieved from http://www.experiment-resources.com/asch-experiment.html
Harwood, R., Miller, S. A., & Vasta, R. (2008). Child psychology: Development in a changing society. Hoboken, NJ: John Wiley & Sons.
Jones, R. (n.d.). The third wave, 1967: An account – Ron Jones. Libcom.org. Retrieved from http://libcom.org/history/the-third-wave-1967-account-ron-jones
Last Updated: 08-17-2015
3 comments
Leave a Comment
Monique Sanchez

February 19th, 2013 at 8:23 AM

Good evening. Can I have a permission for this peer influence article in order t support my research. I hope that you will reply soon. Thank you.

Monique Sanchez

February 19th, 2013 at 8:27 AM

Good day! I am a college student taking up BS Psychology who was asking for permission of this article in order to support my study on peer influence. Hope to see your reply soon. Thank You.

Amber

April 7th, 2018 at 10:21 PM

Monique, I am interested in finding out more about positive peer pressure and wanted to know if in your studies you have found anything interesting about this subject? I read somewhere that in dealing with sociopathic behavior that social pressure had more influence on positive behavior then most therapies. Would like to find out more as this implicated communities and people to get involved when there are bad behaviors going on around them. Their opinion has influence!!!