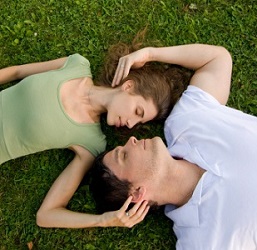 February is commonly viewed as a month for romance, love, and intimacy, but it can be difficult to get into the Valentine's Day spirit when you and your partner are working hard to get pregnant and sex has started to feel like a chore.
When couples first start trying to conceive, the idea of having sex without contraception is often liberating and exciting. Having sex with the knowledge that it might result in the creation of a much-wanted baby is exhilarating, filled with hope, and an act that often brings couples closer together. Unfortunately, when getting pregnant is difficult, it impacts the couple's intimacy on many levels.
The sense of loss associated with infertility can challenge the closest of couples. There are many losses associated with infertility, and many of these are associated with intimacy and sex. Even before embarking on fertility treatment, many couples experience a decrease in spontaneity as a result of having carefully scheduled sex. This shift can lead to sex becoming a "mechanical" experience. The pressure to perform can lead to anxiety for a male partner, which may result in problems with sexual functioning. For some couples, this can lead to a dynamic in which one partner feels like they need to keep the conception efforts on track, while the other feels resentful at the fact that sex has become more of a task than a pleasure.
Loss of the conception fantasy is also traumatic for many couples. Most couples imagine conceiving their baby after a romantic evening and a bottle of wine, not after invasive medical treatments and a cocktail of fertility medications that can wreak havoc on one's weight, body image, and mood.
With so many themes of fear and failure invading the bedroom, it is no wonder that many couples undergoing fertility treatment experience problems related to sexual desire, sexual performance, and decreased satisfaction with sex. Fortunately, good sex and babymaking don't have to be an "either/or" experience.
When one partner is experiencing a decrease in desire, the other partner can begin to wonder if he or she is no longer attractive or loved. It is important for both partners to talk about the impact of treatment on their sex drive in an open and loving way.
Due to the invasive nature of fertility treatments and negative side effects of fertility medications, many women find it hard to find the desire to have sex, but they still wish to be physically close with their partner. Some couples find it helpful to be physically intimate in ways that don't lead to sex. You might consider nonsexual forms of touching, such as massage or cuddling, as an option. Agreeing in advance that the massage (or other physical touching) will not end in sex will take the pressure off and allow you and your partner to enjoy being close.
Many women say that they are afraid to hug or kiss their partners for fear that it will lead to their partner wanting sex, so they simply stop touching at all. Talk with your partner about your need for physical, nonsexual intimacy, and ways that you can cue one another when you just need to be touched and would rather not have sex.
For some couples, the bedroom becomes a scene of frustration, fear, and sadness due to the inability to conceive. If these feelings are preventing you from having sex, consider changing the environment. Get creative—go out for a night on the town and stay in a local hotel, or redecorate to give the bedroom a new energy.
If scheduling sex specifically for procreation purposes has led to not having any "just for fun" sex, consider purposely planning to have sex at a point when you know there is no chance of getting pregnant. This eliminates the need to wonder if you have conceived, and the potential let down, afterwards, if you are not.
It can be awkward to talk with your partner about sex. If issues related to sexual intimacy become a source of stress, consider working with a therapist who has experience working with couples coping with fertility issues and sexuality. A therapist can help you have these difficult conversations and get you back in the bedroom!
© Copyright 2010 by Jennifer Harned Adams, Ph.D.. All Rights Reserved. Permission to publish granted to GoodTherapy.org.
The preceding article was solely written by the author named above. Any views and opinions expressed are not necessarily shared by GoodTherapy.org. Questions or concerns about the preceding article can be directed to the author or posted as a comment below.