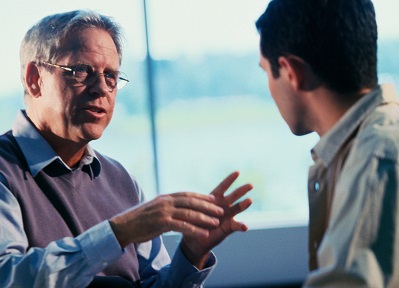 Being a therapist or counselor requires certain core skills. Many of these you can learn during your education and training to become a therapist; others you may have learned from different areas of your life. You will be required to orient yourself to the ethical codes for therapists in order to provide top-notch services to the people you treat in therapy. You may also find it helpful to understand common elements of good therapy.
Certainly there are many different skills and traits that can help you succeed as a therapist. Some of the main skills that will help you in the counseling profession include:
Empathy
Empathy is your ability to understand and identify with another person's experiences, even if they do not describe their thoughts or feelings explicitly to you. A good therapist can empathize with a wide variety of people, understanding their choices and feelings even if, as a therapist, you do not agree with them. You will need to be emotionally attuned to individuals' needs, and will also have to be able to help them identify and articulate their feelings. An angry person, for example, might be struggling with feelings of inadequacy that fuel anger. A highly empathetic therapist will be better equipped to detect this.
Listening Skills
In virtually all forms of therapy, you will need to actively listen to people, reflect their thoughts back to them, and be able to remember important events and feelings that they convey to you. You will also need to pay attention to what someone is not saying, and explore what that communicates. For example, a survivor of sexual assault who never talks about his or her traumatizing experience might be telling you something through silence. If you are easily bored by conversation or have a hard time allowing others to contribute to a conversation, being an effective therapist may be challenging for you.
Social and Communication Skills
Good social skills can carry you through the first few sessions of therapy, when a person might be uncomfortable because he or she does not know you well. Strong communication skills can also help you make a new person feel comfortable on the phone or via email. Sometimes you will need to refer people to other therapists or to a psychiatrist, and having a strong network of colleagues with whom you communicate can help you give those individuals the best referrals possible. People are also more likely to create a positive therapeutic relationship with a therapist who is a good communicator, as this can convey confidence and assertiveness.
Boundary Setting
In order to provide ethical therapy, counselors and therapists must be able to establish and maintain healthy boundaries with the people they help in treatment. One aspect of protecting the welfare of the people you work with in therapy is to avoid dual relationships, particularly relationships that are romantic or sexual in nature. It is not ethical for you to participate in romantic relationships with the people you treat in therapy.
You must be able to clearly communicate to clients the nature and limits of the therapeutic relationship. This usually starts during your initial consultation with them, when they fill out your disclosure forms.
People are not born knowing how to set healthy boundaries; it is something that you learn throughout your lifetime. You must be conscientious of the boundaries you set as a therapist, even if you may have struggled with setting boundaries in your personal life or have codependent tendencies.
Critical Thinking
You will need strong critical thinking skills when making diagnoses and developing treatment plans. The first treatment approach does not always work, so you will need to have back-up plans and the ability to question what is working and what is not. Alongside these critical thinking skills, you will need a scientific mind. You will have to keep up to date on research trends, know enough about medication to be able to talk to people about any medications they are taking, and remain mindful of alternative treatments such as exercise, herbal therapies, or nutritional changes. A therapist who can help people try several different proven strategies is much more likely to be effective.
Therapists also need to be able to detect what is under the surface and respectfully question people. Without good critical thinking skills, you could miss out on an important behavioral explanation. Someone who insists that his or her spouse is intolerable might, for example, be verbally abusing that partner. A therapist who cannot ask tough questions and search for what is below the surface might make the wrong recommendations or guide people toward unwise decisions.
Business Management

For people who thrive by helping others, the business world of money, advertising, and taxes can seem unimportant. But if you plan to become a private practice therapist, you will need to be able to manage a business. This will include keeping track of your finances, client records, and taxes, as well as managing your time so that you can make enough money. You might also have to become adept at advertising your services via blogs, online profiles, print, and word of mouth.
If you lack the necessarily business skills to run a private practice, you may be able to hire an office manager to assist you. There are also many training opportunities for therapist who wish to learn more about managing a business, whether you sign up for basic business classes at your local community college or attend a seminar with experts in the field. In addition, you may choose to work for a group practice or agency that handles the administrative aspects of being a therapist on your behalf.
While many traits and skills are learned during the necessary process of education, some characteristics of therapists are more innate. Being a "people person" or having the ability to make people feel at ease often take effort and practice. Learning how to adopt those skills in a way that is both professional and respectful of boundaries is even more difficult.
A therapist who is able to make someone feel comfortable in his or her office is a therapist who is more likely to help an individual resolve personal issues, because that person is more likely to open up and confide in the therapist. Strong interpersonal skills are not just courteous toward clients; they may just help you be more successful in your career as a therapist.