By Sage Breslin, PhD, GoodTherapy CE Presenter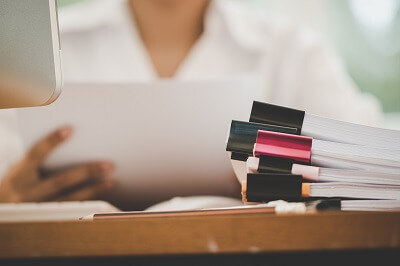 While the use of technology in therapy has increased accessibility of care, there are also some downsides. For clients who insist that the best way to reach them is by text or email, not only are the means insecure, but I can't count the number of times that my texts weren't received, leading to confusion and even disappointment or resentment.
Emails can easily slide into spam or junk mail, again leading to similar feelings or experiences. Video conferencing can lag or experience connectivity issues, resulting in disjointed conversations or therapy experiences. And, as yet, there is no form of telehealth that enables a therapist to provide therapeutic touch, even if just a comforting hand on the shoulder as an emotionally drained client leaves therapy.
So how do we bridge the gap? How do we meet our clients' needs while providing the most effective therapy we can? And how do we adhere to the multiple and sometimes conflicting laws and ethical codes associated with the inclusion of technology in therapy?
Telemental Health and the Importance of Informed Consent
Prior to the inclusion of technology in psychotherapy, the client or prospective client must be made aware of the benefits and risks of using such technology through the process of informed consent. Just because the client may be treated telephonically or through other electronic means does not in any way impact the need to gain informed consent. It might, in fact, require you to be even more diligent.
There are two separate but related sectors that must be addressed with clients regarding the use of technology in psychotherapeutic practice:
The use of technology to transmit and store information
The use of technology to provide telehealth services (i.e. distance counseling)
While statutes mandate that clinicians gain informed consent from clients or prospective clients prior to the inclusion of technology for any reason, the statutes that govern this are different.
The Ethics of Using Technology in Therapy
The ethics of incorporating technology into treatment largely follow the laws that govern these practices. Clinicians are required to:
Weigh the costs and benefits of treating and administrating in this way
Fully inform clients and prospective clients of the risks involved with doing so
Ensure that client confidentiality is protected to the extent that it can be
Only perform telehealth services to the extent permitted by applicable law
Provide such services in locations in which it is allowed
Stay current with technology and its use
Decoding the Legal Statutes Associated with Telehealth
Every state has its own laws associated with the provision of telehealth services. In order to exemplify, California's standards are used here.
(a) All persons engaging in the practice of marriage and family therapy, educational psychology, clinical social work, or professional clinical counseling via telehealth, as defined in Section 2290.5 of the Code, with a client who is physically located in this State must have a valid and current license or registration issued by the Board.
If you're going to provide telehealth services, you must be licensed. Just because you are providing services through electronic means does not change your need to be adequately educated, trained, and licensed to provide treatment in this manner.
(b) All psychotherapy services offered by board licensees and registrants via telehealth fall within the jurisdiction of the board just as traditional face-to-face services do. Therefore, all psychotherapy services offered via telehealth are subject to the board's statutes and regulations.
When we are seated in an office and have our files in front of us, we are reminded of the ethical and legal obligations we have to our clients and the need to uphold the sanctity of our profession. When we are on vacation, providing telehealth services to a client five hundred miles away, the reminders are less evident and we could easily forget that all of the rules that apply in our office apply to whatever location in which we happen to be providing telehealth services.
(c) Upon initiation of telehealth services, a licensee or registrant shall do the following:

(1) Obtain informed consent from the client consistent with Section 2290.5 of the Code.
Gaining informed consent from a client or prospective client is a legal obligation that the clinician must manage.
(2) Inform the client of the potential risks and limitations of receiving treatment via telehealth.
Beyond the risks to the client's confidentiality (though many electronic media are now HIPAA-compliant), there are additional risks and limitations associated with treatment through technological means. Some of the limitations to consider include but are not limited to the fact that treatment via telehealth:
Incorporates sight and sound but may limit the extent to which information from other senses is available and incorporated into the clinician's continued assessment of the client.
May only allow the therapist access to what the client chooses for them to see, rather than all of the additional information that might otherwise be available. For example, what you see, for instance a client's face on a computer screen, might lead you to believe they are making progress. But if you were able to see the rotting stacks of garbage in the other areas of the room, your clinical understanding of this hoarder might be enhanced.
Can certainly be compassionate, but cannot incorporate any form of therapeutic touch, nor can it incorporate other techniques which may be hands-on.
Is by nature distant. In the event of an emergency, your response is far more complicated than if the client were in the office with you. Even if no emergency occurs, there are limitations to the extent that you can assist your client if process work generates significant emotional response. Managing a client with serious concerns remotely requires significant skill and awareness of all resources available to the client.
May pose a risk should the therapy evoke intense emotional response, especially if it generates anger or rage. While you may be engaged with the client, you may be unaware of others who are in the location with the client and who may be at risk should such emotional upheaval result in violence.
(3) Provide the client with his or her license or registration number and the type of license or registration.
While our names and license numbers generally appear on our business cards, it's rare for us to begin a session by providing rank and serial number! In order to abide by the legal requirements associated with providing telehealth services, this information must be disseminated to clients or prospective clients.
(4) Document reasonable efforts made to ascertain the contact information of relevant resources, including emergency services, in the patient's geographic area.
For many of the reasons above, it is imperative that you do legwork prior to the onset of telehealth with a client. To the extent that you are able, review local counseling options as well as emergency services available for the client. In the event that risks arise or increase it will be imperative that you can facilitate assistance for your client locally. In addition, that information must be documented in the clinical record.
(d) Each time a licensee or registrant provides services via telehealth, he or she shall do the following:

(1) Verbally obtain from the client and doment the client's full name and address of present location, at the beginning of each telehealth session.
When we meet our clients in the office, their identity and location is known. When we provide telehealth services, the location of both client and therapist may be unknown unless required for documentation purposes. I was recently contacted by a colleague who had received an Instagram message from a client. The video appeared to document his last words and moments, then showed him shooting up, vomiting, and passing out over the wheel of a car. Despite her own experience of trauma after viewing the video, she quickly was alerted to the fact that she needed to contact emergency services for the client. Unfortunately, she had no idea where he was and was completely helpless.
While a very dramatic example, these are the issues that exist when we communicate and maintain relationships electronically. These kinds of circumstances are exactly why documentation better protects both client and clinician.
(2) Assess whether the client is appropriate for telehealth, including, but not limited to, consideration of the client's psychosocial situation.
Telehealth services may not be suitable for clients who are severely mentally ill or for those who pose a danger to self or others. Telehealth services can be suitable for those with severe personality disorders. Treatment using this form of technology may be best-suited for clients who are relatively self-reliant, can access additional resources as they are needed, have the self-discipline to complete out-of-session homework or tasks, and can acknowledge the risks and limitations associated with telehealth.
(3) Utilize industry best practices for telehealth to ensure both client confidentiality and the security of the communication medium.
Remaining legally compliant requires that clinicians stay up-to-date with legal mandates as well as with the technologies that are incorporated or utilized.
(e) A licensee or registrant of this state may provide telehealth services to clients located in another jurisdiction only if the California licensee or registrant meets the requirements to lawfully provide services in that jurisdiction, and delivery of services via telehealth is allowed by that jurisdiction.
In order to remain compliant, you must ensure that you are legally permitted to provide telehealth services to your clients wherever they are currently located!
About the Author

Dr. Sage Breslin is a licensed psychologist known for her innovative approach to trauma recovery. She is a professional speaker and published author of Lovers & Survivors: Living with and Loving a Sexual Abuse Survivor. In March 2020, Dr. Breslin presented Understanding and Treating Domestic and Interpersonal Violence, a 2-hour continuing education webinar hosted by GoodTherapy, available with 2 CE credits.
* This page contains at least one affiliate link for the Amazon Services LLC Associates Program, which means GoodTherapy receives financial compensation if you make a purchase using an Amazon link.
References:
Anthony, K., Nagel, D. M., & Goss, S. (2010). The use of technology in mental health: Applications, ethics and practice. Springfield, IL: Charles C. Thomas Pub Ltd.
Code of ethics. (2015). American Association for Marriage and Family Therapy. Retrieved from https://www.aamft.org/Legal_Ethics/Code_of_Ethics.aspx
Code of ethics [PDF]. (2011). California Association of Marriage and Family Therapists. Retrieved from https://www.camft.org/Portals/0/PDFs/AssocDocs/CodeOfEthics.pdf?ver=2019-06-04-093935-577