Basal Ganglia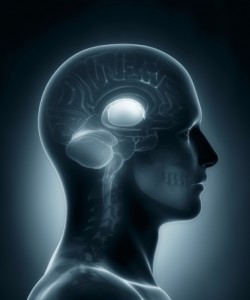 The basal ganglia are a collection of nuclei located on either side of the thalamus in the brains of humans and other vertebrates. The sub-components of the basal ganglia play a significant role in sending messages to the body and coordinating automatic behaviors.  Problems with the basal ganglia can cause psychological concerns; conditions such as Huntington's, Parkinson's, and cerebral palsy; and schizophrenic, obsessive-compulsive, or depressive behaviors.
Structure of Basal Ganglia
The basal ganglia are located at the base of the forebrain. If you were looking at a drawing of the brain from the side, the basal ganglia would appear to be located in the innermost center of the brain. From some angles, it appears as if the basal ganglia are coiled around the thalamus.
Function of Basal Ganglia
Parkinson's
.
Several individual nuclei make up the basal ganglia, including:
The pars reticulata, located within the substantia nigra, serves one of the most important functions of the basal ganglia by controlling and regulating eye movement.
The putamen controls automatic behaviors such as driving and reading.
The nucleus accumben uses dopamine (and the chemical high produced by various drugs) to enhance pleasure.
The caudate nucleus provides information about correct and incorrect behavior. Overactive caudates may be responsible for obsessive and compulsive behaviors, while an underactive caudate may contribute to the development of schizophrenia, depression, and other mental health concerns.

Destruction of cells in the caudate nucleus is a characteristic symptom of Huntington's disease, a genetic, terminal condition that causes involuntary movements and memory loss.

The substantia nigra affects reward signals, motivation, and learning. This nuclei is divided into two sub-parts: the pars compacta, which provides input to the basal ganglia, and the pars reticula, which processes output.

The death of neurons in the substantia nigra is a major contributing factor to Parkinson's disease, a condition characterized by tremors, muscle rigidty, and difficulty moving.
References:
Boeree, C. G. (n.d.). Basal Ganglia. Retrieved from http://webspace.ship.edu/cgboer/basalganglia.html
Colman, A. M. (2006). Oxford dictionary of psychology. New York, NY: Oxford University Press.
Last Updated: 08-4-2015