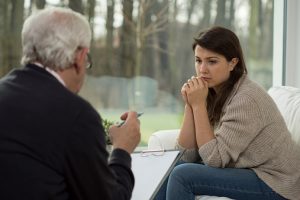 Do you know what type of therapist you are seeing or are about to see? Not all therapists are the same—they have different perspectives and training. Therapists need to know what motivates their work, what they hope to accomplish professionally, and how they want to serve people in therapy. Many therapists struggle with questions such as, "What's my niche?" or, "How, exactly, should I help this person?" Most of us come into the field wanting to help and make a difference in people's lives; orienting ourselves professionally can help us achieve this goal.
As a person in therapy, you may expect your therapist to know exactly what they're doing, but this is not always the case. Some degree of uncertainty and self-doubt is common and natural among therapists. However, it can become problematic when they fall back on outdated training, integrate interventions that are incompatible, or serve populations with which they have no expertise or knowledge. This can confuse both the person in therapy and the professional.
I have struggled with lack of direction in my own practice, and I have learned to view my work as a therapist from a different, more realistic angle. After working in the field and developing my professional identity, I came to understand there are four important components that describe the style of every therapist. People seeking therapy might benefit from learning about these and being prepared to ask questions when searching for a therapist.
1. The Therapeutic Philosophy/Approach
It can be helpful for therapists to understand how their worldviews inform their therapy. As a result of their training and experience, they may automatically and unconsciously perceive people in therapy and their work with them in a specific way. As they begin to notice what makes them feel more competent in their work, therapists can become confident about the interventions they use and can identify a clear pattern in their clinical practice.
For instance, therapists who find they are interested in understanding people's thinking patterns and processes, and adopt a deliberate intervention to redirect these, are usually approaching their work from a cognitive or cognitive behavioral angle. This may not make a lot of sense for people in therapy; however, it is the therapist's responsibility to be informed and aware of therapeutic philosophy, or at least aspire to this level of professional self-awareness.
You may sometimes hear therapists referring to themselves as "eclectic." This is common in the field of psychotherapy, and it means they integrate multiple therapeutic approaches, or perhaps use specific techniques borrowed from different models. Although this can be a valid lens from which to conduct therapy, it can also create confusion, diminish the efficacy of evidence-based practices, and distort the objectives of therapy. There are eclectic therapists who truly believe their best work comes from borrowing from different approaches, and then there are "eclectic" therapists who fail to take the time to develop expertise in any one approach.
It is not always easy to distinguish between these two types of eclectic therapists, but it's important for a person seeking therapy to know the difference. Many therapeutic approaches or models are similar, but they are different enough that therapists may want to be deliberate and specific about their worldview.
2. The Delivery
You may notice therapists often identify with a delivery that matches the model they use. A therapist whose therapeutic philosophy is cognitive behavioral will frequently describe their delivery with people in therapy as "directive." Specific therapeutic models suggest therapists who use their model should always have a particular way of conducting their sessions.
One of the most common complaints from people in therapy is that therapists act like robots—they aren't being themselves, or they don't connect. I believe this is a result of forcing an unnatural delivery in therapy sessions.
I think this is unrealistic. The delivery is about the way therapists communicate with someone in therapy, how they translate the information, and how they choose to convey their messages. A therapist who identifies with a cognitive behavioral philosophy, who tries to exhibit a "directive" delivery as the cognitive behavioral model suggests, but whose personality and natural presentation are more soothing or indirect, is simply not being truthful.
One of the most common complaints from people in therapy is that therapists act like robots—they aren't being themselves, or they don't connect. I believe this is a result of forcing an unnatural delivery in therapy sessions. The delivery should match the therapist's personality, not necessarily the therapeutic approach or philosophy. People pick up on these things.
As most therapists know, one of the most important factors in therapy is the relationship between the therapist and the person in therapy. How can there be a genuine relationship if the therapist is trying to be someone else? I suggest therapists simply be themselves. This is likely to be the easiest part of their clinical work. Therapists can adopt a variety of delivery styles: directive, soothing, indirect, challenging, curious, humorous, reflective, supportive, intellectual, or a combination of these. I don't think it should be about trying to match the model, but about who the therapist truly is.
3. Skill Level
To have a big influence on another person's life, therapists should make sure their skills are strong, sharp, and up to the challenge. When I say skills, I am not referring to experience or age of the therapist. Skill level involves the preparation, commitment, and willingness to become a better therapist. A therapist should never assume they know it all, or that they should know it all. This can be a terrible trap and one that can make people in therapy feel like they are wasting their time.
Most licensed therapists are required to participate in continuing education as required by the agency or organization that regulates their credentials. Some therapists may attend any training just to get the hours they need to renew their license, while others may research and attend training that specifically target their personal needs and contributes to their professional development.
For example, if you have a therapist who specializes in treating young girls experiencing an eating disorder who attends a training on substance abuse in middle-aged men, you may want to ask why. Your therapist may have a perfectly sound reason for this, but sometimes the reason is license renewal. An important exception to this is when therapists are curious about new modalities, or when they truly don't know yet what their niche will be. Most therapists are quite comfortable sharing their recent training and education with people seeking therapy. This is not part of the mandatory disclosure statement, but I think it should be.
4. Awareness of Readiness to Help
Is your therapist ready to help you attain your goals? Sadly, some are not, even if they really want to help. Readiness to help can include preparation, skill level, delivery style, and even therapeutic philosophy—but it's more than that. Therapists need to be self-aware regarding how helpful they can be within the therapeutic context. Does your therapist have the tools to navigate vicarious trauma? Have they lost their passion for therapy? Are they burned out?
Naturally, this work is difficult. Therapists are exposed to painful stories every day, all day long. This can take a toll on a therapist's ability to perform on the job in the long run. Burnout can influence a therapist's self-perceptions about their ability to help. When this happens, your therapist may not be ready to help, or they may be completely unaware of this and continue to do clinical work. (They also have bills to pay.)
The good news is there is hope. Therapists are used to hearing about something called "self-care," which is necessary to maintain a healthy balance between personal and professional lives. When therapists neglect this area of their work (yes, self-care should be part of the work), they may be unaware or even in denial about the effects of their work on their emotional well-being. This in turn can affect the quality of the service they provide.
Burnout is a real thing in this field. Many therapists who work in community mental health, residential services, in-home therapy, or hospitals run the risk of becoming burned out. It is important to recognize the signs and take immediate action. You want your therapist to love what they do for a job. If they don't, take your business elsewhere.
I have been (and am) a person in therapy myself, just like many other therapists. I don't want my therapist, the person who is supposed to help guide me through my journey, to be unaware of where their philosophy and passion lie, to pretend to be someone else, to lack the necessary skills or education to help me overcome my challenges, or to be burned out to the point of not being helpful at all.
I will conclude with sharing the four characteristics that shape my own therapeutic identity. My therapeutic philosophy is narrative therapy, an approach that views the problem external to the person, who is the expert of their own experience, able to retell their stories in their own voice. My delivery includes some traits usually connected to narrative, such as curiosity and respect, but I am also direct, which is often associated with therapeutic models very different from narrative. As for my skill level, well, I'll let that speak for itself. Lastly, my awareness of my readiness to help is strong because I have made it an important part of my work to practice self-care and to not allow the difficulties of this field diminish the passion that drove me to this work in the first place.

The preceding article was solely written by the author named above. Any views and opinions expressed are not necessarily shared by GoodTherapy.org. Questions or concerns about the preceding article can be directed to the author or posted as a comment below.