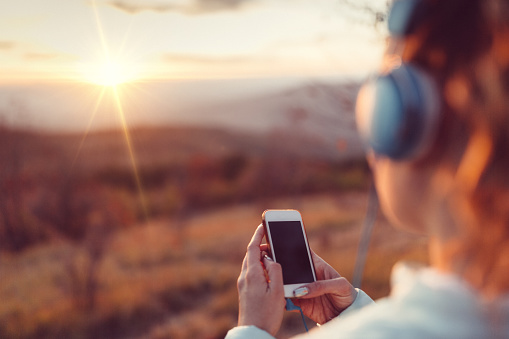 Podcasts have become a popular medium for sharing information in an engaging, digestible, and on-the-go way. Easy to stream and download digitally, the psychology podcasts we're sharing today can help you deepen your understanding of the mind, emotions, and mental health as a topic of interest or career. Many feature engaging hosts and interview leading experts in the fields of neuroscience, therapy, psychology, and mental health.
Whether you are a seasoned mental health professional, starting out as a mental health practitioner, looking for a therapist, or interested in all things psychological, there may be a podcast here for you. With topics ranging from spirituality and mental health to how sugar affects the brain, these psychology podcasts cover a broad range of interesting topics.
We have compiled two groups of psychology podcasts. One includes mental health and psychology podcasts for those interested in learning more about new discoveries in neuroscience or people seeking information about dealing with mental health issues. The second collection of podcasts are all made specifically to inspire, mentor, and connect professionals in the mental health field.
The podcasts below can all be streamed for free. GoodTherapy does not endorse the podcasts featured below.
Find a Therapist
Psychology and Mental Health Podcasts
Hidden Brain
Shankar Vedantam is an NPR science correspondent and the host of Hidden Brain, a name shared with the title of his book. This podcast focuses on the little things that often go overlooked in our daily lives. Hidden Brain unravels patterns that influence our behaviors, the instincts that guide our choices, and elements that affect the unfolding of our relationships.
Mental Illness Happy Hour
The Mental Illness Happy Hour is a podcast intended for people curious about or experiencing mental health issues. Los Angeles comedian Paul Gilmartin hosts each episode with compassion, empathy, and knowledge from his own experiences with clinical depression and alcoholism. Paul's guests range from artists and friends, to doctors and mental health professionals, to listeners and fans of the show. In a GoodTherapy.org interview, Paul discusses the process of creating and hosting The Mental Illness Happy Hour.
PsychCrunch
PsychCrunch is the official podcast from the British Psychological Society's Research Digest. It is presented by Dr. Christian Jarrett, a cognitive neuroscientist, editor of the British Psychological Society's Research Digest, and author of the upcoming book, PERSONOLOGY, Using the Science of Personality Change to Your Advantage. PsychCrunch explores the real-life application of psychological science by asking psychologists to compare the findings from their research to their experiences in daily life.
All in the Mind
Described as an "exploration of all things mental," Radio National's All in the Mind combines personal stories with professional insight. With presenter Lynne Malcolm, this program delves into our minds and investigates how thoughts shape the human experience. While many facets of the human brain have yet to be exposed, All in the Mind takes time to highlight the correlations between our behaviors and their corresponding psychological functions. In the episode "Therapy Outside the Box," Malcolm and guests discuss new research on the intrinsic patterns and processes that can affect mental health and how a transdiagnostic approach could offer hope.
Invisibilia
Latin for "the invisible things," Invisibilia is an NPR program focusing on unseen influences that affect our lives every day. Examining thoughts, feelings, beliefs, and how these tie into our actions, Invisibilia utilizes a unique blend of psychological science and real life narratives. Listeners are inspired to think, live, and behave in a newly informed way.
Shrink Rap Radio
Shrink Rap Radio is hosted by Dr. David Van Nuys, an emeritus professor of psychology at Sonoma State University, and features interviews with experts in the realms of psychotherapy, psychology, spirituality, and beyond. In episode 527, founder and clinical director of the Center for Healthy Sex, Alexandra Katehakis, MFT, discusses sex addiction in the context of affect dysregulation. For those who are new or missed an episode, Dr. Dave lists the transcripts of previous shows on his site.
The Psych Files
Host Michael A. Britt hopes that The Psych Files gets listeners as enthusiastic and engrossed in psychology as he is. Taking an informal approach to his discussions, Britt interviews authors and researchers in the field of mental health and psychology. Together, they cover current events and patterns of human behavior, exploring how these tie into elements of psychology.
The Psychology Podcast
Intellectual yet engaging, The Psychology Podcast sheds light on the inner world of mind, brain, behavior, and creativity. Host Dr. Scott Barry Kaufman, currently a professor of positive psychology at University of Pennsylvania, speaks with a featured guest every episode. Through The Psychology Podcast, they seek to increase our self-understanding and awareness of the world, stimulate thought, and open our eyes to the possibility inherent in humankind.
2 Guys On Your Head
Dr. Art Markman and Dr. Bob Duke analyze various facets of human behavior and the brain in their weekly podcast, 2 Guys On Your Head. Host Rebecca McInroy facilitates conversations between the two psychologists that explore a vast range of topics.
Happier With Gretchen Rubin
Happier with Gretchen Rubin features conversations between Rubin and her sister, Elizabeth Craft. Called the "Click and Clack of podcasters," the two discuss topics that center around habits of happiness and good mental health in a relevant way that is often laced with popular culture. Included in the Academy of Podcasters "Best Podcasts of 2016" and consistently ranked in iTunes Top Charts, this podcast reminds us that life is an ongoing experiment.
Brain Science Podcast
Dr. Ginger Campbell hosts the Brain Science Podcast, which keeps a wide audience informed on new discoveries in neuroscience. Dedicated to exposing the scientific method's effectiveness in solving mysteries of psychology, the Brain Science Podcast features conversations with world-renowned scientists. By understanding how the brain functions, Dr. Campbell seeks to gain perspective on what contributes to our humanity.
Psych Sessions
Author and speaker Jimmie Morris, MA, LPC-S, NCC, is the host of Psych Sessions. One of the most popular psychotherapy podcasts out there, Psych Sessions is on a mission to assist people who want to learn more about mental health and psychiatry. The show invites seasoned therapists and clinicians to share their insights with an audience that spans from curious to experienced. On the subject of his own practice, Dr. Morris says, "I love helping people look at the uncertainties that are affecting their lives and helping them to respond in different ways."
Kati Morton, Therapist and Friend
Youtuber and entrepreneur, Kati Morton, LMFT, is known for her mental health video blog (vlog). With new videos every Monday and Thursday, Kati Morton, Therapist and Friend speaks on subjects including anxiety, depression, abuse, eating issues, and self-harm. With her vast collection of videos, Kati seeks to connect with and encourage her growing viewer base, reduce the stigma associated with getting mental health treatment, and send the message to anyone with a mental health issue that they are not alone.
Where Should We Begin?
In her podcast titled Where Should We Begin, Esther Perel, LMFT, and AASECT certified sex therapy supervisor, delves into topics on relationship health. Author of bestseller, Mating in Captivity: Unlocking Erotic Intelligence, Esther speaks on healthy sexuality, connection, infidelity, and mental health for couples in her podcast and shares stories of other couples to educate and inspire those who may find themselves in similar situations.
Podcasts for Therapists
FYLMIT.com—Storytelling Through Video
Ernesto Segismundo Jr., LMFT, is the creator of FYLMIT.com, a website that makes videos to help therapists promote their businesses. In his podcast, FYLMIT.com—Storytelling Through Video, Ernesto seeks to tell the stories of mental health professionals and the people who work with them to inspire others and demonstrate how success can be achieved by implementing good strategies.
Love Your Practice
Presented by TherapyPartner and hosted by Jessica Dolgan, PsyD, the Love Your Practice podcast is key for mental health professionals who are serious about their private practice. Featuring interviews with industry leaders, tips for overcoming industry obstacles, and inspiration for mental, physical, and financial growth, this podcast delivers relevant information in doses mangageable for on-the-go professionals. Topics covered range from tips for streamlining your practice to the value of preventative care.
The Private Practice Startup Podcast
Creators of The Private Practice Startup Podcast, Kate Campbell, PhD, LMFT, and Katie Lemieux, LMFT, are two therapists with entrepreneurial spirits dedicated to helping other therapists brand themselves and grow their dream practice. The Private Practice Startup interviews experts in the business and mental health arenas and focuses on marketing and building a lifestyle business. Episodes are filled with #NinjaTips, tricks, and secrets to navigating the modern world of private practice with success.
Selling the Couch
Selling the Couch provides a wealth of knowledge for mental health professionals looking to optimize their private practice. Host Melvin Varghese, PhD, converses with business coaches, marketing experts, and experienced clinicians so that listeners can get the most from their best advice. From successful daily habits to social media tips and pitfalls, Selling the Couch brings a down to earth approach and great resources to building the authenticity of your practice.
Practice of the Practice
Joe Sanok, LLP, LPC, NCC, knows that starting a private practice after grad school and clinical training can be an overwhelming process into which many walk unprepared. That's why he started Practice of the Practice, a podcast focused on giving therapists the information, tools, and skills they need to succeed at the business side of running a practice. Joined by his business consultant, Alison Pidgeon, LPC, Joe encourages listeners to adopt methods that can help them ethically make more money, add clinicians to their practice, or start consulting. In episode 211, below, Joe chats with Chris Dayley, VP of testing and site optimization at Disruptive Advertising, about the psychology of marketing.
Therapy Chat
Therapy Chat is hosted by one of our own GoodTherapy.org Topic Experts and psychotherapist, Laura Reagan, LCSW-C. In her podcast, she converses with guests about alternative approaches to healing through psychotherapy and counseling. By employing mindfulness and self-care to avoid therapist burnout, Laura brings a universal perspective to practicing therapy. Somatization, trauma, EMDR, and art therapy are only a few of the wide variety of topics she discusses.
TherapyTech with Rob and Roy
Roy Huggins, LPC, NCC, and Rob Reinhardt, LPCS, MEd, NCC, dub their podcast, TherapyTech with Rob and Roy, "The most fun therapists can have listening to a podcast about technology!" The podcast covers topics to help therapists navigate the technology that comes with the territory while improving their business and keeping up-to-date with HIPAA and ethics. Currently, season one is free to stream on their website.
The Social Work Podcast
The Social Work Podcast, created and hosted by Jonathan Singer, PhD, LCSW, is a wealth of information on nearly any social work-related subject, including education, direct practice, and research. With guest interviews and topics that cover everything from practicing social work abroad to the teenage brain and neuroscience, this podcast has something to pique the interest of those who want to learn more about social work. Dr. Singer is also involved with #SPSM chat (Suicide Prevention Social Media), a space for mental health professionals to share and generate ideas and practices for making suicide "a 'never' event."
The ACA Podcast Series
The American Counseling Association (ACA) has been sharing a series of interview-style podcasts since 2008. Geared toward helping mental health professionals save time and money, The ACA Podcast Series offers on-the-go knowledge to help you grow as a mental health practitioner. Many of the series even provide opportunities for earning Continuing Education credits, making this podcast both informative and practical.
We All Wear It Differently
Self-described as, "a podcast for psychologists," We All Wear It Differently features conversations with established mental health professionals. The podcast seeks to boost the confidence of those new to the career as well as motivate seasoned practitioners. Recognizing that staying passionate and engaged is a must in order to help others, We All Wear It Differently allows professionals to share their stories of challenge and triumph in the mental health field.
The Therapist Experience Podcast
The Therapist Experience Podcast, hosted by Perry Rosenbloom, founder and CEO of Brighter Vision Web Solutions, features interviews with experienced therapists about the ins and outs of growing a private practice. Discussions cover many topics essential to a thriving private practice, including marketing, developing a niche, and how to navigate the entrepreneurial scene as a business owner.