Social work is a professional practice that involves helping people improve their individual and collective welfare by maximizing personal skills and community resources. It is grounded in the principles of human rights, social justice, and mutual responsibility. Social workers require an in-depth understanding of human behavior and development, as well as the functions of social, cultural, and economic institutions. Individuals, families, non-familial groups, organizations, and even entire communities may benefit from social work.
What Do Social Workers Do?
Social workers may function as part of a team, or they may provide services on a one-on-one basis. The type of services provided will depend significantly on the setting in which they operate, as well as whether or not they work in private practice or public offices. For example, social workers may work in settings such as:
Child protection agencies: Social workers investigate cases of child sexual abuse, neglect, or violence and then take appropriate action to protect the child or children involved. They may assist with adoption cases, help with the recruitment and selection of foster parents, and oversee the process of placing at-risk children in protective care.
Family service agencies: Some social workers examine cases of domestic violence or other family-related issues and provide support and direction
Hospitals and mental health facilities: Often functioning as a vital part of treatment, social workers in hospitals and mental health facilities help foster the relationship between the health care team and the families being cared for. Social workers also inform families of community-based resources which may assist with treatment and rehabilitation.
Correctional institutions: In correctional facilities, social workers can act as members of a multidisciplinary team geared toward the social rehabilitation of adult and young offenders. The roles of social workers in these settings may differ depending on the capacities in which they serve. For example, they may serve as parole officers, probation officers, or classification officers.
Schools: In school settings, social workers help students cope with school life and make adjustments necessary for a better learning experience. They may work with members from every level of the institution—including teachers and parents. They assist with concerns such as poor academic performance, family issues, behavioral issues, and truancy. Some social workers may teach and conduct research at community colleges and universities.
Health and community service centers: In community health care settings, social workers may provide assistance in the form of individual counseling, family counseling, marriage counseling, community development, and care for the elderly.
Government agencies: In government, social workers fulfill a variety of roles which may include social planning, research and policy planning, development, and analysis.
Private practice: Many social workers are employed in private practice, providing services for organizations, families, or individuals. Services may include counseling on a variety of topics, mediation between two or more parties, organizational development, help with employee assistance programs, and psychotherapy.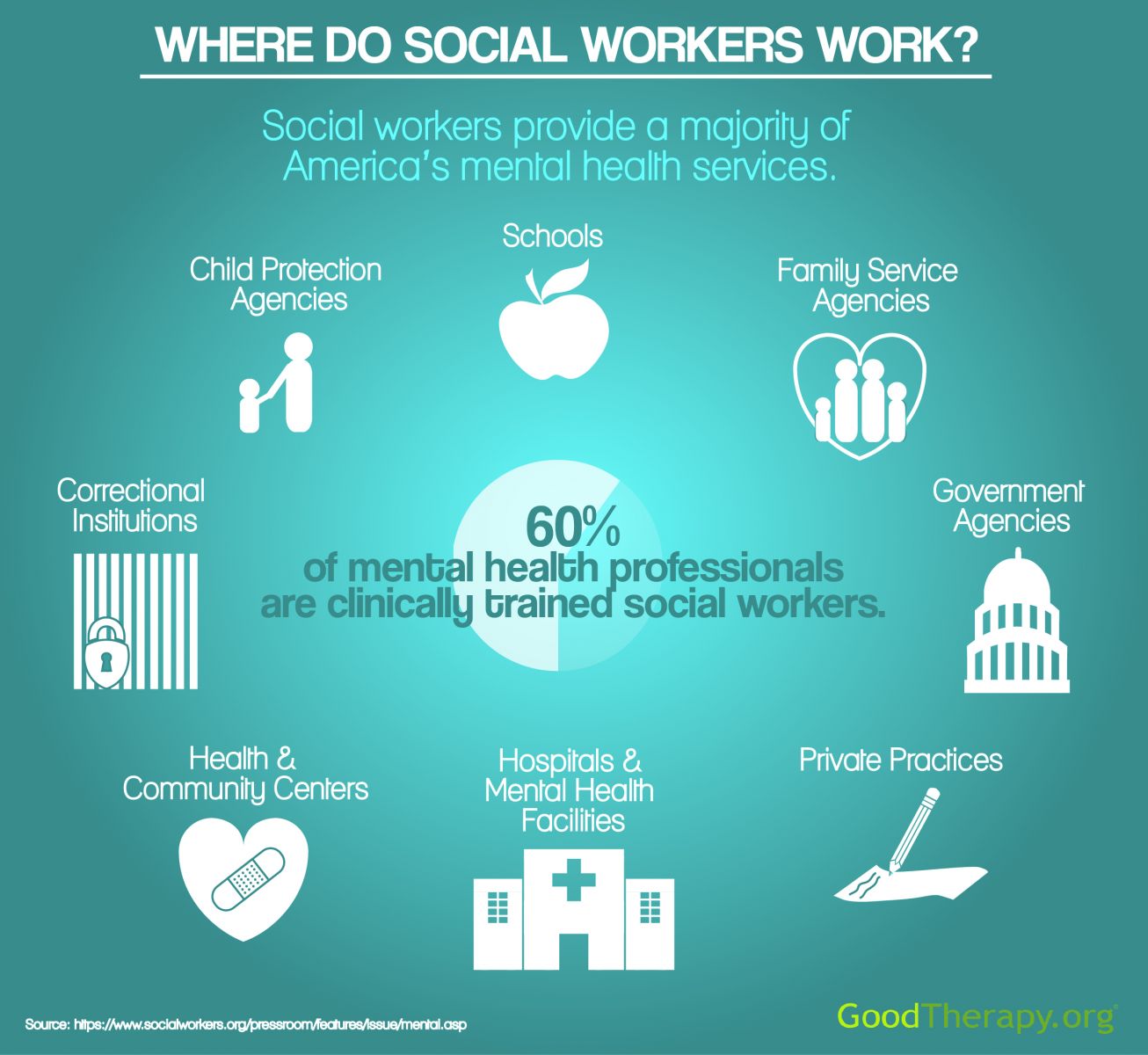 Social Work and Mental Health
Social workers play a vital role in mental health worldwide. In the United States, the National Association of Social Workers (NASW) reports that the majority of the mental health services offered in the U.S. are delivered by social workers. According to NASW, of all the mental health professionals in the country, 60% are clinically trained social workers, 23% are psychologists, 10% are psychiatrists, and 5% are psychiatric nurses.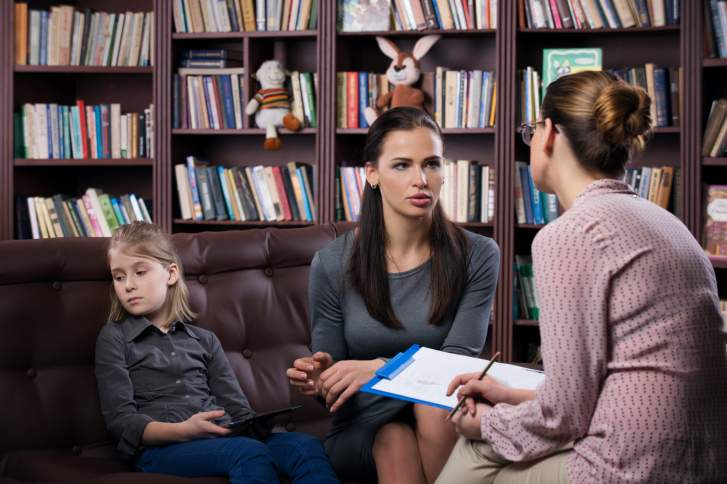 Clinical social workers are trained to educate people about their mental health experiences and help them reduce, eliminate, or cope with sources of distress affecting their daily lives. They help adults and children deal with issues such as:
Counseling may be offered in one-on-one, family, or group settings.
What to Look for in a Social Worker
Social workers may provide assistance facilitating personal growth and development among at-risk individuals, resolving serious family issues, and implementing important organizational programs.
The U.S. Department of Labor says that important qualities to look for in a social worker include:
Good communicators: Social workers must know how to listen and how to speak effectively about sensitive issues.
Good organizers: It's helpful for social workers to be able to keep track of all necessary documentation and appointments for all the individuals and groups they work with.
Problem solvers: Social workers should be able to analyze areas of concern and provide practical solutions.
Empathetic: A strong sense of empathy for social workers may be demonstrated by genuinely caring about the people they serve and sharing in both their joys and their distress. A useful skill for a social worker is the ability to form strong, meaningful relationships.
Relatable: Social workers possessing this trait are able to work with diverse groups, demonstrate strong interpersonal skills, and foster a healthy work environment among their peers.
Good time managers: It's important for social workers to be able to schedule sufficient time to carry out administrative responsibilities and provide adequate time for the people and groups in their care.
The Job Outlook for Social Workers
According to the U.S. Bureau of Labor Statistics (BLS), the number of people employed as social workers in the United States is expected to increase from 649,300 in 2014 to 724,100 in 2024—an estimated growth rate of 12%. In comparison, the average growth rate for all jobs in the U.S. is 7%.
However, the BLS projects that there will be differences in occupational growth for people who perform different types of social work. For example, the number of social workers who specialize in child, family, and school issues is projected to increase by 6%; health care social workers are expected to increase by 19%; social workers who manage mental health and substance dependency issues are expected to increase by 19%; and all other social worker fields are projected to increase by 4% from 2014 to 2024.
In 2014 social workers earned a median average wage of $45,500. The top 10% earned more than $75,850, while the bottom 10% took home less than $28,240. Social workers for child, family, and school issues earned a median average wage of $42,120; healthcare social workers earned $51,930; social workers who handle mental health and substance dependency issues earned $41,380; and all other social workers earned a median annual salary of $59,100.
How to Become a Social Worker
Most entry-level positions in social work require applicants to have at least a bachelor's degree, with the typical requirement being a bachelor's degree in social work (BSW). The BSW degree program educates people about the fundamental principles of human behavior, population diversity, ethics, and social welfare policy. Internships or supervised fieldwork is a typical requirement for BSW programs.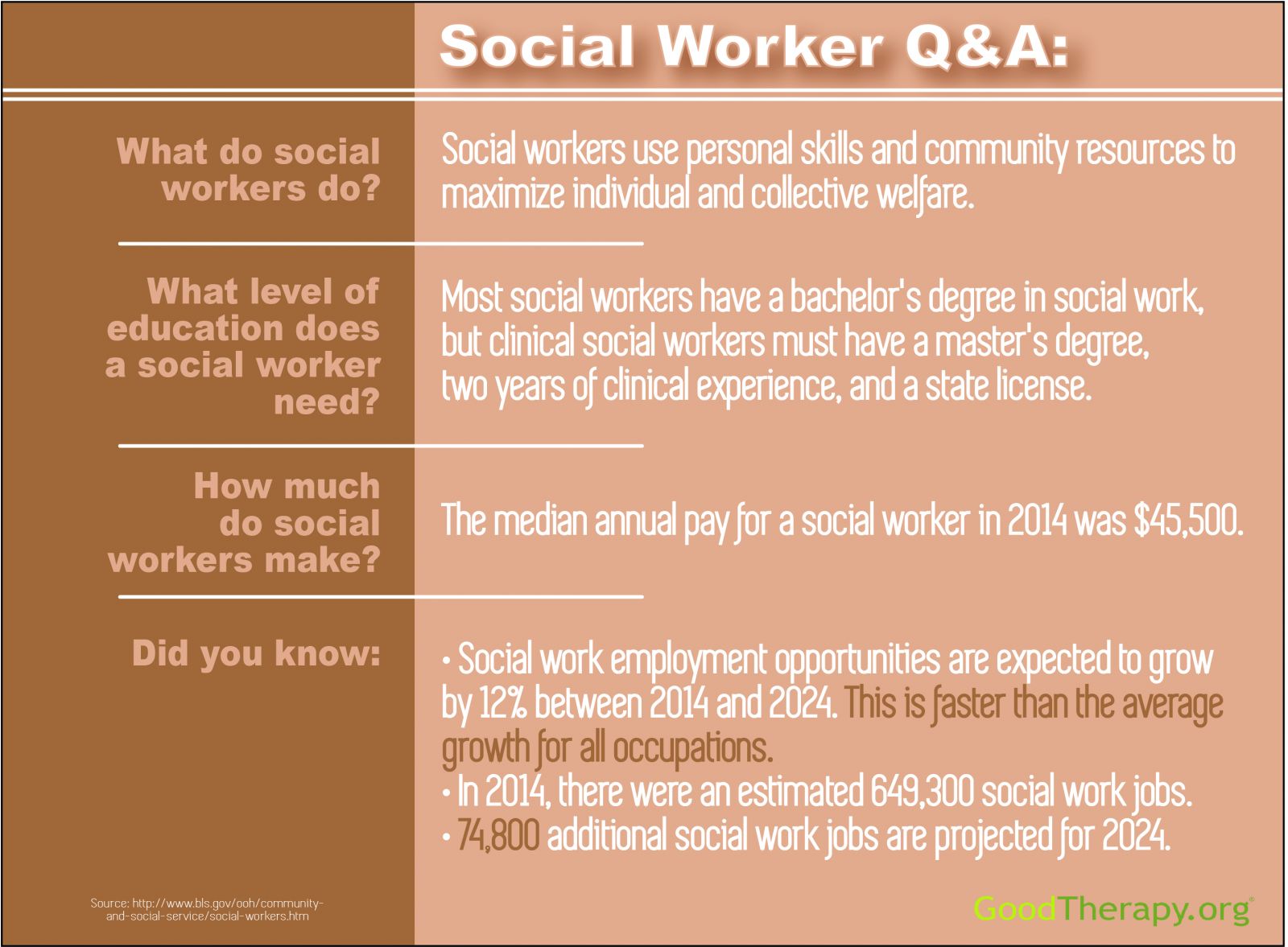 Having a bachelor's degree in social work may prepare individuals for a career as a mental health assistant or a caseworker. However, some institutions may choose to employ people who have earned their degree in closely associated fields such as sociology, political science, or psychology.
More advanced social work positions may require applicants to earn a master's degree in social work (MSW). Applicants need not earn a BSW before they apply, as students with a degree in fields such as psychology, sociology, economics, and political science may be accepted. However, applicants with a BSW may be allowed to complete their master's degree in less time. Depending on the institution, there may also be opportunities to pursue the MSW online. Master's degree programs help students sharpen their clinical assessment and management skills in their chosen specialty. An internship or a supervised practicum is a typical requirement for the successful completion of most master's degree programs. Some educational institutions also offer doctoral programs in social work. In such cases, interested individuals may choose to earn a PhD or a doctorate of social work (DSW).
While most states require non-clinical social workers to have licenses, all states require clinical social workers to obtain licensure. However, as the exact licensing requirements vary from state to state, it is recommended that applicants contact the Association of Social Work Boards for more information on what is needed for licensure in their state.
Social Work Professional Organizations
There are many social work organizations in the U.S. where qualified individuals may seek employment or volunteer opportunities. Some of these include:
References:
Bureau of Labor Statistics, US Department of Labor. (2016). Social workers. Retrieved from http://www.bls.gov/ooh/community-and-social-service/social-workers.htm#tab-1
Canadian Association of Social Workers. (n.d.). What is social work? Retrieved from http://www.casw-acts.ca/en/what-social-work
Help Starts Here. (n.d.). About social workers. Retrieved from http://www.helpstartshere.org/about-social-workers
National Association of Social Workers. (n.d.). Retrieved from https://www.socialworkers.org/