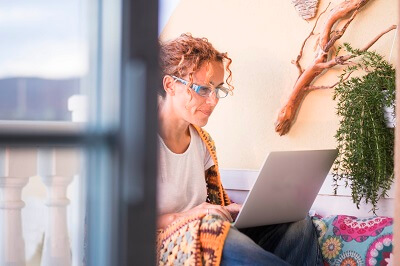 Telemental health can be great for both therapists and clients. Therapists who run their practices completely online have lower overhead and can often reach more clients. Clients may pay less for care, spend less time away from work and family, and avoid hassles like traffic.
Telemental health may mean a client gets care faster, and for people with agoraphobia and some other forms of anxiety, online care may be a less stressful alternative to traditional settings. In isolated and rural areas, telemental health may be the only option for care.
Find out how you can start offering telemental health to your clients today or continue reading for tips on how to grow a thriving online therapy practice.
Considering Providing Therapy Online? 8 Tips for Professionals
A 2017 systematic review found that well-designed telemental health care offered similar results to in-person care. Yet therapists interested in offering telehealth services may need to jump through legal and regulatory hoops to avoid professional discipline. Privacy also presents a concern, since therapy delivered across insecure channels may be accessed by third parties. This can endanger clients and run afoul of Health Insurance Privacy and Portability Act (HIPAA) issues.
Get Good Legal Advice
Every state establishes its own professional regulations governing therapists. That which is legal in one state may subject you to licensing issues in another. Licensing boards have jurisdiction over clients who are physically in their state. This means that if you practice in Oklahoma and treat a client in Georgia, both Georgia and Oklahoma licensing issues may affect you. Some state boards allow therapists to practice across state lines, while others don't. Moreover, professional rules and norms vary slightly from state to state.
Research your state's professional rules of conduct, but don't stop there. A quick Google search will not answer your legal questions. The law is complicated and ever-changing. What seems straightforward to a layperson might not be so to a judge or licensing board. Consult a lawyer who specializes in mental health licensing and regulation in your state. You may also need to consult an attorney who specializes in mental health to get clear guidance about where you can practice. Message boards and consumer advice pages are no substitute for the knowledge of a trained lawyer, so invest in your business by investing in legal advice.
Be Mindful of HIPAA Concerns
HIPAA might seem like a frustrating regulation filled with complex guidelines. But it's there for a very good reason. Access to protected mental health information can endanger your clients' well-being. In some cases, it might even threaten their life. Consider how an abusive ex might use therapy notes to hurt your client, or how a criminal could use sensitive mental health information to extort payments.
Virtual mental health increases the risk of a HIPAA violation in several ways. First, if you send notes or emails across an unencrypted channel, a third party could access them. Second, if you choose the wrong chat service, other people may be able to view entire sessions. Finally, you'll have less control over the therapy setting. Clients might see you in busy coffee shops across unsecured wireless connections. Or they may meet with you when their abuser is in the next room—or lurking in the corner without your knowledge.
Some strategies that can minimize the risk of HIPAA issues include:
Choose only a secure platform to send emails, treatment notes, and other messages.
If you use telemental health software, read the terms and conditions and choose only encrypted, secure programs.
Educate clients about privacy issues they control. Develop a signal for abuse victims that indicates the abuser is listening or monitoring them. Discourage clients from seeking care in public locations.
Choose a Specialty and Client Population
As with traditional mental health services, choosing a specialty and a specific client population can help set you apart and ensure you offer exceptional care. For some providers, it makes sense to treat telemental health as a continuum of their in-person care. For others, telemental health offers a chance to market a separate set of services, or to cater to a completely different population.
A therapist who normally treats trauma and anxiety might choose to expand their practice to treat people with social phobias such as agoraphobia, since people who fear going out in public may be less likely to seek in-person treatment. As with traditional care, ensure you have sufficient training and skill to manage the issues you hope to treat. You must also be mindful of how virtual services may complicate treatment for some concerns. Abuse victims who live with abusers may not be able to safely and openly discuss as many concerns online, while people experiencing severe mental health crises may need in-person care.
Consider Client Safety
Some mental health providers offer telemental health services on an anonymous or semi-anonymous basis. They might allow clients to conceal their identity or provide crisis chat to people who are worried that disclosing suicidal tendencies will mean an involuntary commitment. While this can extend care to people who might not otherwise seek it, it also raises important consumer safety concerns. Talk to a lawyer about your legal duties and consult with peers for ethical insight.
One strategy is to require anonymous patients to give a verified emergency contact number or provide an address. Another is to require clients to disclose their identities while reassuring them that you will protect their privacy. Give all clients clear, specific details about whether, to whom, and when you might be required to disclose their personal information.
Know How to Establish Rapport Across Distance
When a client sees you in your office, you can create a calm, comfortable space using soft furniture, ambient music, and a soothing setting. When you see a client online, you can't control their setting. It's harder for them to read your body language, and technical glitches—such as delays or brief interruptions in your connection—can make therapy seem disjointed. Develop strategies for establishing a rapport despite these challenges. Be very mindful of your voice and eye contact, since these are two cues the client will consistently notice. Friends who provide telemental health may be able to offer insight into what works well for them.
Get the Right Equipment
It doesn't matter how well a session is going. If you suddenly lose your connection, struggle with sound lags, or can't see your client, the natural rhythm of your session will be lost. The right equipment is stable and reliable. It also protects privacy. Several different platforms offer video and chat services. Read the terms of service, check out online reviews, and seek feedback from colleagues about their experiences with various programs.
Network with Colleagues
You can't tackle every issue online. Sometimes a client needs inpatient treatment or intensive outpatient care. In some cases, a client may need the reassurance and human connection that traditional settings can offer. You'll need a wider professional network to ensure you can refer clients to the right provider. That means knowing several providers in each state where you offer services, as well as a general awareness of the best emergency facilities in each area. The more relationships you build, the deeper your referral network can grow. And as that network grows, so too do your opportunities to get referrals from other providers whose clients are interested in switching to virtual services.
Choose the Right Continuing Education
Telemental health is not for everyone. You need exceptional social skills. You must be able to put people at ease even when you've never met them and can't control the environment. The right continuing education seminars can help you sharpen your virtual therapy skills while teaching you about how best to manage common confidentiality, safety, and client rapport issues.
Invest in your practice by investing in ongoing training. A deep network of other therapists who provide telehealth services can also help, since they may offer additional insights and struggle with some of the same issues you face.
GoodTherapy supports members with exceptional CE seminars, an insightful blog, access to myriad resources, and a directory that ensures the right clients can find you. Become a member and get listed today!
References:
Kelley, T. (2017, April 13). 'Telemental' health is becoming the norm. Managed Care. Retrieved from https://www.managedcaremag.com/archives/2017/4/telemental-health-becoming-norm
Langarizadeh, M., Tabatabaei, M., Tavakol, K., Naghipour, M., & Moghbeli, F. (2017). Telemental health care, an effective alternative to conventional mental care: A systematic review. Acta Informatica Medica, 25(4), 240-246. doi: 10.5455/aim.2017.25.240-246
Maheu, M. M. (2018, October 30). Is it legal to practice across state lines with online therapy, telemental health and telebehavioral health?. Telebehavioral Health Institute. Retrieved from https://telehealth.org/blog/practice-across-state-lines
Zur, O. (n.d.). Telemental health services across state lines. Retrieved from https://www.zurinstitute.com/telehealth-across-state-lines