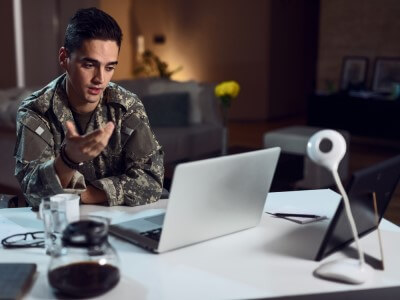 Many veterans struggle to access basic health care. Finding mental health services may pose even more of a challenge. Telemental health care works to make therapy accessible to many populations who might otherwise have a hard time easily accessing mental health services. This approach to treatment can improve the therapy process for many veterans.
How Telemental Health Care Works
Telehealth describes long-distance health care services provided through telecommunication devices such as smartphones or laptops. Telemental health care, then, refers specifically to long-distance therapy or behavioral health services.
Health care providers can offer telehealth services in two primary ways.
Synchronous care takes place in real time. In other words, the person seeking services communicates directly with the care provider through video, online chat, or telephone call. Most people seeking mental health care will receive synchronous care.
Asynchronous telehealth care, on the other hand, describes services that take place over a delayed period. With this type of care, also called store-and-forward telehealth, the person seeking services sends their information to their care provider, who relays it to other appropriate technicians. This allows a client to work with several different care providers regardless of availability. This type of care can take place when a therapist answers text messages from a client, seeks diagnostic input from another professional, or provides any other type of delayed health services.
Teleheath services can be provided securely in a way that doesn't violate the Health Insurance Portability and Accountability Act (HIPAA). However, care providers must take extra precautions. Therapists can only use secure video chat formats, such as those offered through secure therapy software formats, to conduct video therapy sessions. Electronic communications and messages also need to be secured to prevent outside access.
VA Video Connect, announced as part of the Anywhere to Anywhere program, is one type of video application specifically designed for veterans and their care providers.
Anywhere to Anywhere Program
A new federal rule added to the Anywhere to Anywhere initiative in 2018 allows the Department of Veterans Affairs to provide health services, including mental health services, to veterans across state lines.
The Anywhere to Anywhere program made it possible for care providers to offer telehealth services to veterans. But the additional rule allows the VA to override state licensing restrictions and offer care to veterans in different states.
This rule can expand care in multiple ways:
Treatment can continue with the same provider when a veteran receiving treatment has to relocate.
Veterans who live in rural areas can access care, even when no therapists live nearby.
Veterans who might benefit from specialized types of therapy or other mental health services have a better chance of finding a provider offering broader treatment approaches.
Advantages of Telemental Health Care
According to a 2018 article published in BMC Health Services Research, veterans report five common types of barriers to mental health care:
Personal, physical, or financial barriers (such as poor health or homelessness)
A lack of confidence in the system's ability to meet their health care needs
Trouble navigating the system providing the services
Worry over what other people might think about their need for care
Concern over their privacy and potential professional consequences of seeking care
Telemental health care offers a way to overcome many of these barriers. For example, veterans may feel less anxious about confidentiality if they can talk to a therapist in the privacy of their own home. Many veterans who might not otherwise seek care may find telehealth a beneficial option.
Teletherapy can also connect people seeking help to a wider pool of therapists. Someone seeking therapy from a small town or other rural area may only have a few providers in their area, if any. Without telemental health services, they would likely have to go without care or see a therapist who wasn't the best fit for their specific needs.
A 2018 research article published in Women's Health Issues suggests telemental health could increase access to care for many female veterans. Female veterans may be more likely to have caregiving responsibilities for children, spouses, or elderly parents that make it harder to leave the house for extended periods. Some female veterans also appreciate the increased opportunity to have a same-gender provider through telemental health programs.
Telemental Health Careers
If you're interested in working with veterans to help increase their access to care, a career as a telemental health care provider can be a rewarding choice.
Providing mental health services to veterans may require more specialized training or continuing education. It's essential to understand the needs of the people you provide care to. Without thorough knowledge of the challenges veterans face and the recommended types of treatment, you may not be able to provide the most effective therapy. If you haven't already completed your training or education, choosing a degree program or psychology specialization that prepares you for this career.
It is common for counselors who treat veterans to work with clinics and hospitals connected to the Veterans Administration. Yet you don't have to specifically work with the VA to provide care to veterans. You can also provide counseling in social service offices or community health centers. Working with the VA, however, will allow you to offer therapy services to clients in other states.
If you do intend to find work with the VA, your training program must be accredited by the Council for Accreditation of Counseling & Related Educational Programs (CACREP). You may wish to specialize in disability and rehabilitation counseling or posttraumatic stress (PTSD) counseling. Even if you provide care across state lines, you will need a valid license within your home state.
If you would like to learn more about treating veterans and other trauma survivors, you can find continuing education courses here.
References:
Bauerly, B. C. (2016, November 8). Veterans and telemental health. The Network for Public Health Law. Retrieved from https://www.networkforphl.org/the_network_blog/2016/11/08/840/veterans_and_telemental_health
Cheney, A. M., Koenig, C. J., Miller, C. J., Zamora, K., Wright, P., Stanley, R., … & Pyne, J. M. (2018). Veteran-centered barriers to VA mental healthcare services use. BMC Health Services Research, 18(1), 591. Retrieved from https://www.ncbi.nlm.nih.gov/pmc/articles/PMC6069794
How to become a veterans counselor. (n.d.). Retrieved from https://www.psychologyschoolguide.net/counseling-careers/how-to-become-a-veterans-counselor
Huggins, R. (2016, July 28). To practice telemental health, am I required to receive training? Retrieved from https://personcenteredtech.com/2016/07/28/practice-telemental-health-required-receive-training
Mechanic O. J., & Kimball A. B. (2019, April 5). Telehealth systems. Retrieved from https://www.ncbi.nlm.nih.gov/books/NBK459384
Moreau, J. L., Cordasco, K. M., Young, A. S., Oishi, S. M., Rose, D. E., Canelo, I., … & Hamilton, A. B. (2018, January 12). The use of telemental health to meet the mental health needs of women using Department of Veterans Affairs services. Women's Health Issues, 28(2). Retrieved from https://www.ncbi.nlm.nih.gov/pubmed/29339013
VA expands telehealth by allowing health care providers to treat patients across state lines. (2018, May 11). Retrieved from https://www.va.gov/opa/pressrel/pressrelease.cfm?id=4054
Wicklund, E. (2018, May 11). VA finalizes 'Anywhere to Anywhere' program for vets. Retrieved from https://mhealthintelligence.com/news/va-finalizes-anywhere-to-anywhere-telehealth-program-for-vets