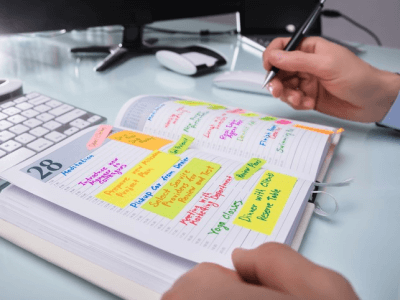 Scheduling can make or break a private practice. Therapists who book many billable hours command higher incomes and have more money to offset practice expenses. Working long hours back-to-back, however, can compromise quality and make it impossible to complete tasks that grow and market your practice.
A 2015 American Psychological Association survey found that psychologists spent an average of 18.4 hours per week on direct client care. Administrative and management tasks demanded 7.4 hours per week, compared to 4 hours for teaching, education, and research, 1.7 hours for clinical supervision, 1.3 hours for other services such as consulting, and 2.8 hours on other tasks.
A 2016 study of pediatric behavioral health providers in a primary care setting found that providers spent 35.28% of their time in direct client care.
The specific division of tasks greatly varies from therapist to therapist, and it may shift as a practice grows and expands. Therapists making their own schedule may get better results from seeing fewer clients at first, then gradually increasing their billable hours as needed.
How Many Hours A Week Should You Work?
Therapists scheduling clients should consider how much time they need to spend in other roles. Those who only work with clients may have time for more billable hours, while those who do consulting, research, or clinical supervision may have more limited availability.
Therapists may need to calculate their hourly rate based on the number of billable hours they can fill each week. Therapists with many other duties, such as teaching or hosting a podcast, are often heavily in demand. Their clients may be willing to pay more for their time.
Some factors to consider when devising a weekly schedule include:
Physical needs. How many snacks or meals do you need each day? What about bathroom breaks? How much time do you need between sessions to tend to basic physiological needs?
Self-care and burnout. Booking numerous sessions back to back is a recipe for burnout, especially if you work with challenging clients. You may need time between sessions to center yourself. Most therapists also need at least one quality break during the day for lunch, a walk, or even a nap.
Session preparation. The best therapists understand that each client needs personalized attention and a caring listener. It takes time to prepare for each session. You'll either need to schedule preparation time at the beginning of the day or prepare for each client in between sessions. A day of back to back clients without a break will almost certainly mean you are not well-prepared.
Administrative tasks. As your practice grows, so too will your administrative load. Self-employed therapists may need just an hour a day to bill insurance, respond to emails, and pay bills. Therapists who run large or complex practices may need several hours. Neglecting these tasks can undermine your ability to get new clients and compromise your relationship with the clients you already have. So even though administrative work does not directly pay, it does help you continue to bring in revenue.
Personal tasks and work-life balance. One of the benefits of making your own schedule is that you can take breaks to pick the kids up from school, walk the dog, or go home and meet the cable repair person. Consider how much time you might need each week for personal tasks. You may even want to schedule a light or half day so that you have time set aside to schedule non-work appointments.
Support for non-billable tasks. Therapists who have assistance with non-billable tasks from receptionists, billing coordinators, or billing software may be able to schedule more billable hours.
For many therapists, 30 billable hours per week is the upper limit. Very busy therapists with other duties may bill half this.
Maximizing Productivity
Therapists eager to earn a comfortable living may try to maximize their productivity by scheduling as many clients as possible. But when this means skipping meals, ignoring marketing opportunities, and delaying insurance billing, it can actually slow the growth of your practice and undermine your earnings.
Some strategies that may help maximize productivity include:
Scheduling tasks in large chunks. Rapidly switching from task to task can be stressful, and it may slow you down. Instead, try setting aside a large chunk of time each week for major tasks. For example, you might do billing on Monday, draft marketing materials on Tuesday, and meet with potential consulting clients on Wednesday.
Hiring administrative help. While the expense might initially feel daunting, hiring part-time help may enable you to bill many more hours each year.
Splitting administrative duties. If you work in a group practice, you may be able to split administrative and other tasks with other practice members.
Planning each session. You will improve the quality of each session if you plan ahead.
Developing templates and forms. This makes it easier to complete insurance billing, send common communications, and gather client information.
Using technological solutions to outsource administrative tasks. Various apps and programs may reduce your administrative load. For example, a program like FrontDesk can help you with online scheduling.
Weekend and Evening Availability
Offering weekend and evening hours may enable you to treat more clients. Therapists who treat children or busy professionals may not be able to fill their schedule without offering extended hours, since school and office hours can interfere with therapy.
Evening and weekend hours mean you can spread your work across more hours. This can make it easier to balance the competing demands of administrative work and direct client care.
This extended hour strategy, however, can affect work-life balance. Most therapists find that they need at least one full day off per week. If you work long hours—such as by offering client time both in the early mornings and early evenings—consider working fewer days or scheduling a chunk of personal time in the middle of the day.
Making Time for Professional Development
Professional development helps you become a better therapist while meeting state continuing education requirements. Professional development may also connect you to other therapists who can help you grow your practice, refer new clients, or offer clinical supervision.
The amount of time you spend on professional development activities will vary throughout your career. Novice therapists can benefit from more professional development and networking, especially when they work for themselves. More experienced therapists may need to budget less time for these activities. Consider assessing your professional development needs each quarter, then carving out monthly time to fulfill these needs.
GoodTherapy supports therapists at every stage of their career. Our continuing education and professional development seminars help you run a better and more effective practice. Members also gain a position in our highly-searched directory. To expand your practice and become a better therapist, join today!
References:
Cederna-Meko, C., Ellens, R., Burrell, K., Perry, D., & Rafiq, F. (2016). An exploration of behavioral health productivity and billing practices within pediatric primary care. Journal Of Pediatric Psychology, 41(10), 1133-1143. Retrieved from https://www.ncbi.nlm.nih.gov/pmc/articles/PMC5061975/
Hamp, A., Stamm, K., Lin, L., & Christidis, P. (2016). 2015 APA Survey of Psychological Health Service Providers [PDF]. Washington, DC: American Psychological Association. Retrieved from https://www.apa.org/workforce/publications/15-health-service-providers/report.pdf
Shorehaven Behavioral Health, Inc. (n.d.) Frequently asked questions [PDF]. Retrieved from https://www.shorehavenbhi.com/pub/jobs/Job-FAQs/Outpatient-PsychoTher-FAQ.pdf