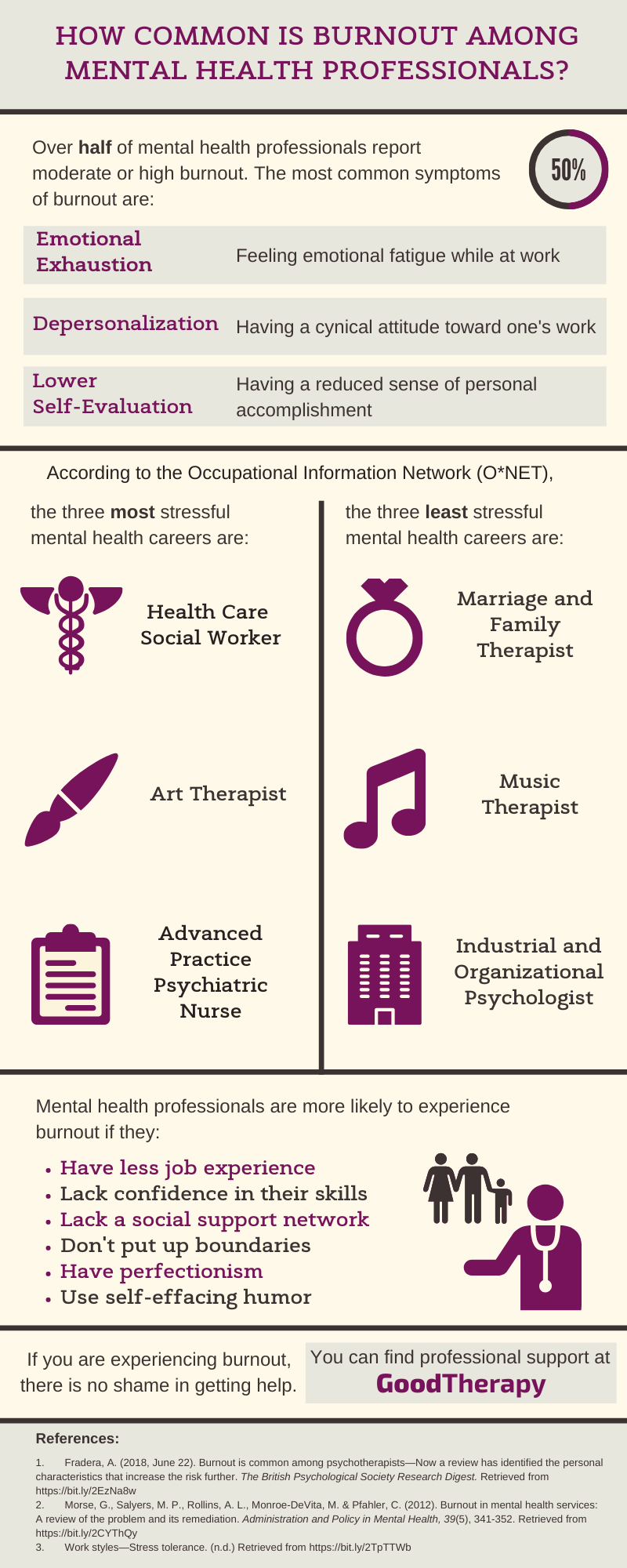 INFOGRAPHIC TEXT: HOW COMMON IS BURNOUT AMONG MENTAL HEALTH PROFESSIONALS?
Over half of mental health professionals report moderate or high burnout. The most common symptoms of burnout are:
Emotional Exhaustion: Feeling compassion fatigue while at work
Depersonalization: Having a cynical attitude toward one's work
Lower Self-Evaluation: Having a reduced sense of personal accomplishment
According to the Occupational Information Network (O*NET), the three most stressful mental health careers are:
The three least stressful mental health careers are:
Mental health professionals are more likely to experience burnout if they:
Lack confidence in their skills
Lack a social support network
If you are experiencing burnout, you can find professional support and resources at GoodTherapy.
References:
Fradera, A. (2018, June 22). Burnout is common among psychotherapists—Now a review has identified the personal characteristics that increase the risk further. The British Psychological Society Research Digest. Retrieved from https://bit.ly/2EzNa8w
Morse, G., Salyers, M. P., Rollins, A. L., Monroe-DeVita, M. & Pfahler, C. (2012). Burnout in mental health services: A review of the problem and its remediation. Administration and Policy in Mental Health, 39(5), 341-352. Retrieved from https://bit.ly/2CYThQy
Work styles—Stress tolerance. (n.d.) Retrieved from https://bit.ly/2TpTTWb