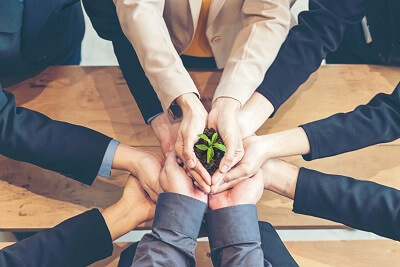 A thriving individual therapy practice is an exciting thing to build. As your practice grows, however, so too may your stress. You may find yourself juggling a complicated schedule as you take on new clients and strive to serve the clients you already have. Administrative tasks can eat into much of the time you have with clients, intensifying your stress.
A psychotherapy group practice allows you to treat more clients, develop a recognizable brand, and possibly earn more money. Operating a group private practice requires significant business acumen as well as a willingness to manage a growing operation. This could make it a great fit for aspiring entrepreneurs, but a potentially disastrous choice for people who prefer to spend most of their time with clients.
Why Expand from Solo to Group Practice?
Expanding from a solo to group practice widens your reach, allowing you to treat more clients and specialize in more conditions and diverse populations. Recruiting a diverse group of therapists can help you provide culturally competent care. And by partnering with therapists who specialize in a broad range of conditions, you may find you have more time to focus on your area of expertise, since you can refer clients to other therapists in your practice if their needs exceed the bounds of your knowledge. Depending on the practice arrangement, you may even profit from the work of other therapists in the practice.
Many therapists transition to a group practice when they feel they can no longer manage their workload alone. Some signs that it may be time to transition include:
You are booked solid and have many new inquiries but no time for new clients.
You're a respected therapist who frequently gets inquiries from clients who need help with issues you don't specialize in.
You want to do more community outreach or volunteer work, but you need another therapist or two on staff to accomplish these goals.
You have the chance to partner with a respected therapist who might help bring in more clients.
The Challenges of Transitioning from an Individual to Group Practice
A group practice does not run itself and will not succeed overnight. Being a business owner comes with challenges that extend well beyond the usual challenges of life as a therapist. If you already have a receptionist, rent an office, or file business taxes, you're familiar with some of these challenges.
Depending on the type of practice you run, the challenges you may face include:
Managing your team. Operating a group practice means you become someone's boss. Not only must you pay them and manage their time; you'll also have to ensure they provide quality therapy that's consistent with your brand.
Increased liability. You may be liable for the errors your team makes. That can include malpractice in some cases.
More expenses. You may have to pay higher malpractice insurance premiums. You'll almost certainly need a larger office space and may need to hire a receptionist. You might need to consult with an accountant and lawyer to ensure you properly set up your business.
Communication and interpersonal challenges. No one is easy to work with or friendly all the time. When you work with other therapists, conflicts are inevitable. You must have a clear plan for managing these conflicts. Certain strategies, such as devising clear employment contracts and directly communicating about problems, can prevent conflicts from escalating.
The Benefits of Transitioning to Group Practice
Some benefits of expanding include:
Better marketing. A group practice with a diverse group of therapists may be a more appealing option for some clients.
More time. If you divide up practice management duties, you may have more time and less stress.
More money. Expanding your practice may mean making more money, especially if doing so allows you to see more clients.
Help and support from other therapists. You can consult with other members of your team if you need help with challenging cases. You may also be able to collaborate on cases or work together to treat members of the same family.
The pride of building a business. When you expand to a group practice, you're a therapist and a business owner. That often means mentoring new therapists, volunteering in the community, and supporting the families of the people you employ.
What You'll Need to Grow Your Practice
The specific steps you'll need to take to grow your practice depend on the type of practice you hope to build, as well as legal regulations in your region. Some issues to explore include:
Agreements with other therapists in the practice. Will you hire other therapists as employees or independent contractors? Or do you hope to have a partnership?
Legal issues. Consult with a lawyer to draft clear employment or partnership agreements. You'll also need to ensure you comply with any local regulations. For example, some municipalities establish zoning requirements that allow people to start businesses only in certain locations.
Office space rental. Who is responsible for the costs of office space? If you hire employees, you'll typically have to pay for the space. But if you collaborate with a partner, you'll need clear and specific agreements for payment. What is the plan if one person can't make rent?
Clear division of responsibilities. Will you hire a receptionist or will each therapist be responsible for various administrative tasks? What about marketing and new client recruitment? Do you hire therapists and find clients for them, or expect each therapist to market their own practice?
Clients. Which clients will you see? Do you turn away challenging or high-risk clients? Do you consult one another about your clients?
Privacy and client data. How do you manage client data to keep it secure? If you consult with one another on cases, how do you keep shared notes secure?
Insurance and payments. What are your practice payment and insurance policies? Are they consistent across the practice, or is each therapist responsible for managing their own payments?
Profits. How do you handle profits? Do you profit-share with other therapists? Are you partners, or do you employ your team? Will therapists make more if you earn more? What portion of profits are put back into the business, and what portion goes into your own bank account?
Should I Grow My Individual Practice into a Group Practice?
There's no single checklist that can help you decide whether to grow into a group practice. Some therapists are wildly successful as individuals and never expand into a group practice. Others grow early, using a group practice to drive growth and cultivate a strong reputation. No choice is right for everyone.
Some signs you might want to stick with an individual practice include:
You prefer to work independently.
You do not like managing other people.
You find the administrative aspects of running your business overwhelming, or you do not enjoy business ownership.
You're an introvert or do not like regularly collaborating with other therapists.
Some signs it might be time to expand include:
You feel isolated as a solo practitioner and would like to seek the wisdom of other therapists.
You relish working with others.
You have prior management experience or reason to believe you would be a good manager.
You have dreams of expanding into a second location or would like to treat more clients from diverse backgrounds.
Your clients are happy with your work and your practice is thriving, but you frequently have to turn away new clients.
GoodTherapy supports therapists at every stage of their careers. We list members in our popular search directory and offer dozens of continuing education seminars that can help you grow and improve your practice. Join today!
References:
Centore, A. (2015, March 2). How much money can you make in group counseling practice? Retrieved from https://www.counseling.org/news/aca-blogs/aca-member-blogs/aca-member-blogs/2015/03/02/how-much-money-can-you-make-in-group-counseling-practice
Palmer, M. (2019, August 1). Expanding into group practice: Does it make sense? Retrieved from https://www.zynnyme.com/blog/2015/11/3/expanding-into-a-group-practice
Werrbach, M. (n.d.). Transitioning from solo to group practice ownership: Practical considerations. Retrieved from https://thegrouppracticeexchange.com/group-practice