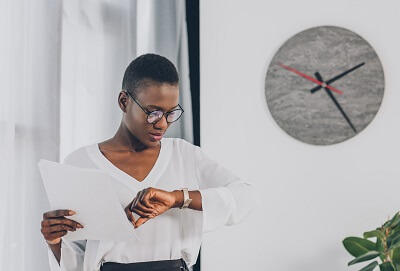 Many mental health professionals may find themselves in a dilemma when one of their clients misses an appointment. Time is money, and a therapy practice needs a steady income in order to stay afloat. Even one missed appointment per week adds up to four fewer hours per month, which can easily accumulate into a monthly deficit that takes a chunk out of your monthly office rent or income.
One of the best ways to avoid losing money due to late cancellations and no-shows is to reduce the chances of them occurring in the first place. While it's not always possible to avoid these completely, there are ways to decrease their likelihood. Reminding clients of their upcoming appointment and being clear about your cancellation and no-show policy up front is a great way to start mitigating this loss.
How Successful Clinicians Consistently Get Paid for Cancellations
Developing and maintaining uniform policies and procedures in your business can help you make sure you are paid what you deserve. Utilizing clear language that is consistent across all patient forms also helps you to enforce fees for both cancellations and consultations.
Using progressive technology that allows you to store a form of payment on file makes it easier for you to document cancellations and process a payment for the cancellations you choose to charge for at the time the service was scheduled to occur.
Here is a handy script you can use to help explain cancellation fees to your clients:
This simple statement helps clients understand that cancellation charges are not about you, but are about the practice and the patients it serves on the whole. Without stability and planning, your therapy practice might not be able to stay open long enough to serve any clients at all.
"Thank you in advance for honoring our 24 hour cancellation policy. We ask that if you need to cancel your appointment, please call as early as possible. Each day clients in crisis, and sometimes in emergencies, try to get into our open slots. We know one day you may be the patient requesting an additional appointment, so we ask that all patients respect one another and the schedule at the practice."
Documentation
Don't forget to enter every cancellation or no-show into your client's file using your practice management software. Make sure to indicate if there was a charge for the missed appointment. This will protect you from any future disputes. In addition, clients may be less likely to cancel or no-show again if their statement reflects these previous missed appointments.
As the nature of some mental health issues may increase the likelihood of missed appointments, many practitioners offer a waiver for one missed appointment. Once clients see that you have documented and waived this fee one time, they may also be less likely to ask you to do so again.
Practice management software makes it easier to monitor many aspects of your practice, including how you track and charge for missed appointments. Learn how Therapy Partner's comprehensive practice management software can help you streamline your practice so you have more time to focus on helping your clients.