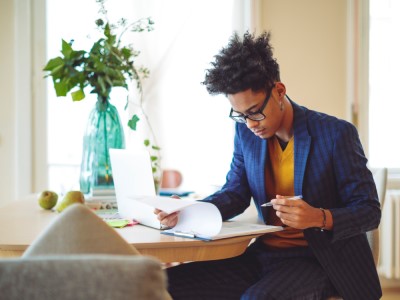 When we are trained as private practitioners, most of us don't receive any business management training. Often our clinical training only addresses one component of our position: treating the client. Many of us start our own private practice without ever seeing a business plan, let alone making one.
Yet running a private practice involves more than just therapy. Clinicians also have to make sure bills get paid, appointments are scheduled, advertisements are sent out, and so on. Even if you have an assistant, running a business is still a lot of work!
That's why most successful private practice owners have a business plan: a blueprint for how your practice will function. If you have already started running a private practice, don't fret! A business plan can help you recognize your strengths and weaknesses, steering your practice toward a better future.
Business Plan Quiz
It can be difficult creating a business plan that covers every aspect of a private practice. This simple quiz can help you discover where you stand and what needs to change.
Marketing and Outreach
Do I have clear, well-branded marketing materials?
Have I outlined a marketing strategy to attract optimal clients and referral sources?
Am I using referral cards to help high-volume referral sources find me?
Am I honoring and promoting my niche expertise or area of specialty?
Do I have a robust and well-defined online presence?
Administration and Security
Is my practice streamlined so I can focus on clinical care?
Am I completing the tasks that don't enhance revenue (billing, communication, etc.) in the most efficient manner possible?
Am I using an online practice management solution to streamline and consolidate administrative tasks?
Are my clients storing a form of payment on file using safe and secure technology?
Am I providing the highest level of security possible for my clients' financial and health care information?
Finance
Am I monitoring my revenue and expenses?
Am I billing for everything I do (including clinical and professional consultations)?
Am I meeting my goals for working in the private pay market (if this is my desire)?
Do I have a scholarship fund in place to benefit clients who may not otherwise be able to afford my full fee?
Do I have a retirement plan?
Business Growth
Do I set clear goals for my practice?
Do I have dedicated time in my schedule for business development and business operations?
Do I have a trusted advisor or educational forum to lean on that specializes in the business of private practice?
Do I have the free time necessary to genuinely recharge after meaningful but taxing clinical work?
Am I acting on my desire for personal, professional, and financial satisfaction in my practice?
If you answered NO to 10 or more of these questions, you may benefit from additional business education. GoodTherapy has a host of professional resources for busy clinicians, including CE courses, blog articles, podcasts, and more. Grow your practice today!