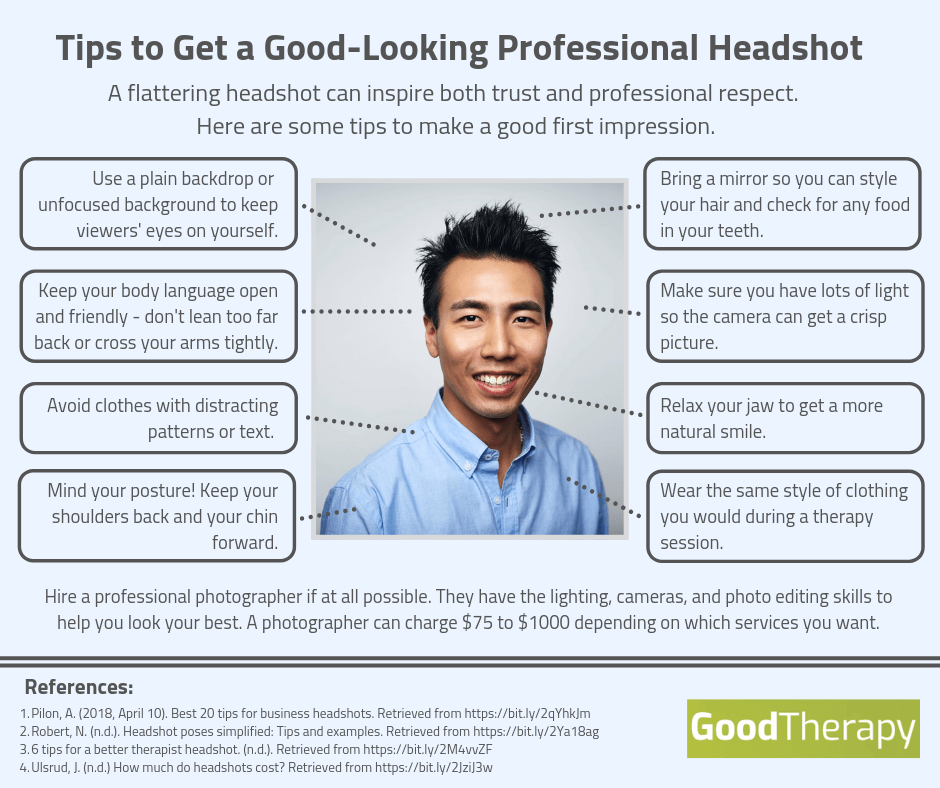 Infographic Text: Tips to Get a Good-Looking Professional Headshot
A flattering headshot can inspire both trust and professional respect. Here are some tips to make a good first impression:
Use a plain backdrop or unfocused background to keep viewers' eyes on yourself.
Bring a mirror so you can style your hair and check for any food in your teeth.
Keep your body language open and friendly—don't lean too far back or cross your arms tightly.
Make sure you have lots of light so the camera can get a crisp picture.
Avoid clothes with distracting patterns or text.
Relax your jaw to get a more natural smile.
Mind your posture! Keep your shoulders back and your chin forward.
Wear the same style of clothing you would during a therapy session.
GoodTherapy recommends hiring a professional photographer if at all possible. They have the lighting, cameras, and photo editing skills to help you look your best. A photographer can charge $75 to $1000 depending on which services you want.
For more information on how to market your private practice, consider getting a GoodTherapy membership.
References:
Pilon, A. (2018, April 10). Best 20 tips for business headshots. Retrieved from https://bit.ly/2qYhkJm
Robert, N. (n.d.). Headshot poses simplified: Tips and examples. Retrieved from https://bit.ly/2Ya18ag
6 tips for a better therapist headshot. (n.d.). Retrieved from https://bit.ly/2M4vvZF
Ulsrud, J. (n.d.) How much do headshots cost? Retrieved from https://bit.ly/2JziJ3w