Withdrawal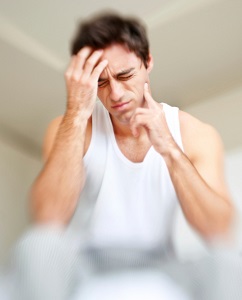 Withdrawal is a psychological and biochemical process that occurs when a person stops using a chemical substance—such as some prescription medications, illegal drugs, alcohol, or nicotine—or stops an addictive behavior.
Chemical Withdrawal
The effects of withdrawal vary greatly with the chemical substance. Withdrawal can last anywhere from a few hours to a few weeks, and some drugs have markedly more severe effects of withdrawal than others. Withdrawal from heroin, for example, can be so severe that it requires hospitalization, while withdrawal from nicotine usually only causes minor physical discomfort. The length of time a person has used a substance coupled with the amount used can also affect the severity of withdrawal symptoms.
Withdrawal symptoms will vary depending on what bodily system the substance acts upon; some common effects of withdrawal include:
Sleeping disturbances such as vivid dreams, insomnia, or hypersomnia
Stomach problems such as constipation, diarrhea, or vomiting
Shakiness, lethargy, or tremors
Racing heart and sweating
Muscle pain and headaches
Severe, pronounced chemical cravings
Psychological Withdrawal
Psychological withdrawal includes the psychological effects of ceasing to use an addictive substance, and it can also occur when someone quits a habit such as compulsive shopping or gambling. Addictions often serve as psychological crutches that help people cope with stress, and when this crutch is removed, the symptoms can include:
Extreme irritability, weepiness, restlessness, and anxiety
Depression
Difficulty concentrating or engaging in everyday tasks
Grieving the loss of the addiction
Feelings of being unfulfilled
Extreme difficulty avoiding the addiction
Treatment for Withdrawal
Withdrawal symptoms usually subside on their own, but when the symptoms are severe, withdrawal may require medical treatment. Some medications can help reduce the symptoms of withdrawal. For example, nicotine patches can help nicotine addicts slowly wean themselves off cigarettes.
References:
Opiate withdrawal. (n.d.). U.S National Library of Medicine. Retrieved from http://www.nlm.nih.gov/medlineplus/ency/article/000949.htm
Withdrawal. (n.d.). Addictions and Recovery. Retrieved from http://www.addictionsandrecovery.org/withdrawal.htm
Last Updated: 08-28-2015
6 comments
Leave a Comment
Travis

February 16th, 2018 at 7:36 AM

Can't withdrawal be about people that don't use addictive substances, and they have similiar reactions?

Dominic M.

October 6th, 2018 at 7:01 AM

I recently stopped taking prednisolone after 3 years, Andaman suffering withdrawal symptoms. How long will this last, for the symptoms are horrendous.

The GoodTherapy.org Team

October 6th, 2018 at 9:17 AM

Dear Dominic,

If you would like to consult with a mental health professional, you can start finding therapists in your area by entering your city or ZIP code into the search field on this page: https://www.goodtherapy.org/find-therapist.html.

Once you enter your information, you'll be directed to a list of therapists and counselors who meet your criteria. You may click to view our members' full profiles and contact the therapists themselves for more information. If you need help finding a therapist, you are welcome to call us. We are in the office Monday through Friday from 8:00 a.m. to 4:00 p.m. Pacific Time, and our phone number is 888-563-2112.

Kind regards,
The GoodTherapy Team

Mark G.

October 19th, 2018 at 1:31 AM

am withdrawing from Geodon and experiencing insomnia

Mae

December 18th, 2018 at 9:47 AM

After much research on withdrawal from anitsychotic medications, your symptom of insomnia is quite common. Most doctors will not volunteer that information when prescribing such medications. You really need to educate yourself about the medications that are being prescribed for you before taking them and weigh out the benefits with the side effects. Also, if you decide to take the medication that is being prescribed, what are the side effects of coming off the drug. Antipsychotic medications are not easy to come off of, and the withdrawals can be debilitating! I hope this helps.

Mae

December 18th, 2018 at 8:59 AM

I am a 62 year old women. I have been on colozipine 450mg for the last 15 years for the treatment of bipolar disorder. After moving out of state, and consulting a new psychatrist the doctor here said that I was misdiagnosed. I have had depression due to circumstances in my life. The doctor weaned me off this medication slowly. However, I have continued to have severe sweating, chills, muscle aches, and major insomnia. I was told by my psychiatrist that my symptoms are psychological. What does that mean? Is it all in my head? He refused to give any more of this medication. But when I take 25mg my symptoms go away after 2 to 3 days. However, being so sick, I thought perhaps there was something else going on. I went to my primary care doctor and explained everything to him. He did a "million" dollar work up on me. He checked for EVERYTHING from Lyme disease, to lupus, autoimmune diseases. All the tests came back normal. It is my belief that I am addicted to this antipsychotic medication. What am I to do?