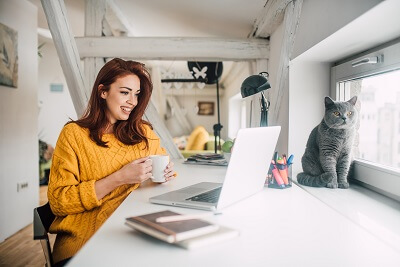 Think back to the last time you needed to find a specific product or service in your area. How did you search for it? Chances are you searched for the information online (and you probably found what you were looking for pretty quickly, too).
A significant part of maintaining a successful private practice is marketing your therapy services. The business of helping people is still a business, after all. To market successfully, it's essential to consider efficient, cost-effective strategies that will help you attract the most clients in your area.
Now that the digital age is firmly established, one of the most useful marketing tools at your disposal is the internet. Most people use the internet to search for services these days, and once your website is live, anyone looking for a therapist can find you at any time.
Still wondering if you should create a website for your private practice? We recommend it, and we'll explain why below.
Do I Need a Website for My Private Therapy Practice?
Maybe you prefer to find clients through word-of-mouth referrals or other marketing approaches. If you're doing fine with this approach, there's no need to change your strategy.
Or perhaps your practice is full and you already have a waitlist. If so, a website may not offer much benefit. You'll need to put in a bit of time and effort to get your website running. So if your working hours are already entirely dedicated to your current clients, you'll probably want to put off creating a website until your practice slows down.
But in most cases, a website for your private practice can only benefit you, primarily because it gives potential clients the information they need to choose a therapist that best meets their needs.
5 Benefits of Creating a Website for Your Private Therapy Practice
As you design your website, keep one key goal in mind: You want to reach new clients and draw them in to your practice. A good website will help you do that in several different ways.
Marketing
Your website advertises you as a therapist. To do this successfully, it must contain some key information about what you offer as a mental health professional, such as:
Your personal therapy philosophy
Issues you treat
Ages and populations you work with
Types of therapy you offer
Fees, availability, and insurance information
Any specialties or advanced training
Your contact information should also appear on each page. Make it easy for people to reach you. List your name, email address, phone number at the very least, but also consider offering an online scheduling option.
Avoid overloading your website with excessive information about your work in therapy. Too much information might overwhelm some prospective clients. Instead, consider creating a shorter, but heartfelt personal message about what you have to offer as a therapist.
Referrals
If you hope to connect with other mental health professionals to make and receive client referrals, a website will help you achieve this goal. It provides other professionals in the field with a quick look at you, your philosophy, and the services you offer to clients—necessary information for therapists who need to refer a client out.
It may not matter if the other therapist knows you by name or reputation, or even that they worked with you in the past. They probably know dozens, maybe hundreds of other professionals, so it might prove challenging to remember exactly what services each of their professional contacts offer. If they can't find clear, detailed information about your practice, they may move on to the next colleague on their list.
Clients who fit your specialty
One key feature of a website? It allows you to clearly advertise the type of therapy services you specialize in.
Search engine optimization (SEO) is an important tool that, when used well, can help your website reach more clients. (Read our article on SEO here for more information.)
In short: Say you specialize in treating children with anxiety. Using these terms to provide an explanation of exactly how you work with children to help relieve their anxiety symptoms can help search engines recognize your website as a quality resource. This can raise your ranking, which helps you appear earlier in search results. Many people don't search past the first page, so your goal is to make it to where they'll find you.
Including blog articles on your website can greatly improve your SEO ranking. These articles don't have to be lengthy, but they should include quality (original) content about therapy, mental health concerns, or other topics related to your services. The more legitimate content your website includes, the more likely you'll be featured higher in search results—and the more credible you'll appear.
Blogging is a great way to add something extra to your website. It gives you the chance to share more about your approach to treatment and therapy in general. Clients considering prospective therapists may read something in your blog that speaks to them, something that encourages them to reach out. But by keeping this additional reading in a blog, away from the main site, you won't overwhelm anyone just looking for basic details.
Networking
Connecting with other professionals becomes much easier when you maintain an active online presence. Think of your website as a digital business card other professionals can visit to access your contact information and other details about your practice.
A strong professional network can help you generate referrals, but it can also serve you well if you eventually:
Expand your private practice and want to find therapists interested in joining you
Decide to move on from private practice and enter an established group practice
Of course, you can always connect with other professionals on social media, with or without a website. Twitter, Facebook, and LinkedIn are great ways to market yourself and connect with colleagues as well as potential clients. But these sites have a few drawbacks.
For one, you can only post a small amount of information on your profile, and you're limited to the format provided. It's also important to note that, in the unlikely event that your account is hacked or temporarily closed down, clients and colleagues won't be able to reach you until you fix the problem.
Websites also offer more credibility than a social media page, something many of your potential clients and colleagues may consider in their search.
Credibility
As the internet becomes the go-to tool for most people seeking any type of service, a website can help establish your credibility and status as a provider of services.
People who use the internet widely may place more faith in a provider who has a well-developed website. If a person looking for a therapist can only find your name and phone number, they may pass you over in favor of a professional with a website offering more detailed information.
If you choose to build a website for your practice, put in enough effort to make it a quality one. If web design isn't your area of expertise, consider reaching out to someone with more knowledge. Some web designers might charge high fees, but with a little research (and possibly some crowdsourcing on your personal social media page), you can most likely find a professional who offers reasonable rates.
It's also entirely possible to create your own practice website, even if you lack knowledge of web design. Website building tools such as BrighterVision exist so mental health professionals can do exactly that. Learn more here and get started today!
References:
DeGrossa, B. (2013, October 7). 3 reasons why your private practice website needs a blog. Retrieved from https://www.counselingwise.com/blogging-just-waste-time-3-important-reasons-private-practice-website-needs-blog
Brewer, L. G. (n.d.). Creating your private practice website (just the basics): Part 2. The Practice of Therapy. Retrieved from https://practiceoftherapy.com/creating-private-practice-website-just-basics-part-2
Love, K. (2017, February 21). Does every therapy private practice need a website? Retrieved from https://empathysites.com/every-therapy-private-practice-need-website
Web guide: Marketing for therapists. (n.d.). The Wellness Institute. Retrieved from https://www.wellness-institute.org/marketing-for-therapists