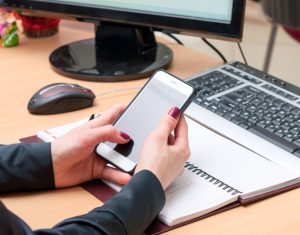 An overwhelming majority of people in the United States—95%—own a cell phone of some kind. Seventy-seven percent of people have a smartphone. For many individuals with attention-deficit hyperactivity (ADHD) and executive functioning issues, using a smartphone can be daunting, especially beyond call and text message capabilities. Even those who feel comfortable using certain types of apps (such as calendar or Facebook) may not be getting the most out of their phone in terms of using it to organize themselves or limit distractions from it.
If you struggle with ADHD, here are some suggestions to help you maximize your smartphone:
1. Calendar
Use the calendar on your smartphone or download a different calendar app. If you do not like the presentation of your standard calendar app, try one of these: iCalendar, Google Calendar, Calendars, or Fantastical.
Make sure your calendar automatically backs up somewhere, such as iCloud or Google Calendar, so you do not lose everything if you lose or break your phone.
Insert addresses of events when possible. Map apps can send reminders of when you need to leave based on traffic conditions.
2. Task List
Not all task lists are intuitive, and people have different needs. Some like as simple of a list as possible, while others need options for subtasks, viewing tasks on the calendar, etc. Here are some suggestions for task-list apps:
Standard task list such as Reminders app (location- or time-based reminders)
iCalendar, GTasks, Fantastical (view task list and calendar together)
Todoist: works on most devices and can view tasks from an app or web browser so lists are displayed even when you're doing other things on the computer
Do! (simple list)
Wunderlist: subtasks and sharing features
3. Notes
You can always use the standard Notes app, but if you want more features and options, try one of the following:
MobisleNotes: create checklists and view/edit notes on the computer
Evernote: save articles and connect other items to the note
4. Reducing Distractions
Getting distracted by a smartphone is common even among people who don't have ADHD. Here are a couple of ways to address this:
If using social media apps and you're concerned about losing track of time, save them in a folder next to a timer and activate the timer before using those apps.
Use app blocker programs such as Freedom to either manually block apps during periods where you need to work or have specific apps automatically blocked during typical periods of work.
5. Wellness
If you have trouble going to bed at a reasonable hour, try using an alarm clock app that sends you reminders when you should go to bed.
Use an app to track how long you are sleeping and the quality of your sleep.
Use apps to keep track of food if you want to see how healthy you are eating, lose weight, etc. Lose It is one example of an app you can use.
If you want to meditate regularly, use an app and get daily reminders at set times to do so.
Setting up and using the resources mentioned above may be difficult initially. Thus, I would suggest picking one or two items to incorporate into your daily routine and then gradually including additional items. If you need assistance or technical support, seek out a phone store or technology specialist. If your issues are more on the executive functioning side, enlist the help of a mental health professional who can help you use your phone to improve your overall functioning.
Reference:
Mobile Fact Sheet. (2017, January 12). Retrieved from http://www.pewinternet.org/fact-sheet/mobile/

The preceding article was solely written by the author named above. Any views and opinions expressed are not necessarily shared by GoodTherapy.org. Questions or concerns about the preceding article can be directed to the author or posted as a comment below.