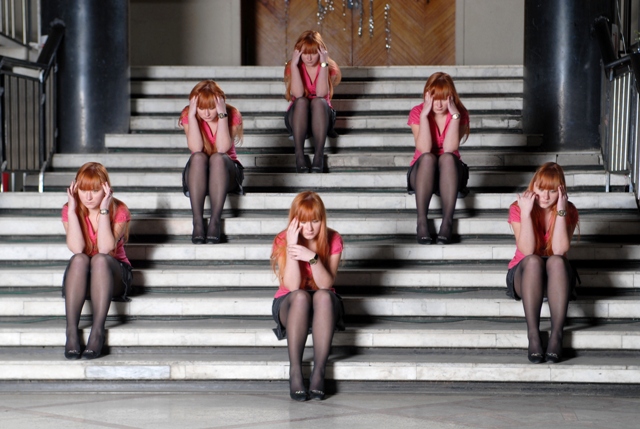 Ever go into a room where people are chatting, kind of to themselves, everybody is making noise but nobody is listening to anybody, and you feel a bit odd but decide to approach the nearest person, and that person looks right through you, like you aren't even there, and you start wondering if maybe there is something wrong with you?
Ever feel like you aren't there, even though it's the people around you who aren't there, but they don't know it, but there are more of them than the one of you, and there is no way you can let them know, and even if you tell them they won't know what you are talking about, so why bother?
You're feeling hurt and invisible, but you don't want to stay that way, so what do you? You're feeling battered, so you batter up and try to chatter up, too?
What if you are looking to make contact, make a human, eye-to-eye, one-to-one connection? Would you feel sad that no one seems to hear you or see you or feel you at all?
Earlier today I had a conversation with a restorative yoga teacher who is renowned for her sensitivity. Although her English words are hard to understand—she talks with a strong accent—her meanings are clear because she is thoroughly and completely present. Because she is so present, it hurts her sometimes to walk around and see so many deeply sad people who cannot make contact.
She told me about an experiment she heard about on NPR. In this experiment, people are locked in a room painted all white, with white furniture. They have been stripped of any distractions, including cellphones and books. There is nothing to do but think … or self-administer a "severe static shock" from a device powered by a 9-volt battery. Clearly, the answer is to sit, be still, and look within, but somehow this is too threatening or maybe beyond some people's experience, so instead the people who are locked in the room keep shocking themselves.
This is a great example of what neurosis is—you keep doing the same painful thing, over and over, and you keep getting the same result. This happens in relationships all the time—you keep doing the same thing hoping that this time will be different, but it isn't. You are so hungry for connection that you keep reaching out to someone who doesn't reach back. No alternatives occur to you, so you keep hurting yourself.
More importantly, perhaps, the experiment shows people so disconnected that they prefer the painful stimulus of an electric shock to connectedness, even with themselves, much less with anyone else. Who do you think is better off: the shocky ones or the talky ones?
When a person who is connected walks into a space like this—maybe the scientist's experimental laboratory, maybe a cocktail party or family gathering—real communication is not going to happen. This makes many people, people such as my yoga teacher friend, feel hopeless and sad. It makes me feel pretty bad, too.
How do you communicate with people who are too scared or too dead to feel, to be in their bodies, to be alive? On another level, you might say that their meaningless chatter is how they make contact—false contact, unfortunately, because to be close to someone, even themselves, is so painful that this glancing connectedness, this mindless chatter, is the best they can do. Don't take their behavior personally.
It helps to remind yourself that you did not cause this emptiness; it is not your fault or your responsibility. Your true responsibility is to yourself, to keeping yourself alive in a lifeless situation. Maybe your liveliness will help them come alive, too. Perhaps they can learn better. They need a hand.
How do you keep alive in a place that feels dead? Remember who you are. Go deep and feel the inner self. There is a renowned meditation teacher, Stephan Pende Wormland, who teaches us to say, "I am a human being. I have feelings. I care about my feelings. I care about myself." Maybe others can learn by his example.
© Copyright 2014 GoodTherapy.org. All rights reserved. Permission to publish granted by Lynn Somerstein, PhD, E-RYT, Object Relations Topic Expert Contributor
The preceding article was solely written by the author named above. Any views and opinions expressed are not necessarily shared by GoodTherapy.org. Questions or concerns about the preceding article can be directed to the author or posted as a comment below.