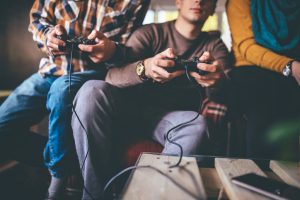 Video games can support sexist attitudes by teaching sexist ideas and encouraging players to "practice" these ideas, according to a study published in the journal Frontiers in Psychology. The study also found a link between religious sentiments and sexism.
Video Games and Sexism: What Is the Link?
The study used survey data from a representative sample of 13,520 French adolescents ages 11-19. The survey gathered data about television and video game exposure, religious beliefs, and sexist attitudes.
On average, participants spent two hours a day playing video games and three hours a day watching television. Though researchers did not evaluate sexist content in video games, the study cites research suggesting more than 80% of female video game characters are sexualized, barely dressed, or portrayed as beautiful. Many female characters fit all three of these categories.
Researchers asked participants if they agreed that "a woman is made mainly for making and raising children." Participants who spent more time on video game play were significantly more likely to endorse this statement. Religious attitudes also increased the popularity of sexist attitudes.
gender
and socioeconomic status, when viewed separately, men of a lower socioeconomic status were more likely to display sexist attitudes. The study's authors highlight the role of sexism in games such as
Grand Theft Auto
, arguing that these games expose players to sexist ideology. They also provide opportunities to practice and be rewarded for sexist attitudes.
Other Research on the Effects of Video Games
Many previous studies have explored the role of sexism in gaming culture. A 2016 study looked at sexual harassment and gendered abuse against female game players. Compared to other forms of online bullying and abuse, female game players had more difficulty dismissing gendered abuse. A 2015 study found unskilled male players were more likely than skilled male players to harass female players.
Debates about the relative merits of video gaming persist, and research on the subject continues to be mixed. A 2016 study found children who regularly played video games academically outperformed other children. A 2014 study found violent video games might inhibit moral development in teens, while a 2015 study found children who played video games daily showed lower rates of aggression.
References:
Begue, L., Sarda, E., Gentile, D. A., Bry, C., & Roche, S. (2017). Video games exposure and sexism in a representative sample of adolescents. Frontiers in Psychology. doi:10.3389/fpsyg.2017.00466
Video games influence sexist attitudes. (2017, March 28). Retrieved from https://www.sciencedaily.com/releases/2017/03/170328105908.htm
© Copyright 2017 GoodTherapy.org. All rights reserved.
The preceding article was solely written by the author named above. Any views and opinions expressed are not necessarily shared by GoodTherapy.org. Questions or concerns about the preceding article can be directed to the author or posted as a comment below.