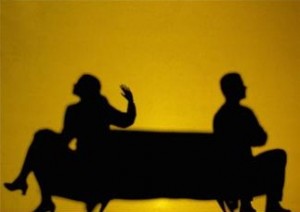 There are ways of handling things that just shoot you in the foot, and then there are ways that have the other person willingly and happily eating out of your hand. Which would you rather it was?
In this article, I've taken extensive material from the web, from books, from years of my own research, and from my site and consolidated it into a ten-point scale, with 1 being the least aggressive and 10 being unquestionably abusive. Each value on the scale is a template for an abusive type of statement. I hope you find the scale to be helpful.
1 – "Do you think I'm stupid?"
This statement implies bad intentions on the part of the other person. Although it is not abusive, it is somewhat rude.
2 — "I want a reservation, please, for two people, tomorrow at 8."
The above was gleaned from a newspaper account by Ralph Gardner Jr. who pointed out that "I want" is forceful. It is also demanding which makes it rude.
3 – "You always put your foot in your mouth. Why do you embarrass me like that?"
There are two problems with #3. The first is the "You" statement which is the verbal equivalent of finger-pointing, and the second is the "always" which is both impossible and and rude. It's rude because it's an exaggeration of the truth and that is why it's also impossible.
4 – "What you accused me of is dumb."
The speaker here is only referring to the other person's behavior, so it could be worse, as we will see. It is still rude because of the word, "dumb." Anytime this sort of put-down language is used, we're in the realm of overt verbal abuse.
5 – "You don't know what you're talking about."
Number 5 goes one step beyond #4. While the last one referred to behavior "what you accused me of," this one refers to a person's whole self, that which makes someone human, "You." This is why #5 is a severe put-down.
6 – "You don't know what you're talking about." [With regard to a person's field]
Most people feel that their identity is tied up in their line of work. If you owned an auto repair shop and someone made statement #6 regarding a repair job you planned to do, it would be a grave insult.
7 – "You only said that because you didn't want to inconvenience yourself."
This one is really bad. The speaker is guilty of mind-reading. It is a huge breach of boundaries. The only person who can say what my intentions and reasons were is me.
8 – "You S.O.B."
This is name-calling and it is overt and shameless. We were all created in God's image; we're all deserving of respect. Name-calling automatically erases respect.
9 – "Nobody would want you."
There are so many things wrong with this statement, it could take a book. However, in brief, the "nobody" is another example of #3's "always." It is a global statement where none is realistic or possible. Worse, though, is the way it plunges a knife in the heart of the listener because it is a complete rejection of the listener's being.
10 – Threats of any kind, be they overt or subtle.
Threats are only one step away from carrying them out. Threats against property are a short step away from violence against a person. Threats are illegal and they represent verbal violence. There is implicit danger in them.
No matter where you are on the scale of verbal abuse, there is a possibility of correction. You may not believe that right now, but I've seen it. Identifying verbal abuse is the first step in healing and changing. The second step, of course, is getting the help to make those changes.
Related Articles:
Falling in Love Again with Someone who Hurt You
What Can Couples Do When They Don't Speak the Same Language?
Embrace Conflict as a Path to Deeper Connection
© Copyright 2011 by By Deb Hirschhorn, PhD. All Rights Reserved. Permission to publish granted to GoodTherapy.org.
The preceding article was solely written by the author named above. Any views and opinions expressed are not necessarily shared by GoodTherapy.org. Questions or concerns about the preceding article can be directed to the author or posted as a comment below.