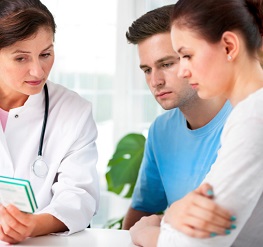 Technology can have a marvelous effect on sexuality in many ways. One example is the vibrator, which has helped countless women discover that we can indeed pleasure ourselves to orgasm. This, in turn, leads many of us to become orgasmic with a partner, so everyone's happy.
On the other hand, extraordinary advances in technology can have a profoundly negative effect on sexual pleasure. A perfect example is in vitro fertilization (IVF), for which Robert Edwards won the 2010 Nobel Prize in Medicine. During IVF, one or more eggs are removed from the woman and mated with sperm in a petri dish, outside the body, then inserted back into the woman's womb—either the donor or a surrogate—for gestation.
What could possibly be harmful in a procedure that helps couples who have longed for children to conceive together? Believe me, a lot! For both partners the process can be downright exhausting and emotionally overwhelming. We've probably all seen comedies where a poor guy has to produce a fresh supply of sperm on demand—one of the men I work with bemoaned the fact that this requirement had ruined masturbation for him. Meanwhile, his wife is being injected, analyzed, and regarded primarily as an egg-laying apparatus. How sexy would you feel going through all that?
In particular, women beginning IVF are usually required to begin taking a drug like Clomiphene (clomid) which stimulates the ovaries to produce eggs, sometimes lots of eggs, dramatically increasing the chance that parents will end up with twins or triplets.
I've suggested to people that they give genuine consideration to whether a multiple birth is something they really want, especially when doctors can do simple embryo reductions to assure patients will have single pregnancies. Sadly, I think, they rarely want to consider doing anything else, and I can understand the response of, "We didn't slog through this infertility nightmare to abort anything"—even if it means damaging the future of their marriage or other offspring with unwanted multiple births. As one colleague commented, "Short-sighted, although understandable."
Like many types of drugs, clomid has nasty side effects, including inevitable and unpredictable mood swings that make PMS look like a walk in the park. Add this to an emotionally volatile situation that already exists, and you often have a recipe for relationship disintegration—regardless of whether the fertility outcome is successful.
IVF generally costs about the annual salary of an elementary school teacher. This price, combined with the frantic desperation of the couple paying it, often leads them to mortgage their financial future—sometimes even the family home. If and when the baby arrives s/he may be entering a home filled with fear, resentment, and alienation. One family I worked with had to declare bankruptcy soon after the arrival of their coveted baby.
You would think that responsible fertility doctors would encourage couples to carefully consider not just the financial implications, but perhaps more importantly, the disastrous effects IVF may likely have on their sexual intimacy, before committing to the process. I've never seen this happen.
The IVF-generated child is expensive in so many ways beyond the thousands of dollars that are invested. Would-be parents are often convinced that the birth of the child will make up for the hellish process of conceiving her or him. Alas, this is rarely the case. Even wealthy couples will have experienced a year or two or even three years of treatment that plunges both partners into a roller-coaster of desperate hopes and deepest fears.
Sadly, no couple that I've worked with was willing to have sexual intercourse during an IVF-induced pregnancy. As one couple said, "We can't risk this precious cargo!" All too often, by the time the baby arrived, sex was a distant memory, and recreating a happy sexual connection was a far more difficult problem to solve than infertility.
© Copyright 2012 GoodTherapy.org. All rights reserved. Permission to publish granted by Jill Denton, LMFT, CSAT, CSE, CCS, Sexuality / Sex Therapy Topic Expert Contributor
The preceding article was solely written by the author named above. Any views and opinions expressed are not necessarily shared by GoodTherapy.org. Questions or concerns about the preceding article can be directed to the author or posted as a comment below.