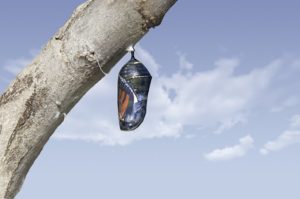 Transformation tends to be a scary proposition for most people. Even though we may want our circumstances to improve, we are afraid of what might be in store for us if we actually do change. That which is known often feels more comfortable, or at least less frightening, than that which is unknown. This may often be the case, even when we are unhappy in our intimate relationships or feeling trapped in a thankless and unrewarding job.
We often become stuck in a rut of our own making, because we are afraid of venturing out into unfamiliar territory. We may be caught up in our suffering and be leading "safe" and unfulfilling lives, but on some level, we are really choosing this apparent safety rather than taking a risk to become happier. We fool ourselves into thinking that we have some control over our lives and are able to maintain a semblance of security, although in truth we really have little control over much of what happens to us.
This becomes vividly clear to us anytime a family member dies, our marriage or relationship falls apart, we lose our livelihood, or we are struck by any type of natural disaster. At these times, we become acutely aware of our inner vulnerabilities and the lack of control that we really face in our lives. However, these moments can become opportunities for inner growth and transformation when we allow ourselves to open fully to the unknown path ahead of us, rather than focusing all of our awareness on that which we've lost.
So much of our time is wasted in building up the defensive walls that we surround ourselves with, rather than allowing ourselves to be touched and moved by the world around us. Our tender souls long for connection on a deep level, but are prevented from reaching out by the protective fortresses of our own making. To allow ourselves to be open and vulnerable involves running the risk of reconnecting with those inner wounds we guard against so dearly, and yet it also means closing ourselves off from others and the love that's always present in our own hearts.
We therefore are in constant conflict between the yearning of our souls for the deep inner union we realize is our birthright and the fear that we may have to face the pain we have kept boarded up inside in order to do so. But at the end of the day, are we not meant to live a full life, to weave a rich tapestry made up of our creativity and emotions, to be of service, and to reconnect with the wholeness of all that we are?
Deconstructing Defenses
In order to lead more fulfilling lives, we need to be willing to break down our defensive walls and put our trust in the unknown and the process of inner transformation. Nature can be a wonderful teacher on this journey. Observing how change is an ongoing and integral part of every moment can help us to realign with our own innate love and wisdom. Change is present everywhere we look—in the constant play of the clouds moving across the sky, in the decay of a rotting tree next to a new seedling breaking through the ground, in the changing of the seasons, and in the metamorphosis of the caterpillar into the butterfly.
Our own metamorphosis can occur once we become willing to examine the barricades that we've constructed and begin one by one to take down the bricks separating us from our own true nature. How do we start to deconstruct that which we've spent so much time and energy building up? The best way to do so is in the presence of a compassionate other. Our defenses were originally erected in the context of a relationship, so the best way to work on eliminating them is through the rapport established with another. The face of compassion and unconditional love can give us the courage to take down our barricades and to face the inner wounds that we've hidden deep inside. In some cases this might be done with a loved one, in others it might require working with an empathic psychotherapist. In either case, it is work that we need to do if we want to get back in touch with the love and joy that exists deep within our souls.
We are all faced with a choice—to settle for the apparent "safety" of an unfulfilling life, or to open to a life of fearless adventure and continual discovery. So let's choose to allow our hearts to be broken wide open and to experience all of the emotions moving through us as waves in an ocean of love. Our lives are too precious and sacred to do anything else. If you aren't sure how to begin this process, contacting a qualified and compassionate therapist or counselor can be a good start!
© Copyright 2014 GoodTherapy.org. All rights reserved. Permission to publish granted by Wendy Salazar, MFT, Stress Topic Expert Contributor
The preceding article was solely written by the author named above. Any views and opinions expressed are not necessarily shared by GoodTherapy.org. Questions or concerns about the preceding article can be directed to the author or posted as a comment below.