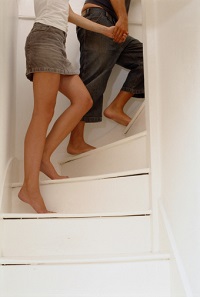 While Tiger Woods's sexual experiences have ended up all over the news, the psychiatric task force charged with creating the next edition of the "bible" for counselors and psychotherapists, the Diagnostic and Statistical Manual of Mental Disorders (DSM) is completing work on their current update (the last edition came out back in 1994).
In a recent article for the Los Angeles Times, Dr. Allen Frances, who chaired the 1994 panel, laments that the DSM "goes too far in creating disorders." He says that the panel tried hard to be conservative but "inadvertently contributed to three false 'epidemics'—attention deficit disorder, autism, and childhood bipolar disorder." "Clearly," he writes, "our net was cast too wide and captured many 'patients' who might have been far better off never entering the mental health system."
I'm blogging about this today because the sexual disorders section includes some diagnoses that have been particularly controversial in light of Tiger's "misadventures" (as one columnist labels his behavior).
Now please understand that, as a clinician, I'm not big on diagnosing "disorders." I've watched in horror as pharmaceutical companies churned out expensive psychotropics to treat "disorders" such as "premenstrual dysphoria." Their attempt to increase profits by extending the reach of medical psychiatry and pharmaceutical intervention into what Frances calls "the ever-shrinking domain of the normal," has successfully convinced many people that they have a "disease" instead of an understandable reaction to the challenges of life as we know it.
One of the new "sexual disorders" is the so-called hypersexuality disorder (HD). Dr. Frances casts an especially jaded eye on HD saying that it will, "bring great comfort to philanderers wishing to hide the motivation for their exploits behind a psychiatric excuse."
Was Tiger Woods sincere in his self lacerating public apology last week? I don't know. What I do know is that sex does become a problem for some men and women, and clearly Mr. Woods's sexual behavior did create problems for him—big ones. In the future he might be able to call on HD as an excuse, but I suspect what's going on for him is really sex addiction.
People often roll their eyes at the idea that sex can be addictive. The definition that I use for addiction is this: "a pathological attachment to a mood altering experience." The mood altering experience may be caused by ingesting a drug, or other substance. For some people, it's caused by the rush, or the biochemical high, created by the risk and exhilaration of sex, or romance, or risky behavior like that of Tiger Woods.
Dr. Patrick Carnes, pioneer of sex addiction treatment, calls addiction "an illness of escape. Its goal is to obliterate, medicate, or ignore reality." I call it a dis-order of intimacy. It's an alternative to letting oneself feel hurt, betrayal, fear, or the most painful emotion of all—loneliness and isolation.
When the "attempt to obliterate, medicate, or ignore reality" becomes habitual or impossible to stop, we have a mental health impairment known as addiction. It usually begins simply—reality becomes too much to bear so we escape through drugs, alcohol, food, or sex.
Remember what I said earlier about sex addiction being an intimacy disorder? Most sex addicts come from families in which members are disengaged from one another. One important way to check reality and stay emotionally stable is to share with others and find out their perception of a situation. This requires and creates a capacity for intimacy. Abuse and neglect deepen the distortion of reality for kids from disengaged families—they conclude they don't matter. They find ways, like masturbation, to deaden the anxiety that they feel, and they do so more and more compulsively.
I don't know if Hypersexuality Disorder will be accepted as part of the DSM. I do know that recognition of sexual addiction, whether it's called that, or sexual compulsivity, or HD, could be of benefit if it helped more of us to recognize that sexual and relationship recovery is possible. I know that Tiger Woods is getting treatment for it right now and I hope that his recovery will be an inspiration to others whose lives are plagued by the destructive effects of sex addiction.
© Copyright 2010 by Jill Denton, LMFT, CSAT, CCS. All Rights Reserved. Permission to publish granted to GoodTherapy.org.
The preceding article was solely written by the author named above. Any views and opinions expressed are not necessarily shared by GoodTherapy.org. Questions or concerns about the preceding article can be directed to the author or posted as a comment below.