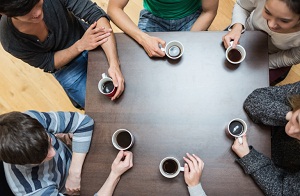 A process group usually consists of around eight people who meet regularly for the common purpose of finding out more about who they are and what they would like to change in their personal lives and relationships with others.
The life of a process group from the beginning to the end parallels different developmental stages of growth and maturity. As the natural cycles of the group move progressively forward, the members and the group as a whole are assisted with guided feedback and process comments from the leader or co-leaders. The group inherently knits together an abundance of experiences forming and emulating a social microcosm that bears its own unique culture and identity.
A remarkable and natural phenomenon in the earlier phases of a working group is the way in which individuals, and sub-groups alike, repeat the many characteristic ways once developed to survive the stresses and strains in the very first group–the family. Members will remind each other of significant people in their past or present bringing feelings, thoughts, and ideas to the fore.
Central to the group process is the opportunity for members to talk as openly as they possibly can about their interactions and experiences of each other as well as any aspects of the group experience that may come to mind. Many thoughts and feelings associated with the activity of the group may arise and are often reflective of the particular stage of the life cycle in which the group is encountering. By engaging with one another on different emotional levels, individuals can freely gain wider perspectives about the various ways they relate to their inner world, or unconscious, and how this becomes reflected in their relationships with others.
As awareness increases, individuals may begin to recognize newly found aspects of themselves. Individuals and the group may actively and unconsciously attempt not to become aware of various emotional aspects of themselves to avoid uncomfortable and perhaps painful feelings. This is a common and normal phenomena of human behavior. Such conscious and unconscious pressures to connect and disconnect in automatic ways may hinder and block individuals from being fully present. It is within the supportive and relaxed atmosphere of the group experience that such feelings can be recognized, acknowledged, and replaced with conscious, uncontaminated choices in social behaviors and verbal attitudes. The courage to allow these kinds of meaningful connections to take place can help to resolve emotional conflicts and difficulties with feelings of mastery and empowerment.
Within this specialized small group process, the vitality of an established group may lend to the potential of opening up channels of communication that can have the shared capacity of being unique and profound. Stability, unification, and a positive group climate are all aspects of a healthy, mature group. Such identifying aspects help in creating room for innovative and creative risk-taking within the group. Personal disclosure within the group is expected and agreed upon to be kept in strict confidence. Communication in the group is in the service of increased mutual understanding and genuine dialogue.
For each individual, the rewards of creating a place that is their own can be a place that is very real and fully connected. It is a place to be who they are without the need to "fit-in" to a set pattern.
What is so different from a real life group is that the developmental framework within which the group works is less apt to be influenced to change from outside social pressures and cultural values. The group as a whole shapes its own unique culture, common values and norms, thus creating a meaningful context upon which it can evolve and grow at its own pace.
Just as individuals bring old learned behaviors and attitudes into the group they may take new ways of inter-relating outside the group. This may enable individuals to cultivate healthier inter-dependency with others, as well as increased expressions of mature and authentic intimacy.
By being in a psychotherapy process-oriented group, all members have the opportunity for considerable personal gains, corrective emotional experiences and intrapsychic change that can last a lifetime.
© Copyright 2008 by Deborah Reeves, MGPGP, LPC, CGP. All Rights Reserved. Permission to publish granted to GoodTherapy.org.
The preceding article was solely written by the author named above. Any views and opinions expressed are not necessarily shared by GoodTherapy.org. Questions or concerns about the preceding article can be directed to the author or posted as a comment below.