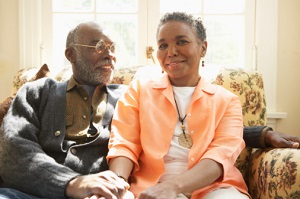 I don't know about you, but I love to people-watch. Recently, I had an opportunity to watch a young couple having a meal at a restaurant. It appeared that they were in the early stages of their relationship. They sat close, arms and legs touching, whispering in each other's ears, looking into each other's eyes, she would giggle; he would smile and squeeze her shoulders. Bliss! Perfect communication!
At first glance, there was a little bit of magic, until the sweetness quickly turned to sour. Immediately after they ordered their burgers and fries, and the waiter with pimples on his face walked away, she harshly pulled away from him with an angry look on her face. What happened? What had he done or said that she was objecting to? They were no longer communicating happy feelings.
Watching her face, her body language, and gestures, told me the whole story. Once again she was hurt by his senseless silliness. Why does he have to ruin everything?
I pieced together that when she ordered her French fries, he became playful and made fun of her weight as he reached to touch her bottom. She was angry. Then the drama began.
With his arms around her shoulders, he told her that he was just joking; for the millionth time… that week! Then he continued to tell her he liked her round bottom, as he tried to kiss her cheek. Her glaring stare was  poisonous. I watched to see how she was going to respond next. And then it happened, she launched enough colorful profanity to make a sailor wince, then excused herself and headed to the bathroom.
When she returned to their table, she sat on the opposite side keeping her distance, both physically and emotionally. She had checked out. Her hands were in her lap and calmness came over her. There it was, the fake smile that stated she was not going to allow him to embarrass her anymore, at least that evening.
During the rest of their awkward meal, he was visibly angry, probably blaming her for being too sensitive. Tossing his fries into the ketchup, he told her that she was stupid for blowing this out of proportion, once again making light of her hurt feelings. He then peppered in a few tired, well-rehearsed apologies for hurting her.
She fired back the occasional lie, "whatever, no worries, I'm fine," all the while smiling to show him, and the world, that she would not allow him to hurt her, again. They sat at their table, surrounded by the noise of the other diners, in silence so thick it could have been cut with a knife.
Earlier, they walked into the restaurant so full of the promise that this was going to be a wonderful evening of closeness and sharing; and walked out quite separate, feeling alone.
Poke her with a fork, she was done. And he was to blame for instigating it, this time. He felt her wall grow bigger and wider in front of him. Who won the battle? Sadly, both lost.
For this young couple, just learning about relationships, their battle was a significant sign for them that her hurt feelings were powerful enough to ruin their time together. His short-lived patience turned to anger and they were each too hurt to consider another way to deal with these feelings. She utilized an imaginary switch, allowing her to shut off all hurt feelings when her emotions were bruised. She disconnected from him.
Does this scenario ring true for you? Did it trigger another personal experience? Who did you identify with? Maybe your story involves a different angle where your powerful feelings inhibited you, or your spouse, from effectively communicating? Does it seem that sometimes when we try to get along with our loved ones, co-workers, and friends, we find ourselves engaged in a battle?
In some battles our voices get raised, sarcasm is used as a weapon, maybe we disconnect from it all and storm out of the room—or better yet we storm out of the house. Everyone is bent out of shape and feelings have been hurt. It doesn't seem to matter what we are talking about, the results are the same; they are not listening to us.
Then there are those times when we just know that when we either start a conversation, or someone else starts one with us, that we immediately feel the frustration and aggravation building inside. Here we go again, we think. Over time, we are less eager to communicate, especially with certain people, and instead we respond by reacting to what we anticipate, pulling from our previous negative experiences.
Of course, our reaction makes it worse and a pattern of hurtful communication is created. But these patterns can be re-patterned!
Many times we point our finger of blame away from ourselves as if to say: "if only you would understand me," "validate me as a person," maybe even "help me feel important and worthy of being treated respectfully."
What's this all about?
How we communicate is directly related to how we feel about ourselves. When we are feeling genuinely secure with ourselves, we are more apt to resist allowing other people the power to make us feel angry, frustrated, mad, etc. When we are insecure and doubting our worthiness, it's hard to resist another person's influence over our reaction.
Communication is all about transmitting information from one person to another person who will receive the message and understand the message.
But, let's say we are trying to send a message to a person who has a scarf wrapped around her head, covering her ears. Her ears are very sensitive and uncomfortable to loud sound. With the scarf protecting her ears she will certainly find it more difficult to receive the message clearly and she may interpret what she thought she heard in the wrong way. She believes what she heard is accurate. But, if she is wrong, miscommunication and hurt feelings abound.
Now let's say her scarf is actually being used to protect herself from her personal feelings of low self-worth and low self-esteem. Perhaps she has had these feelings about herself for a long time. She may feel that those negative messages were sent on purpose, to wound her. She may feel like, "everyone always tells me I am wrong," or "no one ever listens to me," or "I never get to say what I want." In other words, she defines herself by what those hurtful statements mean to her.
This hurt is real. Sometimes people hurt others when they are feeling hurt themselves. This pain may be so overwhelming, that even the idea of being hurt again causes us to adopt any number of coping mechanisms. These can range from anger, sarcasm, or disengagement, to fighting behavior, etc.
Changing our patterns of communication is possible. A good first step includes giving yourself the opportunity to explore the range of feelings you have during those "battles." Once you've explored this, identify how you respond to these "attacks." The next step requires a huge leap of faith in yourself to decide to actively practice other strategies that may help you change those unwanted patterns.
© Copyright 2010 by Beth S. Pumerantz, LMFT. All Rights Reserved. Permission to publish granted to GoodTherapy.org.
The preceding article was solely written by the author named above. Any views and opinions expressed are not necessarily shared by GoodTherapy.org. Questions or concerns about the preceding article can be directed to the author or posted as a comment below.