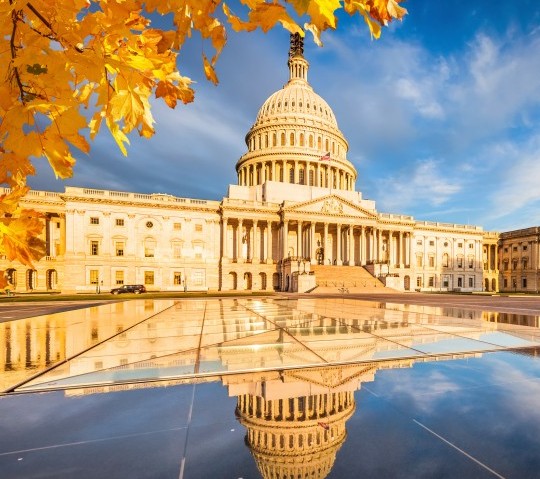 Today is Election Day, and many Americans have been getting a hefty dose of political advertisements for weeks—and in some cases, even months. If you're like many voters, you've probably been disgusted by some of these ads, or perhaps you even find the candidates themselves disgusting. According to a new study published in Current Biology, disgust actually plays a key role in political orientations, and the way you respond to disgusting stimuli can help predict your political views.
Disgust Responses Stronger among Conservatives
Researchers showed study participants a number of images designed to provoke a reaction of disgust, such as dirty toilets, as well as a host of more pleasant images of babies and landscapes. Using functional magnetic resonance imaging (fMRI), researchers were able to see how a participant's brain reacted to the images. Specific neural pathways correlate with feelings of disgust, making it possible for researchers to identify when a participant felt disgusted, even when he or she denied those feelings.
Researchers then administered a political ideology inventory, during which participants answered questions about divisive political issues such as gay marriage. People who had shown pronounced disgust responses were more likely to identify with conservative political positions. The correlation was so strong, in fact, that based solely on fMRI scans, researchers were able to predict with 95% to 98% accuracy how participants would answer various political questions.
How Disgust Affects Behavior
Researchers don't yet know why conservatives tend to be more easily disgusted than liberals, but some political research points to the effects of this personality trait. A study recently covered by GoodTherapy.org polled voters about their political ideologies and attitudes. While the study didn't directly measure disgust, its results do support the theory that conservatives are more prone to disgust than liberals. Thirty-six percent of Republicans, for example, feel that Democrats threaten our nation's well-being, while only 27% of Democrats view Republicans as a threat. Half of conservatives prefer to live somewhere where people share their political views, compared to only 35% of liberals, and 17% of Republicans report that they'd be extremely unhappy if a family member married a Democrat, but only 7% of Democrats would be troubled by having a Republican marry into the family, suggesting that perhaps conservatives are more easily disgusted by people with different beliefs than liberals might be.
References:
Liberal or conservative? Brain responses to disgusting images help reveal political leanings. (2014, November 3). Retrieved from http://www.medicalnewstoday.com/releases/284768.php
Political polarization and personal life. (2014, June 12). Pew Research Center for the People and the Press. Retrieved from http://www.people-press.org/2014/06/12/section-3-political-polarization-and-personal-life/
© Copyright 2014 GoodTherapy.org. All rights reserved.
The preceding article was solely written by the author named above. Any views and opinions expressed are not necessarily shared by GoodTherapy.org. Questions or concerns about the preceding article can be directed to the author or posted as a comment below.