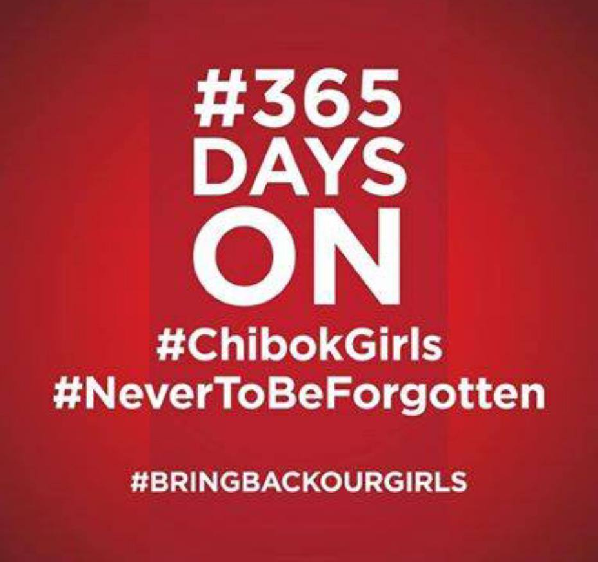 A year ago, the terrorist organization Boko Haram kidnapped more than 200 Nigerian schoolgirls, sparking international outrage and giving birth to #BringBackOurGirls. Ten girls escaped kidnapping and are now living in the United States. Volunteers helped the girls enroll in and pay for boarding school, and donors continue to pay for the teens' basic needs. But because so few people are aware that there are Boko Haram survivors living in the United States, survivors have access to few resources. Some of the girls are now speaking about their experiences, and human rights lawyers and other advocates argue that the girls need more support, especially in the form of mental health care.
A girl known only as Patience, one of the survivors, recently addressed a Washington, DC group of advocates after the girls' stories had been related to the audience by a human rights lawyer. She told the group that Boko Haram does not know that what they are doing is wrong and encouraged attendees to pray for group members.
In 2011, Brandon Marshall wrote a letter to his team, the Miami Dolphins, quitting football. He never sent the letter, but recently read it to a conference sponsored by the Southwestern Pennsylvania chapter of the National Alliance on Mental Illness. Marshall wants to combat mental illness stigma by bringing mental health issues into the open. In 2013, he wore green cleats to raise mental health awareness, even though he was fined by the NFL for doing so. Marshall says the fine helped create awareness of mental health issues during Mental Health Awareness Week, which takes place in mid-May.
A study that compared medical records of 1,400 children with autism to the records of 2,100 children with other intellectual delays has found that doctors are often dismissive of parents' concerns about whether or not their child had autism. Doctors were 14% less likely to take action to address autism concerns than they were to address other developmental issues. Doctors also frequently told parents of children who were later diagnosed with autism that their children would grow out of the symptoms they were displaying. 
Images accompanying stories about mental health often feature a downtrodden-looking person clutching his or her head. Stephen Fry, a British comedian, writer, and activist, is spearheading a campaign to eliminate this practice. Mental health advocates have long expressed concern that these images stigmatize mental health issues. People may mistakenly believe mental health issues aren't a problem unless a person is visibly distressed or debilitated, since media images of mental health issues paint a dark and sad portrait.
Now is the time for parents and students to take steps to ensure good mental health in college. Many teens enter college with depression or anxiety, and others develop mental health challenges while away at school. As students prepare to go to college in the fall, they can work to sustain good mental health by developing a plan for getting the treatment and services they need. Parents can help their kids—including those who have no mental health issues—prepare for the stress of college by boosting their independence in the months leading up to their departure.
Nonviolent video games that immerse players in a story may help enhance emotional awareness in people with autism. Researchers found that players who played a story-based game for 20 minutes were better at assessing the emotions and needs of others than those who played a video game that did not involve a complex story.
A small study of 40 college students suggests that acetaminophen, the drug in Tylenol, might reduce happiness. Students viewed a variety of images an hour after taking the drug. Students who took acetaminophen reacted less strongly to emotional images, suggesting the drug might blunt emotions. Researchers reconstructed the trial, this time asking students to assess how much blue an image contained. Students who took acetaminophen showed no difference in their assessments, suggesting that acetaminophen affects emotion, not judgment in general.
The week before taxes were due, a third of Americans reported that they still hadn't filed. Procrastination is a common tactic for avoiding unpleasant experiences, but procrastinating often makes these experiences even worse—by, for example, forcing taxpayers to pay penalties for filing late. Research suggests that between 20% and 25% of people are chronic procrastinators, who routinely engage in the behavior. In this group, the behavior may be learned in early childhood as a way of coping with unpleasant emotions.
© Copyright 2015 GoodTherapy.org. All rights reserved.
The preceding article was solely written by the author named above. Any views and opinions expressed are not necessarily shared by GoodTherapy.org. Questions or concerns about the preceding article can be directed to the author or posted as a comment below.