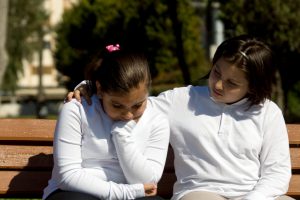 Children with a body mass index (BMI) that classifies them as overweight or obese have more unreturned friendships than children with a lower BMI, according to a study published in the journal PLOS ONE. Children with higher BMIs reported more "frenemies" and were more likely to report disliking their peers.
Previous research has found a link between weight and relationships. One recent study found both bullies and their victims were more likely to be fixated on losing weight than those not involved in bullying. Research published in 2015 found loved ones' comments about weight may cause people to gain weight.
How Weight Stigma Affects Children's Friendships
The study involved 504 preteens in the Netherlands. Based on BMI, about 16% of participants were classified as overweight. Participants completed surveys about their friendships as well as those they considered enemies. The study's authors then compared those surveys.
Classmates, on average, were listed as a friend in five surveys and as an enemy in two surveys. Overweight children were listed as friends on an average of four surveys, and they were listed as enemies an average of three times.
Weight and Mental Health
Statistics from the U.S. Centers for Disease Control and Prevention report 1 in 5 children are obese, and the obesity rate has more than tripled since the 1970s.
This statistic has raised concerns about an "obesity epidemic" and prompted some health agencies to take a stance on fighting obesity. The study's authors, however, point to the role that weight stigma can play in undermining social relationships.
When students have fewer close friendships and more conflict in their relationships, they face many physical and mental health risks. The study's authors say they may also be less likely to adopt healthy living strategies such as a balanced diet or participation in sports or other physical activities. When children have negative social interactions with their peers, they are more likely to feel lonely and may be at a higher risk for depression.
The study's authors suggest anti-bullying campaigns should address weight stigma as a major factor in bullying and self-esteem.
References:
Haye, K. D., Dijkstra, J. K., Lubbers, M. J., Rijsewijk, L. V., & Stolk, R. (2017). The dual role of friendship and antipathy relations in the marginalization of overweight children in their peer networks: The TRAILS Study. PLOS ONE, 12(6). doi:10.1371/journal.pone.0178130
Overweight children are being excluded from friendships, study finds. (2017, June 7). Retrieved from https://www.sciencedaily.com/releases/2017/06/170607141339.htm
© Copyright 2017 GoodTherapy.org. All rights reserved.
The preceding article was solely written by the author named above. Any views and opinions expressed are not necessarily shared by GoodTherapy.org. Questions or concerns about the preceding article can be directed to the author or posted as a comment below.