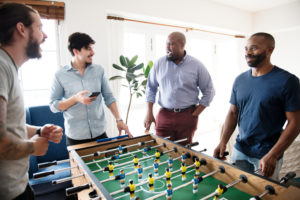 About 22 million Americans have an addiction to substances such as prescription drugs, illicit drugs, and alcohol. However, only 2.5 million Americans seek substance abuse treatment. Even those who get help are not guaranteed to participate in treatment.
Given the low rate of treatment-seeking, it can be vital to boost treatment engagement. Improving participation can raise a person's chance of completing treatment. A new study in the Journal of Drug Education assesses which factors promote active participation in treatment.
Which Factors Affect Participation in Substance Abuse Treatment?
The study analyzed data from the 2012 Global Appraisal of Individual Needs-Intake (GAIN-I). Researchers looked at 5,443 records of adult substance abuse treatment seekers. The levels of care ranged from outpatient clinics to long-term residential centers.
The GAIN-I records included treatment outcomes and indicators of treatment participation. They also contained individuals' demographic and personal data.
The following factors were linked to a decreased likelihood of treatment participation:
Lower educational attainment. People who did not graduate high school were 15% less likely to engage in treatment.
Being married, widowed, or divorced instead of never-married. Being married or cohabiting decreased the odds of engagement by 23%. Divorced, separated, and widowed people were 26% less likely to engage in treatment.
Being male. Men were 22% less likely than women to engage in treatment.
Being black or white. Whites were 21% less likely than other races/ethnicities to engage in treatment. Blacks were 30% less likely to engage in treatment.
The factors that increased the likelihood of engaging in substance use treatment included:
More health problems. People with worse physical health had higher rates of engagement.
Greater substance use frequency. People who used substances more often in the 90 days before treatment were more likely to participate.
Substance abuse educators often talk about substance abuse treatment readiness. Treatment readiness is a group of traits that purportedly promote treatment engagement. Yet the study found treatment readiness was a weak predictor of treatment participation. In other words, being "ready" for treatment did not guarantee someone would engage in or complete treatment.
The study authors recommend providers of substance abuse treatment be mindful of risk factors. Certain populations, such as divorcees or people with lower levels of education, may be less likely to participate in a program. Strategies for enhancing motivation may help these people complete treatment.
If you or a loved one would like to get help for substance abuse, you can find a therapist here.
References:
Predicting what drives people to seek, stay in substance-use treatment. (2018, May 16). EurekAlert. Retrieved from https://www.eurekalert.org/pub_releases/2018-05/fau-pwd051518.php
Sloas, L. B., Caudy, M. S., & Taxman, F. S. (2018). Is treatment readiness associated with substance use treatment engagement? An exploratory study. Journal of Drug Education, 47(1), 51-67. Retrieved from http://journals.sagepub.com/doi/full/10.1177/0047237918759955

The preceding article was solely written by the author named above. Any views and opinions expressed are not necessarily shared by GoodTherapy.org. Questions or concerns about the preceding article can be directed to the author or posted as a comment below.