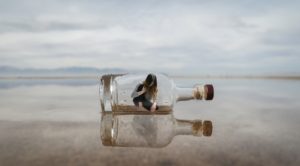 Do you feel stuck? As if you aren't moving forward in life? Feel like you're dragging an anchor along with you? I've heard a theory that feeling like this might mean you are sabotaging yourself and your own chances of success and growth.
You might wonder, "Why would I do that?" But would you even know if you were? Some of our self-sabotaging habits are so longstanding, so deeply ingrained within us, that they have become a part of us that may be indistinguishable from the rest of our behavior.
These habits may come to govern our choices in all areas of life, including our love relationships. If you've had failed relationship after failed relationship and find yourself always wanting to blame the other party, you may be in denial about your difficulty maintaining a fulfilling partnership with another person or your part in the failure of the relationship.
When you look back, taking the time to consider with an open mind, do you see a pattern? I often hear the term "fear of commitment" used to describe this scenario. I suggest, though, that more than simply fear, it is instead a learned pattern of behavior that causes us to make the choices we do.
Where Do Self-Sabotaging Habits Come From?
We most likely learned a great deal of our behavior from those who raised us. Parents and primary caretakers have a significant influence on our understanding of love relationships and their development. Did your caretakers model good relationships for you, or were your familial relationships characterized by dysfunctional or unhealthy patterns? Were you bullied by your siblings or peers? Were your parents critical or demanding, making you feel like you always fell short of pleasing them or meeting their expectations for your life?
Consider any negative talk you were exposed to since childhood as tape recordings. These tapes are the basis for the negative self-talk that might play out in your thoughts in today. Each situation that comes up to challenge you or stretch your growth is hitting the play button on a tape that says, "I'm not worthy," or "I'm not good enough," or "This will never work, so I shouldn't even try." These "recordings" stack up, becoming the internal voice that creates poor self-image and contributes to the negative self-talk that limits us and keeps us from moving forward.
What we believe about ourselves is tied to these tapes, which also come into play in our love relationships. If we experience an overwhelming sense of dread and are limited by the belief, "It's not going to work out, no matter what," we are unlikely to even want to put in the effort and try to make things work. Instead, we might take the first sign of trouble as a sign that it's time to move on. But by moving on from a relationship, we are actually remaining stuck in the pattern, stuck with our limiting beliefs.
Why do we stick with them? These patterns might be familiar, but they aren't healthy. But we are so stuck in the muck, so to speak, that we often don't realize we are stuck. Muck is ugly and dirty, and no one wants to live in it. But we can become so trapped by the familiarity of it that we feel comfortable, that we don't see what is ugly or dirty about it. Even when we do realize something might be wrong, it's often still too scary to try to break out of our comfortable muck. So we stay mired in it, unwilling to even try to work our way out.
How does this relate to relationships? Well, many couples wait as long as six years before seeking relationship counseling. Despite negative interactions, strained intimacy, and other challenges faced by couples experiencing relational distress, fear of the unknown, of what lies beyond the familiar much, is so great that many couples are afraid to even reach out.
Overcoming Pain and Fear
Pain and fear accumulate over time, weighing us down like an anchor we drag everywhere we go, from relationship to relationship. More than just baggage, the anchor can hinder us and become an impediment to healthy relationships. If we continue to carry this ungainly load through life, we might miss out on many opportunities for happiness. People can be dragged down to a level where they resign themselves to never finding love or happiness with another person, where they believe they're destined to die alone. I find this deeply tragic, as I believe that everyone deserves to be happy, that everyone who desires a loving partner to share that happiness with deserves one. In my opinion, an intimate relationship characterized by a loving connection is an essential part of feeling like our world brings us joy and satisfaction.
In order to give yourself permission to be happy, to be loved, to be treated as a person of value, we must treat ourselves that way first. To practice self-love and self-care and increase our feelings of self-worth, we first need to erase those old recordings and record over the negative messages with positive self-talk. This empowerment is the key to overcoming the past and building a future characterized by healthy patterns of relating and the absence of self- sabotaging habits.
Pain and fear accumulate over time, weighing us down like an anchor we drag everywhere we go, from relationship to relationship. More than just baggage, the anchor can hinder us and become an impediment to healthy relationships.
For many, replacing negative self-talk with positive self-talk can be difficult, even frightening. You might find it necessary to seek help from a professional counselor who can assist you in creating positive affirmations of worthiness, of strength, of your ability to reach out for happiness and love.
This is not an overnight process, so don't be discouraged. This is a lengthy process, one where every time you begin to hear that negative self-talk in your head, you stop yourself and replace the message with a positive affirmation of your worth and ability. This process might also involve learning to take what your partner says to you and about you as true, without filtering it through the lens of negativity you might be used to. It can take time to learn to believe how wonderful and amazing, how attractive and intelligent your partner finds you, but it is quite possible!
Overcoming pain we have experienced is one of the hardest things we can do in life. This process often involves letting go of anger and resentment, releasing and forgiving grudges, even learning to forgive ourselves. These steps of releasing, forgiving, and letting go are an important part of reaching the goal of a healthy and loving connected relationship with your partner. There comes a point in life when we need to leave the past in the past. When we reach this point, we have to make a conscious decision to cut that anchor loose, to stop dragging it around with us. Once you're free of it, when you can let go of things that have been holding you back, you'll be astonished at how light and free you feel—light and free enough, perhaps, to begin to build a new healthy, loving connection with another person.
The actions we take can back up our affirmations. If we tell ourselves, "The future is limitless!" then we are likely to obtain greater benefit if we live as if it is indeed limitless. We all feel fearful from time to time, but if we let our fear limit us, we may not be able to follow through with the affirming self-talk. Instead, try taking a step forward by being courageous and taking a chance. You might fail. We all fail at times. But our failures don't define us. Without taking steps toward a goal, we won't be able to reach it. Instead, we can give ourselves permission to redefine life as successful and limitless, avoiding the trap of allowing failure to restart those negative tapes.
By relabeling failure as "experience gained," you may find it easier to move forward and eventually succeed. It is a process, and it will take time, but allow yourself to trust in the process. Each success, however small, will build on the last, and eventually you will see a new pattern begin to unfurl—a timeline of successful life and relationship changes that inspire you to continue moving forward.
© Copyright 2018 GoodTherapy.org. All rights reserved. Permission to publish granted by Stuart B. Fensterheim, LCSW, GoodTherapy.org Topic Expert
The preceding article was solely written by the author named above. Any views and opinions expressed are not necessarily shared by GoodTherapy.org. Questions or concerns about the preceding article can be directed to the author or posted as a comment below.