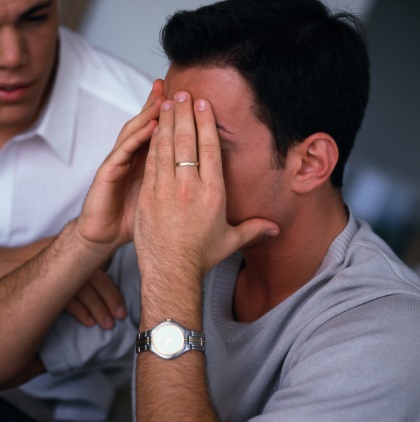 Studies revealing the prevalence of domestic violence in intimate partnerships have traditionally focused on opposite-sex relationships while domestic violence issues among same-sex couples have remained far less understood. A new review of literature from Northwestern Medicine attempts to address domestic violence among LGBT couples. According to previous studies, domestic violence may be even more common among same-sex couples, with between 25% and 75% of same-sex couples experiencing some degree of domestic violence. The authors of the review believe that the additional stress and stigma same-sex couples face may contribute to relationship violence.
Stress and Domestic Violence
Members of oppressed groups tend to experience higher levels of stress due to the additional challenges of facing societal oppression. This is known as the minority stress model. Researchers found a higher rate of domestic violence among same-sex couples, and believe that the stress of life as a minority might help explain the increase in violence. Same-sex couples may experience violence and bullying in the outside world, for example, along with judgment for their relationships or ostracism by friends and family. Depending on where they live, same-sex couples may also have fewer rights than heterosexual couples.
Previous studies have looked primarily at lesbian relationships, but this review of literature found domestic violence among gay, lesbian, and bisexual couples. Among heterosexual couples, women are more frequently victimized by acts of intimate partner violence than men. Among men victimized by domestic violence, the stigma of victimization may inhibit victims' willingness to report, the study's authors explain. Men may not want to view themselves as victims or admit to having been victimized. Same-sex couples may also fear being involuntarily "outed" when they report abuse.
Each of these factors may lead to under-reporting among LGBT couples, and the authors of the review emphasize that medical providers need to be mindful of domestic violence among same-sex couples. Such awareness can equip them to intervene when they suspect abuse.
References: 
Extra stress in same-sex couples may raise risk of domestic abuse. (2014, September 23). Retrieved from http://www.medicalnewstoday.com/releases/282830.php 
© Copyright 2014 GoodTherapy.org. All rights reserved.
The preceding article was solely written by the author named above. Any views and opinions expressed are not necessarily shared by GoodTherapy.org. Questions or concerns about the preceding article can be directed to the author or posted as a comment below.