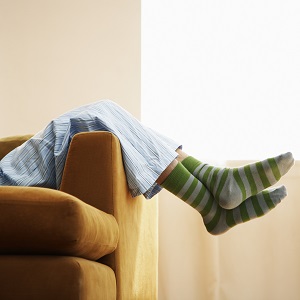 As a food lover, I tend to create food metaphors for life situations. It comes quite naturally to me and inadvertently has become part of my style as a therapist. "Sit and simmer" is one of my favorite life/food connections for helping people to accept whatever is happening in their lives.
The other day Mr. L said to his therapist, "Man, I just can't shake this thing. I feel like I'm in some stagnant water. I try getting myself to do stuff, but I'm not enjoying anything. I'm in a rut and I don't know what to do."
Therapist: "It seems like doing things isn't really working."
Mr. L: "No, it's not."
Therapist: "Then, what's with all this 'doing' business?"
Mr. L: "Well, isn't that what I'm supposed to do?"

Therapist: "According to who?"
Mr. L: "Well, uh… I don't know."
Therapist: "What would happen if you just sit and simmer in it?"
Mr. L: "What?! Sit and simmer?" (laughs)
Therapist: "Sure, what do you think of that?"
Mr. L: "Well…I don't know."
Mr. L was dumbfounded. In the next session, he came in really stuck on the idea of "sit and simmer." He had tried it during the week by trying not to be so productive, but he didn't like it very much. "It's too uncomfortable! I feel so useless," he said. Yet being productive wasn't feeling very good either. He was stuck between a rock and a hard place: if he did something, he felt discomfort. If he didn't do anything, he felt discomfort as well.
For Mr. L, being productive or useful meant doing things. So, he did lots of things—lots of things filled his day, everyday. However, together we learned that doing lots of things was Mr. L's way of avoiding what was going on internally, such as feelings that were too overwhelming to deal with.
"Sit and simmer." Like onions in a pan with a little olive oil, butter, salt, and pepper, you sit and simmer over medium-to-low heat (ideally, but hey, life throws high-heat every so often). In life, you sit and simmer in the issue. You find support through your inner circle—like your therapist, friends, family, etc. They are your seasonings, olive oil, and butter. You talk about your thoughts and feelings—you sweat it out. And before you know it, you are transparent, sweaty and completely delicious—you have transformed and grown, ready for the next step.
Mr. L initially laughed at me, but he really challenged himself to sit and simmer. He allowed himself to confront and sit with those uncomfortable underlying feelings rather than be "productive" all the time. Over time, he learned a lot about himself and why he couldn't be content with life. He learned, for instance, that his parents tended to give him praise for being a good, "productive" child. When he was not productive, he was "not good." In sitting and simmering, Mr. L gave himself the chance to work through those difficult feelings and eventually came to his own conclusions about himself, his relationship with his parents, and his relationships in general. (And yes, with time Mr. L "un-stuck" himself and moved on to other recipes in life.)
If you need, sit and simmer with your olive oil, butter, and seasonings. It's uncomfortable for a while, but you will transform and develop into something quite delicious.
© Copyright 2010 by Laura Hahn-Segundo Collins, LCSW, therapist in New York City, New York. All Rights Reserved. Permission to publish granted to GoodTherapy.org.
The preceding article was solely written by the author named above. Any views and opinions expressed are not necessarily shared by GoodTherapy.org. Questions or concerns about the preceding article can be directed to the author or posted as a comment below.