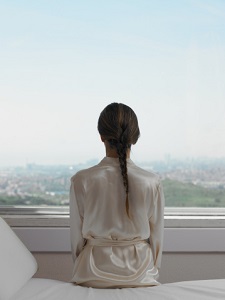 If one of the core beliefs of people addicted to sex is that "sex is my most important need (or the most important sign of love)" (Carnes, 1983), then sex addicts active in their disease will be targeting sex as the highest point of human interaction. The social universe of an addict becomes a vast haystack concealing a golden needle that must be found, no matter what. If sexual partners can't be found through social networking, they can be paid for or created through virtual means such as pornography, phone sex, videos, and so forth.
This zeroing in on sexual interchange as the decisive interpersonal event may be overt or covert. Through his/her sexualization of just about every empathic human interaction, the overt addict threatens to destroy his/her life by taking great risks to find sex or to pursue sex inappropriately with co-workers, partners of friends, and so forth. Such addicts may even glorify these risky sexual pursuits: a grandiosity that covers a very fragile self-esteem.
Mostly, however, a person with sex addiction's motives and intentions are closeted, since sex addicts tend to see their sexuality as shameful—they know their behavior is out of control and risky, but they are powerless to stop it and feel ashamed of their own turbo-charged impulses. It is rather like a car with broken brakes; the vehicle is out of control, careening toward disaster, while the driver smiles and pretends everything is fine.
Struggling for Human Contact
Such covert addicts will find others sexually attractive, but remain terrified to initiate authentic relationships. Sex may be the most important transaction, but some addicts remain ashamed of it to the core. Not only for the reason I just mentioned, but also because at the core of an addict is the belief that he or she is truly a bad person, and that one's inner desires must also be "contaminated." Additionally, each addict reflects the times we live in. Our society is deeply conflicted about sex—we both flaunt it and condemn it—and the addict's own feelings reflect this unresolvable conflict in a mostly negative manner.
Another difficulty in revealing true intentions or desires toward a potential sexual partner is because those desires are so "heavy," given that sex is overly important. How could it not carry such weight, considering that it signifies love and worthiness to the addict? There is much to lose if it doesn't happen—and if it does, an addict risks revealing the depths of his/her desire for acceptance and love, a desire that's wrapped in shame.
Thus the covert sex addict desires from afar. They feel as if they are looking at life from the outside through a window that cannot be removed until sex is found. At this point, the window vanishes—for a few moments. Then reality arrives, and the addict finds his/her nose smashing up against the glass. Namely, the awareness that he/she has still not found the love and psychological nourishment he/she so deeply craves. The result is disorienting and deeply demoralizing.
Cycling Through Thrills, Cycling Through Trauma
When a person with sex addiction does find a sexual partner, or partners, they become constant sources of "replenishment." Sex, in other words, replaces love, kindness, empathy, and other human interactions that add dimension to one's social experiences. Those elements may exist, but they are not felt with the same intensity as sex for the addict who has yet to seek or perhaps has just begin seeking help for his problem. Love and kindness are nice, but pale in comparison to the "rush" of compulsive sexual behaviors. As Carnes has so wisely pointed out in many of his works, intimacy equals intensity for the addict; affection and kindness don't compare to the full-on headrush of an adrenalized sexual encounter. Sure, the encounter may be risky due to health, legal, or other concerns, but that's actually part of the payoff; consequences become, well, inconsequential when the addictive hunger takes the wheel. The "risk" may feel similar to the rush a gambler feels as he/she approaches a casino. Given this inability to connect with "boring" feelings of everyday kindness, the addict's friends and family rate fairly low on the addict's own worthiness-meter. Those in the addict's close circle often end up feeling taken for granted, ignored, or abandoned. This is an ironic development, given that sex addiction is often kickstarted by abandonment or misattunement by his or her own caregivers. Thus the addict ends up hurting others in ways that parallel his or her own trauma.
This is why many clinicians report some people with sex addiction as having a very "narcissistic" flavor; addicts become numb to everyday human interactions, to the point of feeling disembodied—or dissociated, in clinical terms. As sex addiction progresses, the body becomes numb to anything but the sexual "hit," which is when life becomes vivid again… for a short time. Until then, other people may not even register on the addict's radar. They are ghostly, two-dimensional figures existing in black and white, compared to the Technicolor excitement of a shadowy sexual adventure.
This intense focus on self, which creates a perception of massive self-centeredness to those close to the addict, is actually a combination of shame, fear, pain, and a blunted ability to connect with other people in a meaningful way, due to the numbness and obsessions with sex described above. It is a black hole that needs constant feeding. The tragedy is, the addict craves actual human contact but is too numbed by addiction to truly connect. He/she is also, in all likelihood, overwhelmed and demoralized by the lonely confusion and social "wreckage" the addiction has created.
The good news is that when the behavior stops and the cravings subside, an addict becomes able to receive and (just as important) give attention, affection and positive regard to others, interactions which seem "boring" when addiction is screaming for attention, but help us feel connected and attuned to others as we wade through the difficult contingencies of everyday existence.
© Copyright 2010 by By Darren Haber, PsyD, MFT. All Rights Reserved. Permission to publish granted to GoodTherapy.org.
The preceding article was solely written by the author named above. Any views and opinions expressed are not necessarily shared by GoodTherapy.org. Questions or concerns about the preceding article can be directed to the author or posted as a comment below.