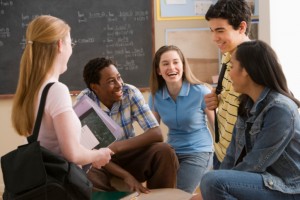 Anti-bullying laws are reducing the rate of bullying, according to a study published in JAMA Pediatrics. About 28% of high school students in the United States reported being bullied a decade ago, and 20% of students were bullied at school during the past year, according to data from the Centers for Disease Control and Prevention (CDC). Fifteen percent of those students also reported experiencing online bullying last year.
Are Anti-Bullying Laws Working?
Researchers at Columbia University's Mailman School of Public Health looked at data from more than 60,000 public and private high school students across 25 states in an effort to understand the effects of anti-bullying legislation.
States that enacted legislation to incorporate at least 1 of 11 anti-bullying recommendations from the U.S. Department of Education had lower rates of bullying than states without anti-bullying laws. Implementing just one of those recommendations reduced in-person bullying by 24% and online bullying by 20%.
Sarah Swenson, MA, LMHC, a Seattle-based psychotherapist who works with bullying victims, says anti-bullying laws help remove power from bullies while offering support to victims.
fearful
, to tell anyone about it in order to avoid anticipated
shame
," Swenson said. "Breaking this chain of events by shining a light on bullies and their anti-social behavior is the fastest way to curb it; anti-social behaviors come from those whose own
self-esteem
is so low that the only way they can feel good about themselves is in attempting to reduce the status of others."
Effective Anti-Bullying Strategies
The Department of Education's research on effective anti-bullying measures suggests such policies should contain all of the following recommendations:
A statement of purpose for the legislation
A statement of the legislation's scope
Specification of which conduct is prohibited
Enumeration of the characteristics of bullying and other prohibited conduct
The development and implementation of specific local policies to curb bullying
Options for reviewing anti-bullying policies
A clear communication plan for those who work with potential bullying victims
Education on bullying prevention and management
A system that makes transparency and monitoring possible
A statement of bullying victims' right to seek legal remedies
Swenson supports legislation based on these recommendations.
"Anti-bullying laws bring to public awareness that it is the bully who should be ashamed of bad behavior, not the bully's victim," Swenson said. "It is the bully who needs to learn respect for others and that everyone–including the bully–is working through personal challenges of one kind or another."
References:
Christensen, J. (2015, October 8). Anti-bullying laws appear to be working. Retrieved from http://www.cnn.com/2015/10/08/health/anti-bullying-laws-work/index.html
Laws in 25 states put the brakes on high school bullying. (2015, October 6). Retrieved from https://www.mailman.columbia.edu/public-health-now/news/laws-25-states-put-brakes-high-school-bullying
Student bullying: Overview of research, federal initiatives, and legal issues [PDF]. (2013, October 18). Washington, DC: Congressional Research Service.
© Copyright 2015 GoodTherapy.org. All rights reserved.
The preceding article was solely written by the author named above. Any views and opinions expressed are not necessarily shared by GoodTherapy.org. Questions or concerns about the preceding article can be directed to the author or posted as a comment below.