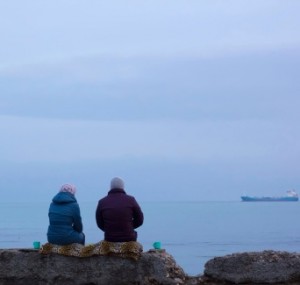 Editor's note: How do egalitarian couples with a shared goal of equal partnership navigate differing work demands? This series considers common power struggles in such relationships, tools for peaceful communication and establishing mutual support, and how to seek outside help when you need it. Last month's introduction to the series focused on emotional and sexual intimacy between partners. This month we examine the holidays' unintended effects on relationships and offer heartfelt ways to support one another, regardless of season.
In November, families came together in the spirit of gratitude. This month, families come together in the spirit of giving—or at least that's what we say, right? What would it look like for romantic partners to come together with these same seasonal intentions?
Sometimes the holidays aren't really "about" love and togetherness. We can neglect our relationship fitness just as we may neglect physical health during this time. For many people (though not enough), the holidays provide a welcome break from work demands. Unfortunately, these breaks often give way to other demands. Based on the factors you can control, figure out which are upheld or self-imposed based on your values and which are distracting you from what really matters. It's OK to be critical. Mindfulness doesn't make you a Scrooge.
This season, let's take some time to unplug from the stress surrounding holiday planning, extended family visits, year-end company goals, unmet expectations, and overall consumerist distractions, remembering to plug into each other's worlds. As last month's readership commented, a relationship takes hard work, and the holidays are no exception. We may forgo our fitness routines in favor of staying warm and indoors, but let's remember to exercise our kindness muscles (see Smith, 2014).
Partners who work in retail and medical fields or who otherwise cannot guarantee holiday time off may have it especially tough during these months, especially if there is external pressure to spend time with family. This article doesn't intend to exclude them. The pointers in this post can help partners with increased work-related stress be gentle with one another.
An Atlantic article from June—"Masters of Love"—recently remade its rounds on social media (Smith, 2014). Its author cross-examines studies of romantic functioning and points to the conclusion that kindness and generosity are the two main traits that make a relationship last. When we talk about generosity, we don't necessarily mean giving material goods. In Smith's interview, relationship scientist Julie Gottman offers an on-the-nose quote that many of us with unbalanced work lives can relate to: "If your partner expresses a need and you are tired, stressed, or distracted, then the generous spirit comes in when a partner makes a bid, and you still turn toward your partner." These "bids" are small, often unconscious attempts at connection made by one partner to another.
This holiday season, remember to incorporate intangible gifts of kindness and generosity into your relationship. To help you out, I combined suggestions from Gottman, Smith, and others, written in a silly "shopping list" format. (I started out overly ambitious, rewriting the "12 Days of Christmas" instead, but the best line was the first: "On the first day of Christmas, my true love gave to me/Two and a half positive interactions for every three!")*
In the comments, let us know which relationship "holiday gifts" are on your list this year! Feel free to add more of your own.
Relationship Gift List
Hand holding
Verbal appreciation
A listening ear
The space to speak your truth (Colwell, 2015)
A date-night babysitter
Breakfast in bed
The decision to "turn toward" (rather than "away" or "against"; TwoOfUs.org, n.d.)
A terrible chore takeover
The benefit of the doubt (e.g., Smith, 2014)
Ten massaging fingertips
Shared good news (Happify, 2014)
The chance to catch up on sleep
A heartfelt compliment
A home-cooked meal
A walk under the stars
Shared laughter
An open mind
Affection
A resting heart rate of 60 to 100 bpm (Harris, n.d.)
*Cited both by Happify and Smith, the Gottmans found a ratio of five positive interactions for every one negative interaction in happy couples, and 0.8 positive interactions for every one negative interaction in couples who ultimately separated.
References:
Alabama Healthy Marriage Initiative. (n.d.) Get Connected—Turn Toward Your Partner to Create Intimacy. org. Retrieved from http://www.twoofus.org/educational-content/articles/get-connected-turn-toward-your-partner-to-create-intimacy/index.aspx
Colwell, J. B. (2015). Make It Valentine's Day Every Day of the Year. Curve, Jan/Feb 2015, 24-25.
Happify (2014). The Science Behind a Happy Relationship. Happify. Retrieved from http://www.happify.com/hd/the-science-behind-a-happy-relationship/
Harris, K.W. (n.d.). Wired for Love: Studying Physiological Reactivity in Married Couples. org. Retrieved from http://www.reuniting.info/science/why_study_couple_physiology_keith_w_harris
Smith, E.E. (2014). Masters of Love. The Atlantic. Retrieved from http://www.theatlantic.com/health/archive/2014/06/happily-ever-after/372573/
© Copyright 2014 GoodTherapy.org. All rights reserved.
The preceding article was solely written by the author named above. Any views and opinions expressed are not necessarily shared by GoodTherapy.org. Questions or concerns about the preceding article can be directed to the author or posted as a comment below.