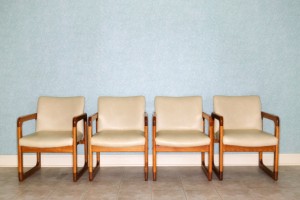 Picture a waiting room.
What image springs to mind?
How do the words "waiting room" make you feel?
If you think about where people typically identify feeling anxious or worried, waiting rooms tend to be up there on the list: hospital waiting rooms, waiting for word; dentist waiting rooms, anticipating pain; business waiting rooms, before a nerve-racking sales pitch or job interview; and green rooms before a performance, among other types of waiting rooms.
What if we create our own personal waiting rooms? What if we got up and walked out of them?
Wherever there's a screen with a chair or couch parked in front of it, I see a waiting room. And nothing drains energy like waiting. Don't get me wrong—some screening-it-up distraction can be a good thing, like a piece of dark chocolate. Everything in moderation. But when distraction turns into avoidance, it's typically neither relaxing nor fun. It can feel draining, depressing, and anxiety-ridden.
As I listen to people talk about what they would like out of life, usually it's nothing too wild or grandiose; often, it's very doable stuff. But, as with many of us, when the work day ends they huddle away from the world, exhausted. Another day gone, but they continue to think about a whole list of things they would like to do but aren't doing … or can't, but will … maybe … tomorrow. Today they're just too tired to go for a run, to go out with friends, to look for a different job. They'll just avoid for now. And wait.
Taking a chance, trying something new, or doing something that might feel awkward is risky. Anxiety and worry don't like risk.
Anxiety keeps many people on the couch, in their own private waiting room. Sometimes I picture anxiety as an all-controlling overlord who is only happy when people are sitting on the couch doing nothing. (OK, maybe they can watch television, but only if they feel bad about it.) But really, the anxiety overlord and anxiety's sidekick, worry, are just doing their job, trying to keep you safe. Generally speaking, sitting on a couch watching TV is pretty safe. Taking a chance, trying something new, or doing something that might feel awkward is risky. Anxiety and worry don't like risk.
As you read this, there are countless bright, creative individuals sitting on couches, afraid to move forward toward something new, something they may not be automatically good at. The minute such people attempt to leave the couch, worry kicks in with the "I-can'ts" and the "what-ifs."
After a couple of what-ifs float through a person's mind, the task of moving forward seems nearly impossible—but, really, it's OK. Sometimes feeling anxious and worried is a good thing. It means you ARE moving forward. Recognizing your anxiety and worry for what they are—feelings—allows you to choose whether to listen, whether to act, whether to leave the waiting room.
Three tips to get you out of your waiting room:
1. Plan Ahead
Pick a date to start moving forward toward a reasonable goal. If you are just starting to run, plan to work toward a couple of laps or maybe a 5K, not a marathon. If you're hoping to write the next great American novel, plan to work toward the first 10 pages. If you're planning to look for a new job, put together a résumé. Small, reasonable steps will help keep you motivated and feeling accomplished.
2. Walk Away from the Couch
Just get up and walk away. Don't look back. Expect to feel uncomfortable. Expect swirling, negative thoughts that this will "never" work. Plan on hearing the tired, sabotaging song of "I'm too tired and there's plenty of time to be vertical in the future." Anticipate that it will feel awkward trying something different. It's all good.
3. Challenge Your Doubts
If the what-ifs start flying and the excuses begin piling up, reality-test to assess the situation and counteract negative thoughts. "Of course I feel like an idiot and think it's not going to work—it's something new! That's just how my mind rolls." Or, "Yes, I'm tired—but I'll be tired tomorrow, too." Try putting "I'm having the thought that …" in front of the self-doubting message. After all, it's just a thought, not a fact. For every negative what-if, counter with a positive. For example, challenge the thought, "What if I never get off the couch?" with, "But what if you do?"
Life awaits. It's right outside your waiting room.
© Copyright 2015 GoodTherapy.org. All rights reserved.
The preceding article was solely written by the author named above. Any views and opinions expressed are not necessarily shared by GoodTherapy.org. Questions or concerns about the preceding article can be directed to the author or posted as a comment below.