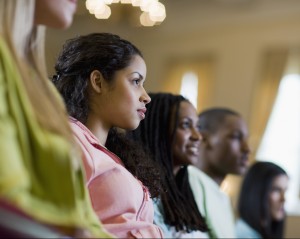 More than 16% of women have survived a rape or attempted rape, and some studies put the figure even higher. In one survey of New York University students, 37% of women reported having survived an attempted or completed rape since the age of 14. Too often, rape prevention programs target women's behavior, telling them to limit when they leave the house and remain constantly vigilant about how men interpret their behavior. The Enhanced Assess, Acknowledge, Act Sexual Assault Resistance Program (EAAA), a risk reduction program, teaches women to detect dangerous men and trust their instincts. According to a study published in the New England Journal of Medicine, the program could cut rape rates in half.
Training to Reduce Rape
The Enhanced Assess, Acknowledge, Act Sexual Assault Resistance Program avoids telling women how to dress or how to behave around men. Instead, it teaches women to assess their risk of being victimized and detect threats. Participants also learn to trust their instincts by verbally or physically defending themselves. And because healthy sexuality, a strong body image, and a clear understanding of sexual desires can all help women protect themselves, the program also includes training on sexual boundaries and rights, in addition to helping participants discuss their sexual desires.
Researchers recruited 893 first-year female college students ranging in age from 17 to 24 years old. Half participated in EAAA. The other half reviewed brochures on sexual assault, since colleges and universities commonly rely on brochures to teach students about rape.
A year after the study's completion, researchers interviewed students about their experiences with rape and attempted rape. Compared to those who only viewed the brochures, EAAA graduates had 63% fewer attempted rapes, and 46% fewer completed rapes. This means that, for every 22 women enrolled in the program, one rape could be prevented.
The Perils of Victim-Blaming
Just as it's not possible to end murder by teaching would-be homicide victims to behave in specific ways, training potential victims will not end rape. Indeed, many victims' advocates argue that rape reduction programs should target potential rapists, not victims. The idea that victims can prevent rape may even lead to damaging rape myths, such as the idea that women who dress "appropriately" or who don't drink to excess won't be raped.
Laura J. Reagan, LCSW-C, a therapist in Severna Park, Maryland, who specializes in trauma and posttraumatic stress. She frequently works with rape survivors, and argues that the most effective rape prevention programs target would-be rapists.
"Over the years, research on preventing sexual violence has shown that the most effective method of prevention is targeted toward offenders/potential offenders rather than potential victims. Many victims, male and female, are incapacitated by alcohol, asleep, or unable to move because of the fight, flight, or freeze phenomenon, which results from the psychological trauma of being in a life-threatening situation such as sexual assault. For this reason, risk reduction strategies focusing on self-defense may be ineffective in real life situations. This also explains why police officers, military members, and others who are physically strong and capable of defending themselves can be victims of sexual violence. Programs that teach victims to be responsible for keeping themselves safe by fighting back can contribute to victims blaming themselves for being unable to prevent their own sexual assault," Reagan told GoodTherapy.org.
For those concerned about rape prevention, EAAA may be a helpful stop-gap measure, but the burden for ending rape will continue to rest with potential perpetrators.
References:
Rape prevention program 'almost halves women's risk' (2015, June 11). Retrieved from http://www.medicalnewstoday.com/articles/295228.php
Senn, C. Y., PhD. (2011, June 23). The Enhanced Assess, Acknowledge, Act Sexual Assault Resistance education program [PDF]. University of Windsor.
© Copyright 2015 GoodTherapy.org. All rights reserved.
The preceding article was solely written by the author named above. Any views and opinions expressed are not necessarily shared by GoodTherapy.org. Questions or concerns about the preceding article can be directed to the author or posted as a comment below.