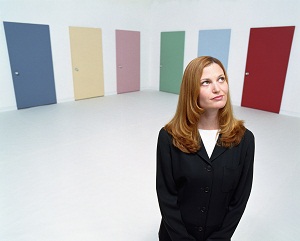 "I don't have a creative bone in my body."
"I'd like to learn how to draw, but it's probably impossible."
"I want to write, but I just can't find the time right now. It's hard to sit down and do it. I don't know how to get started. Anyway, what could I write about? My life's just not that interesting."
Sound familiar? When people want to write or paint, or even start a home yoga practice, they are often stopped by fear, the fear of doing something wrong. So they get antsy and find something else to do, and forget the whole idea…
"I just need the right place."
"I want to, but then I get distracted."
"My cat, dog, friend, lover, child, job, etc. needs all my attention."
"I'm too tired."
"One of these days when I the time is right, I'll do it."
When will that day be?
Got five minutes? Sit yourself down and write something, anything, for five minutes, and then stop. Use a timer. Almost anyone can find five minutes. Say anything, and don't try to make sense or spell right. Don't worry about grammar. Just let words, any words, come out of your pen or onto the computer screen. Scared to try?
Buy a bunch of index cards. Sketch what's in front of you right now. Use a pen and keep your mistakes- they might be very interesting. Or just doodle. Draw one card a day – one a day, like vitamins.
Get out your yoga mat, or simply put a towel down over a rug, and start your home yoga practice with some deep breathing, then feel how you body wants to move and move it, or move along to a video.
People are often so scared they will do the wrong thing that they settle for doing nothing. At least that way they stay out of trouble, or so they think. They are frightened of their imaginations, scared of themselves. Why? Shouldn't your inside self be your home place where you feel most alive and free?
A little boy named Alan plays blocks, makes stories, has a great time, while his mother sits nearby, available, but out of his way, ready to help if needed, but not intruding on Alan's privacy. He is fully involved in the present moment, deeply immersed, hearing his inner voice.
Meanwhile, in another household Ann sits next to her daughter Maureen who is coloring. Ann grabs Maureen's hand and shows her the "right" way to make a picture. Maureen starts to cry, then gives up and lets her mother guide her now lifeless hand.
This is where it starts. Children need the experience, over and over, of communing deeply within themselves while in the presence of a benign and protective, but definitely not intrusive, parental figure. D.W. Winnicott, the famous object relations theorist, called this "alone in the presence of another." It's the spot where a person feels secure exploring the universe of the self and the surrounding world. Missing this is like growing up without the right nutrients- you get bigger, sure, but stronger? Not so much.
What if you weren't lucky, like Alan, but instead had intrusive parents, or parents who didn't care what you did, so long as you didn't bother them, or parents who were critical? What then? Can you learn to be at home with yourself when you're a grown up?
Imagination lives within us all and is the fire of our being, of who we are, specifically, individually. We grow and glow from there, connect to life, to the world around us, and its entire people. This is the holy place where we come alive. There's a saying that we are all born with a huge bank account of mistakes- and we have to use them up if we want to live long and have a happy life.
Six ways to power up your creativity:
1. Work in a group. The presence of others may be comforting.
2. Ask a friend to keep you company while you work. Maybe you can both do your own work, separate but together.
3. On the other hand, if you work better alone, close your door and shut off your phone, and let people know that for the time being you're busy, and you don't want to be bothered.
4. Take a gym class. Exercise alleviates feelings of anxiety and depression. And you might get some good ideas while you're working out.
5. Take a yoga class – this is even better – you are in an environment that encourages you to pay attention to your inner self, and you are with a protective, non-intrusive, benevolent teacher. Often people have deep emotional experiences in yoga class, especially during yoga nidra, the resting part of class. If your class doesn't feature yoga nidra, ask your teacher if it's possible to include it sometimes.
6. Try psychotherapy. Therapy works directly within this space of alone and together, encourages you to go deep inside yourself and become who you really are. Whatever you say in therapy, remember, it is impossible to make a real mistake, so make all the mistakes you want! Say everything. Say anything! And, especially, don't be afraid of saying something silly.
So start now!
© Copyright 2010 by By Lynn Somerstein, PhD, NCPsyA, C-IAYT. All Rights Reserved. Permission to publish granted to GoodTherapy.org.
The preceding article was solely written by the author named above. Any views and opinions expressed are not necessarily shared by GoodTherapy.org. Questions or concerns about the preceding article can be directed to the author or posted as a comment below.