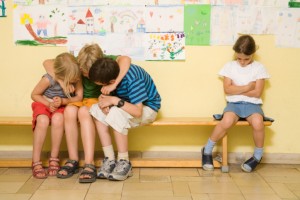 Pressure to be cool by owning the "right" things and looking the "right" way can damage children's mental health, according to research presented at a British Psychological Society conference. Children attempt to fit in, the study's authors say, because they may think it will help them make more friends and improve their self-image. But valuing materialism and worrying about looks may actually worsen children's well-being.
Pressure to Fit In: Damaging to Children?
Researchers followed more than 1,000 children between the ages of 8 and 14 for three years. They found that children who did not fit in were more likely to value consumer culture. Kids who fixated on owning the "right" things and looking the "right" way experienced a worsening of their friendships with peers over time. Their well-being also plummeted.
Researchers also uncovered a discrepancy between what children thought would help them fit in and what actually worked. Friendly, helpful children were more likely to be popular, but many children mistakenly believed being disruptive was a more direct route to being liked.
Kids who struggled to fit in adopted different strategies to cope with the stress. Boys often became more materialistic, while girls were more likely to fixate on their appearance.
Helping Kids Feel Good About Themselves
Emily Kircher-Morris, LPC, a Georgia therapist who treats children and adolescents, said that kids are vulnerable to the belief that outside approval is the key to happiness.
"Kids and teens are especially susceptible to falling into the trap of mistaking outside approval for true self-esteem," she said. "They often don't understand that when they engage in activities that fulfill their own interests, they will feel more confident compared to the constant battle for peer approval. Due to their youth, these kids and teens are especially fragile when it comes to their mental health. By encouraging teens to seek out peers with similar interests and to develop friendships more naturally, adults can help to prevent the downward cycle of anxiety and depression triggered by peer rejection."
Earlier research suggests the pressure to fit in does not only affect children during their formative years. A 2014 study found that children who fixated on impressing their peers in adolescence were more likely to experience substance abuse issues, relationship difficulties, and brushes with the law in adulthood.
References:
Allen, J. P., Schad, M. M., Oudekerk, B., & Chango, J. (2014). What ever happened to the "cool" kids? Long-term sequelae of early adolescent pseudomature behavior. Child Development. doi:10.1111/cdev.12250
Need to be cool and look good detrimental to many kids. (2015, September 14). Retrieved from http://www.bps.org.uk/news/pressure-be-cool-detrimental-many-children
The psychological cost of cool. (2015, September 11). Retrieved from http://news.discovery.com/human/psychology/the-psychological-cost-of-cool-150911.htm
© Copyright 2015 GoodTherapy.org. All rights reserved.
The preceding article was solely written by the author named above. Any views and opinions expressed are not necessarily shared by GoodTherapy.org. Questions or concerns about the preceding article can be directed to the author or posted as a comment below.