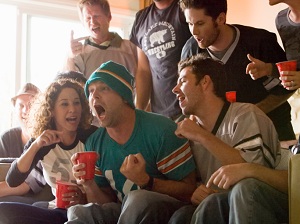 Have you seen that show, "Battlestar Galactica?" It received recent press thanks to a reference in an episode of another show, "Portlandia." I've been watching it, and I have to say I love it. It has that perfect mix of connection and drama, adventure and heroism–and the acting is incredible.
And, even though I love the characters and storyline, I have begun to notice that sometimes, especially after a stressful day, watching it heightens my stress level rather than lowering it. This is not because it lacks fun or captivating qualities.
It is likely because it is violent, and because the characters I care about die. This is hard. And, this brings me to the topic of this article:  have you ever experienced feeling more stressed after doing something fun?
Sometimes, we think that doing fun things creates positive excitement or even calm. The truth is, even pleasurable events can cause stress. Think about the music you used to enjoy. How has your experience changed as you've gotten older? Do you find that what you do is affected by how much you're doing?
Are their activities that you do out of habit that no longer bring the same feeling of freedom? Sometimes, we end up doing activities because of who we used to be, rather than because of who we are now. Or, we do the right thing at the wrong time, like listening to Green Day when we're anxious or annoyed. It makes the emotion worse. Or you're left feeling worse rather than better.
For some people, the line between anxiety and excitement is very thin. How can you tell the difference between anxiety and excitement? One way to assess this distinction is to experience how your body feels. Anxiety might create a jittery or even light-headed feeling. You might hold your breath, find it difficult to focus, or to think clearly.
In contrast, excitement may lead to more ideas, more clarity, and increased energy without panic or jitteriness. And, it creates more energy. Anxiety, in contrast, creates more exhaustion because your body is working harder. Calm, on the other hand, leads to breathing with ease, feeling your body relax or melt, and thinking clearly.
Why is this important? Have you ever had a day where you did everything for fun and felt exhausted or anxious afterwards? That may be because the balance between energizing and calming experiences is essential. This might change might also be based on whether you're an introvert or an extrovert. Extroverts typically experience more energy from stimulation with the outside world and with other people, while introverts may need more down time after relating to the world.
Ideally, if you can combine one energizing experience with a calming one, and only do a few mind-numbing experiences (like zoning out in front of the TV for one show rather than several), you might notice a difference in how you feel. You might feel the right kind of energized! The point is to actively create your mood. Want to increase mindful balance in your life?
Try this: Make a list of your favorite energizing activities, including music you love, people who enthrall you, and things you love to do. Next, make a list of things that create anxiety. Lastly, make a list of activities that bring calm. On a day when you feel stressed, try to do two activities that day that bring calm. Experiment with the activities: does doing an exciting activity increase the anxiety or decrease it? You can also keep a chart of your mood and activities on the free App, Stress Tracker.
While we can't have perfect control over our moods, we do have some say in how we feel. Sometimes, just being aware of what we're doing can increase calm. Other times, it takes intentionality to lead you toward the mood you're hoping to create.
© Copyright 2012 GoodTherapy.org. All rights reserved. Permission to publish granted by
The preceding article was solely written by the author named above. Any views and opinions expressed are not necessarily shared by GoodTherapy.org. Questions or concerns about the preceding article can be directed to the author or posted as a comment below.