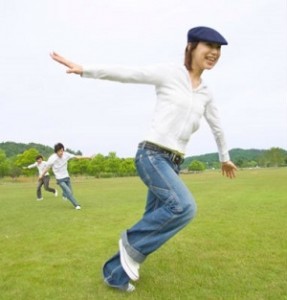 Spending time in her garden or even taking a break for lunch has become less and less a part of Sally's day. Cell phone in hand, GPS in her car, laptop telling her that another email has come in—Sally's day seems like one big push.
In our culture today, push ahead, achieve, strive, be all you can be—these might all be connected to workaholism and eventual dis-ease with life. Achieving, at all cost, and not necessarily for yourself but for someone else—your parents, your friends, pushy colleagues—fulfilling their unfulfilled potential but not your own, can become a non-stop trap. Often doing does not equate to positive action or changes that you want but rather mindless activity that might produce dollars but makes no sense in terms of wellbeing.
Drive-mentality also takes the forms of staying at home in the evening watching reality TV shows after exhausting days. You may share living quarters with your partner but never connect. Getting ahead can be at great cost to your natural abilities and creativity. A life unexamined is sad indeed.
Our society says yes to work and no to play, after all play is only for children. We live in a world that is not open to play, relaxation, and taking time for simple pleasures and reverie. What we hear is the message to keep going, do not stop. Do not be lazy. Children are called to achieve greater and greater test scores while recess, lunchtime, and time to just be is cut from the schedule. Outdoor play has dropped like a bullet and obesity rates are off the chart for both adults and children.
Play is the thing (apologies to Shakespeare). Because our society tells us that play is non-essential, we avoid it. We carry so much fear that we might actually discover what we want in our life, we put off play and elect stress, poor sleep, inefficient breathing, and acing according to what others say we should be doing. To stop and take time for play, in our own unique style, is threatening because once we identify what we want, we know that the next step is to take action.
Contentment
. In
Living Your Unlived Life
, Dr. Ruhl talks about the tragedy of the unlived life. Many people die feeling that their lives were not what they wanted and that they lived for someone else. Such a tragedy can be avoided by attending and noticing what you naturally move toward and what you avoid in your day-to-day travels. Journaling can be a great tool to record your responses.
Playful experiences and accessing your child as an adult is essential to increasing your awareness of what you want out of life and then coming up with an action plan to create the life you want. No matter what your age, occupation, whether you are single, married, in a committed relationship, are a parent, or grandparent, something as simple as walking outside for 10-15 minutes a day can start to change a pattern of workaholism and decrease stress.
Who and what you chose to play with is not as important as playing for your own en-joy-ment. The result of your play will be deepening relationships with your spouse or partner, children, family, and colleagues. A playful attitude and exploration brings additional benefits of less stress, more relaxation, better overall health, easier learning, and inspiration that comes by stopping to take time to get to know your essential nature.
There are as many ways to play as there are people. What you choose to play with will depend on your personality or the part of your personality that wants to come out and play. One day you might want to take a walk in the park, the next day you might attend one of your children's games and stop and attend only to what is going on with your son or daughter and their team. You might try out a zip line adventure in Hawaii, or travel to your local town as a tourist, or write a short story, or dance in your living room—its up to you!
To end I suggest that you try just one new way to play. Maybe you do not play at all or you play a lot with your kids and friends. Whatever the case, try just one new way to play. Starting simple is best and then you can go on that zip line!
© Copyright 2010 by Mary Alice Long, PhD, therapist in Langley, Washington. All Rights Reserved. Permission to publish granted to GoodTherapy.org.
The preceding article was solely written by the author named above. Any views and opinions expressed are not necessarily shared by GoodTherapy.org. Questions or concerns about the preceding article can be directed to the author or posted as a comment below.