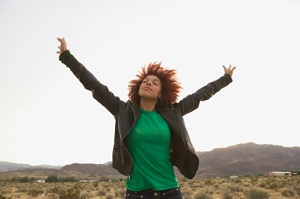 This article is part III of a three-part series. Part I and Part II introduced the first two phases of healing, the safety and remembering/mourning phases.
When you have come to terms with your traumatic experiences, when they truly are non-intrusive memories of events that happened in the past, the second phase of healing—remembering and mourning—comes to a close. Growing out of the second phase of healing enables you to apply the energy and emotional stamina that went into managing these memories towards creating a life you desire and a future you wish to strive towards. This third phase of healing is an opportunity to create a desired life and a reward for the hard and painful healing work which lies behind you.
Building and Reconnecting
Reconnecting with and developing new relationships and beliefs is at the heart of creating a desired life. Due to the destructive power of trauma, any post-trauma relationship or belief will be new, even if the relationship or belief predates the trauma. Not only are beliefs about spirituality and the meaning of life explored, but beliefs about one's identity, life path, friendships, safety, and more are also redefined.
The ability to reconnect with people, causes, beliefs, and purpose rests on three foundations of awareness:
Acknowledging that you were once made a victim
Understanding of the effects of that victimization
Owning what you have learned on your healing journey
This foundational awareness, coupled with your growing initiative and desire to be a part of life, enables you to practice claiming and using your voice. Rather than being silent when something matters to you, you can use your voice to stand up for yourself—like informing someone that you will not tolerate her/his treatment of you—and also to express smaller but important preferences, like sharing that you really don't want to eat at a certain restaurant.
Practicing expressing yourself grows your connection to your own self, which in turn allows you to connect with others. By growing your ability to connect, you are able to learn both to
trust
others and to trust in your own ability to judge who is worthy of your confidence. Part of this process is learning when and why others do not deserve your trust. The ability to determine trustworthiness, to the degree that this is possible, leads to an increase in healthy social as well as sexual relationships.
Creating Larger Meaning and Purpose
Many survivors of trauma also connect with a source of meaning and purpose that is larger than themselves and their social network. This enriches your day to day existence by allowing you to participate in the expansive tapestry of life itself. Since the world and all who dwell in it are amazingly diverse, it comes as no surprise that the causes survivors invest in are richly diverse and unique. Some might be interested in working towards the humane treatment of animals; pursuing deep engagement with religious faith; volunteering to assist individuals who are less fortunate, either at home or abroad; investing oneself in the pursuit of a hobby; mentoring a child; campaigning for human rights legislation, or aiding survivors of natural disasters.
The common theme within all of these causes is the connection with issues larger than one's daily life. They provide survivors the opportunity to give back to others while also receiving a deep, and often unshakeable, sense of meaning and purpose.
The Phase Without End
Unlike the first two phases of healing, this final phase of healing does not have a clear exit or finish line. This phase is the refocusing of your energy on the ordinary tasks of living, not on recovery. In this phase, the knowledge that it is a daily and never ending task to continually reinvest in living is no longer felt as a burden or source of fear. Instead, this responsibility is an accepted fact that is a source of peace, joy, and even awe.
I hope that this article teaches those of you who are in the process of healing that your growth will take you to a desirable place, and that this knowledge increases your courage to stay true to the healing journey. I hope that those of you have completed your healing use the knowledge gained from this article to grow your sense of achievement and healthy pride. I hope that those of you who are supporting a friend or loved one through the healing journey use this information to continue your patient and gentle support.
Remember that the healing journey requires support and guidance from others. Please feel free to reach out to a trained professional and have her or him join the ranks of those that support and guide you.
© Copyright 2010 by Susanne M. Dillmann, PsyD. All Rights Reserved. Permission to publish granted to GoodTherapy.org.
The preceding article was solely written by the author named above. Any views and opinions expressed are not necessarily shared by GoodTherapy.org. Questions or concerns about the preceding article can be directed to the author or posted as a comment below.