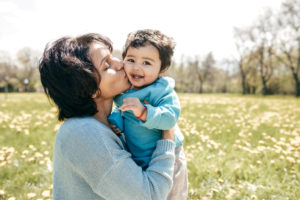 Parenting can be stressful, challenging, and at times exasperating. This is even more so when you are a parent or caregiver who has a mental health condition. Anxiety, bipolar, schizophrenia, and other diagnoses can affect many aspects of parenting.
However, gaining a solid understanding of how mental health issues impact you and your family can allow for a greater self-awareness and better management of your specific condition.
Potential Difficulties for Parents
I've outlined a few common issues for parents with mental health concerns below.
Therapy/medication appointments/hospitalizations: Sometimes parents need to find childcare for their therapy and psychiatric appointments. If their condition becomes severe and they require hospitalization, the parent will have to figure out what extra help they need for their child.
Impact of parenting on mental health: Studies show parents with mental health conditions can have a more difficult time managing family life. When the stress of parenting escalates, a parent's level of irritation may grow, fuses may become shorter, and concentration may become difficult. Episodes of depression and flare-ups of anxiety can occur more often and be more severe. Some days it may be harder to complete chores such as helping with homework, cooking, and cleaning.
Sleep: When a parent has a mental health issue, they might experience insomnia. Their lack of sleep during the night may make it difficult to stay awake during the day. The parent may not feel as present and aware of their family's needs. They could also be more irritable or fatigued. These symptoms can be obstacles for managing day-to-day life.
Child's concern about a parent: A child might have questions which require thoughtful and age-appropriate answers. For example, if a parent has visible self-injury marks, the child may be curious about what these are. When a child becomes aware their parent has a mental health issue, they may become concerned or even act out. A child may feel like they have to grow up so they can take care of their mom, dad, or siblings.
Child's concern for their own mental health: Children may worry they will inherit their parent's diagnosis. They may be overly watchful of their own thoughts and behaviors, wanting to know if their sadness is depression, or their fear is anxiety, or mood swings are bipolar. The potential of developing a mental health issue can consume their thoughts.
Self-help Strategies for Parents
I've also listed some strategies that can help you cope.
Recruit family and/or community support: As the saying goes, it takes a village to raise a child. This is especially true when a parent is unwell, mentally or physically. There may be times when you are scheduled for a therapy appointment and your child has the day off from school. Would your partner be able to take some time off work? What about friends or family members who live close by? There are hourly childcare centers, especially for short-term, hourly care. Planning for this type of incident before it happens can mean the difference between panic and calm action. You may wish to write your plan down so that you are able to remember it in the moment. Include all relevant information (names, addresses, phone numbers) right there in the plan.
Taking care of yourself: Taking care of yourself encompasses both physical and emotional self-care. Physical self-care can include exercise, nutrition, and keeping medical appointments. Emotional self-care often means allowing yourself to take a mental "time out" when you become stressed. It also means taking time to slip out of your parent role and enjoy yourself as an adult, friend, and spouse. Remember, you're more than just a parent! You may need to delegate chores to others, ask for assistance with things like driving your child to soccer practice. It's okay to ask for help. It doesn't mean you're weak or incapable. A mental health diagnosis is just as real and serious as a physical condition like diabetes.
Minimize stress: Stress has a significant impact on both physical and mental health. Chronic stress lasts for an extended time and is constant. Chronic stress can severely impact physical issues such as heart disease. It can also worsen insomnia and escalate anxiety or depression. This ties into the above comments about taking care of yourself.
Educate your child: As much as is age-appropriate, discuss with your child the mix of genetics and environmental factors that can impact the chances of having a mental health issue. Explain that just because you have this condition does not mean they will inherit it. You can also teach your child how to recognize specific symptoms and what to do if said symptoms appear.
Being a parent who has a mental health condition does not doom your child to a life of hardship by any means! Because of their experiences, your child may be more compassionate toward others who have mental health concerns. They will likely see you as a strong person who has persevered through many struggles. Their unique perspective on mental health may become a gift later on.
If you are a parent who has a mental health condition, you may wish to find a therapist. A mental health professional can treat your symptoms, making both parenting and day-to-day living easier. Don't be ashamed to reach out for help.
References:
Ackerson, B. J. (2003) Coping with the dual demands of severe mental illness and parenting: The parents' perspective. Families in Society 84(1), 109-118. doi: 1606/1044-3894.69
Nicholson, J., Sweeney, E. M., & Geller, J. L. (1998). Mothers with mental illness: The competing demands of parenting and living with mental illness. Psychiatric Services 49(5), 635-642. doi:10.1176/ps.49.5.635.
© Copyright 2018 GoodTherapy.org. All rights reserved. Permission to publish granted by Jenise Harmon, LISW-S, therapist in Columbus, Ohio
The preceding article was solely written by the author named above. Any views and opinions expressed are not necessarily shared by GoodTherapy.org. Questions or concerns about the preceding article can be directed to the author or posted as a comment below.