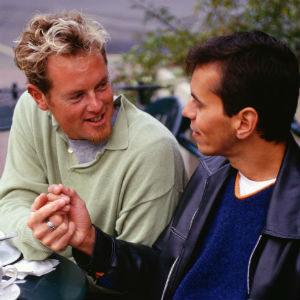 It is important to understand what PrEP—the new buzzword around the LGBT community—is and what it is not. The Centers for Disease Control and Prevention recently released a set of guidelines that outline when and where PrEP can be useful for sexually active people. Some readers may be unfamiliar with this conversation, however, so let's start at the beginning.
First, what is PrEP?
PrEP stands for pre-exposure prophylaxis. The focus of this regimen is taking one pill (currently Truvada) per day as a means to prevent HIV infection from taking hold if you are exposed to the virus. When taken as recommended, PrEP can provide protection against HIV infection and is even more effective when combined with condom usage and other prevention tools.
With all the information available, you may be wondering if PrEP is right for you. For each individual this is a personal choice, but in their guidelines the CDC recommends PrEP for individuals who are in a sero-convergent relationship (one partner is positive, the other negative), HIV-negative people who are not in mutually monogamous relationships, intravenous drug users, and anyone who chooses not to use condoms on a regular basis during sex. These recommendations apply to homosexual and heterosexual people.
Current studies support the belief that PrEP is safe and has few side effects. The ones noticed by most people include upset stomach, loss of appetite, and sometimes a mild headache. No serious side effects were reported or observed in the studies, but if you choose to start PrEP, it is important that you work closely with your health care provider.
It is also important to note that PrEP is most effective when the dosage is taken daily as directed. Effectiveness declines dramatically if a daily regimen is not adhered to. If you choose to start PrEP, it is important to get an HIV test first to make sure that you are negative and to continue getting regular tests to make sure that you do not sero-convert.
To go on PrEP or not is a very personal decision, and you may find yourself confused and concerned about all of the information out there. If you are considering PrEP, it is important to gather as much information as possible and to work closely with a doctor who is knowledgeable about the latest information on this form of prevention.
Just like condom usage or other safe-sex practices, to use PrEP or not is up to you. You know your personal sexual practices and interactions, and it is important to honestly evaluate lifestyle choices to see if this is a viable tool for you. Other important prevention tools to have in your arsenal are to maintain a healthy approach to self-care, get tested regularly, and be willing to set boundaries when it comes to sex.
Knowing what you are willing and excited to do before the moment arises can help you make wiser choices in the heat of the moment. Is condom-less sex a choice for you? What are the risks of oral sex, and what choices will you make about your limits? Understanding what your personal boundaries are will give you the freedom to enjoy sex while maintaining your sense of personal safety.
One of the most effective things you can do to help prevent HIV infection is to be willing to talk openly to your potential sex partner about your status, his or her status, and the risks you are both wiling to take sexually. Communicating openly about your needs and desires can be sexy and also make the moment of sexual connection that much more personal to you and your partner or partners.
Taking personal responsibility for your sexual health can take some of the stress out of sex. As you become more informed about the myriad tools available to you, you can make more informed choices.
© Copyright 2014 GoodTherapy.org. All rights reserved. Permission to publish granted by John Sovec, LMFT, LGBT Issues (Lesbian, Gay, Bisexual, Transgender) Topic Expert Contributor
The preceding article was solely written by the author named above. Any views and opinions expressed are not necessarily shared by GoodTherapy.org. Questions or concerns about the preceding article can be directed to the author or posted as a comment below.