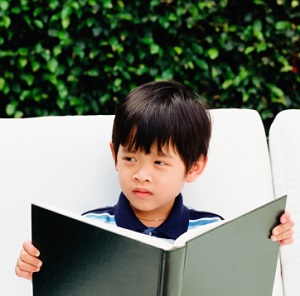 What if every time you attempted to read a sentence or express a thought out loud, the words came out scrambled and reversed? You might find that a bit discouraging if you were a child growing up in a school system and social culture that, understandably, places a great deal of emphasis on speech and language skills.
One of the biggest myths about dyslexia, according to Dr. Sally Shaywitz, author of Overcoming Dyslexia, is that it is purely a "visual problem" characterized by seeing and writing letters and words backwards (2003). For the men and women who face the challenges of dyslexia on a day-to-day basis, it is not the reading of words so much as the pronouncing and communicating of them—both verbally and in writing—that poses the biggest problem.
This dilemma is especially hard on children and adolescents with dyslexia whose teachers do not have the resources available to properly assist them.
Recently, the Wisconsin chapter of a group called Decoding Dyslexia wanted to provide a more in-depth understanding of what it feels like to have dyslexia for those in the community who work or live with a child who has dyslexia. On January 23, 2014, parents, teachers, and counselors gathered to partake in a 90-minute simulation experience at the Kress Family Library in De Pere, Wisconsin, in which they engaged in exercises such as writing words upside down on a mirror and reading coded sentences. The Green Bay Press Gazette reported that the experience triggered emotional responses of frustration, confusion, and empathy in many of them (2014).
Due to the condition's neurological complexity, many researchers have attempted to better understand the inner workings of the dyslexic mind. One team of researchers recently examined how musicians with dyslexia interpret sound. Led by psychologist Merav Ahissar, they evaluated over 50 musicians with dyslexia based on "basic auditory perception," involving tone recognition and time intervals, as well as the specific auditory cues perceived and interpreted when engaged in musical activities, such as rhythm changes and melody. Memory and reading abilities were also tested (Miller, 2014).
They discovered that while the participants' auditory perception abilities were noteworthy and on par with nondyslexic musicians, their "auditory working memory" skills were quite poor; those who experienced difficulty retaining sound in their memories also displayed difficulty in reading accuracy (Miller, 2014).
Though the sound-language connection has been well established in prior studies (i.e., making connections between various sounds translates to the ability to speak and communicate clearly), much of the research pertaining to dyslexia has focused on the auditory side of the condition. Ahissar's research suggests that scientists should shift their gaze toward the regions of the brain associated with memory (Miller, 2014).
Ongoing studies aside, there seems to be a current surge of public awareness with regard to dyslexia. In 2012, Robert Redford's son, James Redford, made a film that highlights the issues faced by dyslexic students, one of whom is his son (a.k.a. Robert Redford's grandson), Dylan (Montemurri, 2014).
The movie, The Big Picture: Rethinking Dyslexia, is intended to educate and inspire, as well as to turn the public eye toward a very real issue that influences the lives of nearly 1 out of 5 students (Dyslexia Health, 2009). Watch the trailer below to learn more.
References:
Dyslexia Health. Dyslexia statistics. Retrieved from http://www.dyslexiahealth.com/dyslexia-statistics/
Green Bay Press Gazette. (2014, January 30). Decoding students' struggles to learn with dyslexia. Retrieved from http://www.greenbaypressgazette.com/article/20140129/GPG04/301290404/Decoding-students-struggles-learn-dyslexia
Miller, G. (2014, February 5). What musicians can tell us about dyslexia and the brain. Wired.com. Retrieved from http://www.wired.com/wiredscience/2014/02/dyslexic-musicians/?cid=18114044
Montemurri, P. (2014, February 4). James Redford looks to raise awareness to be shown in Farmington Hills. Detroit Free Press. Retrieved from http://www.freep.com/article/20140204/FEATURES01/302040126/Robert-Redford-Jamie-dyslexia-documentary-Jewish
Shaywitz, S. (2003). Overcoming dyslexia. New York, NY: Vintage Books. Excerpt retrieved from http://thebigpicturemovie.com/assets/dyslexia_faq.pdf
© Copyright 2014 GoodTherapy.org. All rights reserved.
The preceding article was solely written by the author named above. Any views and opinions expressed are not necessarily shared by GoodTherapy.org. Questions or concerns about the preceding article can be directed to the author or posted as a comment below.